Turquoise water surrounded by white cliffs you said? Welcome to the beautiful Sarakinino beach in Milos! We can easily understand why this place is also called moonscape 😉 This beach is a must to see, if you are coming to Greece, you should definitely add Milos to your itinerary!
Milos is an island of the Cyclades in Greece. It's a small island located near Sifnos and Ios. During our last trip to Greece, we have spent 3 days in Milos and we have visited the famous Sarakiniko beach. It was absolutely unreal! We loved spending the day at this amazing beach and had so much fun jumping from the cliffs!
During this trip we also have visited Mykonos, if you are planning to get there, you can read our Mykonos travel guide!
Visit Milos, a Cyclade island in Greece
How to get to Milos?
If you want to visit Sarakiniko beach, you need to get to Milos island by boat. There are several ferries every day from Athens or the other islands to Milos. You can book your tickets online on Direct Ferry or Easy ferry. The prices really vary on the dates you choose and how in advance you buy your tickets. So, the best option is to book online in advance! We paid around 100€ per person for a return ticket from Mykonos to Milos during the month of September.
Athens Piraeus to Milos 3 hours/ 42€ return ticket per person
Mykonos to Milos: 3 hours/100€ return ticket per person
Santorini – to Milos 1h50/ 48€ return ticket per person
Travel tip: Be sure to be in advance, the boats don't wait! Also, there is a snack in most of the boat that offers fresh orange juices, coffees, and pastries.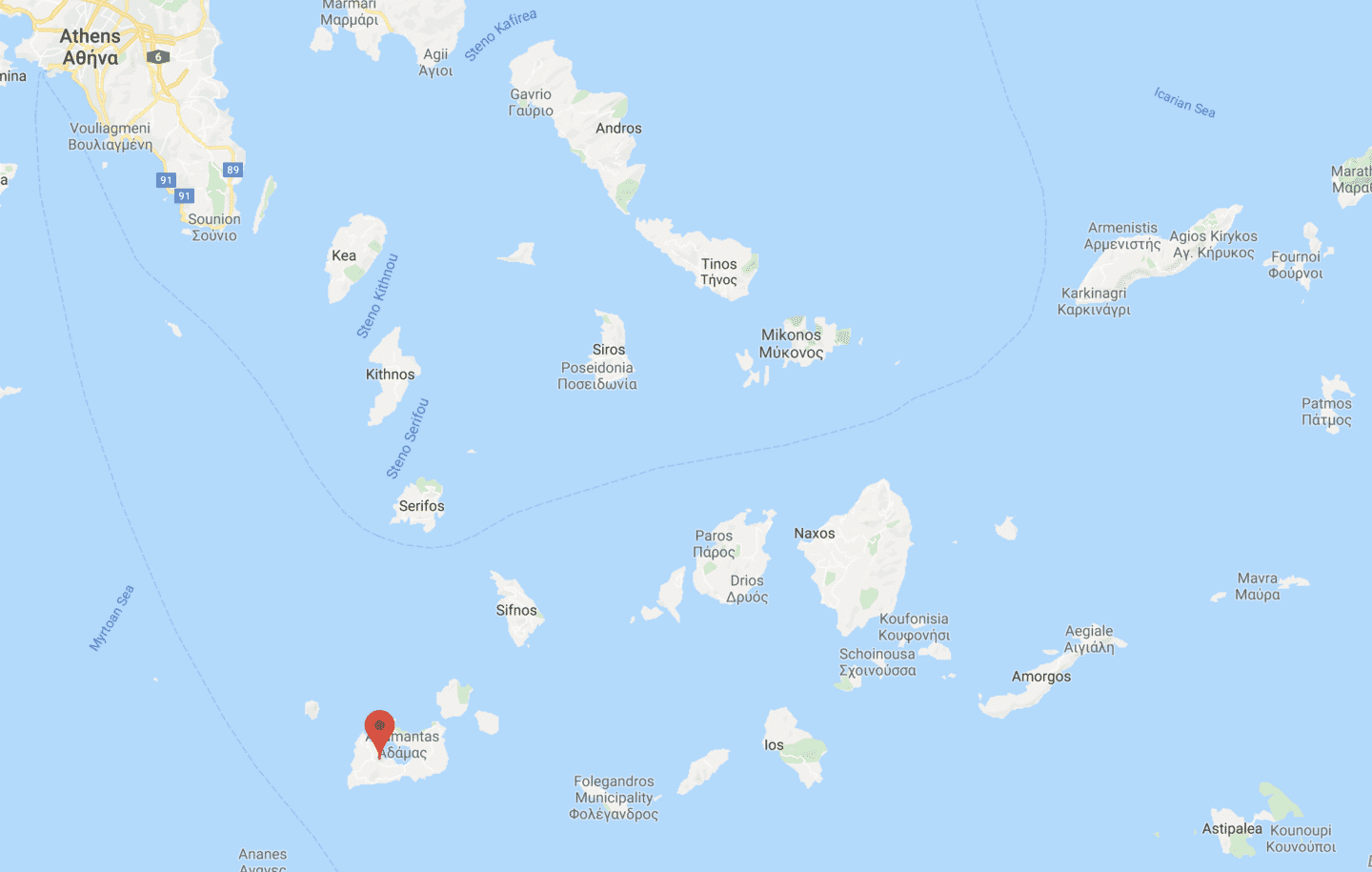 What are the best places to visit in Milos?
✔️ Sarakiniko beach
Sarakiniko, located in the northeastern part of the island, is one of Milos' most visited destinations. A unique moonscape structured around its snow-white rocks, small caves and blue sea overlooks the islands of Sifnos and Kimolos, making Sarakiniko not only an enjoyable swimming destination but also a unique site from a geological point of view.
Travel tip: bring good shoes, you will have a little hike to get to these 2 spots that are located near to each other. The entrance is free. Plus, if you want to jump be careful and be sure the water is deep enough where you want to jump!
✔️ Papafragas beach caves
This place is another beautiful beach surrounded by white cliffs, but very different from Sarakiniko.
✔️ The Venus Of Milos Site And The Ancient Theatre
Dating back to 120 BC, the Aphrodite of Milos is a famous statue and symbol of world civilization that is located just between the village of Tripiti and the famous catacombs. In addition, you can visit the ancient Roman Theatre, originally built by inhabitants of the ancient city of Klima, dating back to the Hellenistic Age. During Roman times, the city of Klima was destroyed by Athenians, therefore, the theatre was rebuilt. With a seating capacity of 700 spectators, today's renovated version has excellent acoustics.
✔️ The Settlement Of The Ancient Village Of Klima
The ruins of the old city of Klima, which used to be Milos' first port, can be found in great symbiosis with the current settlement that was built by the Dorians right after the decline and destruction of Fylakopi. Today, the area includes two acropolises, the hill of Prophitis Ilias and Pyrgaki, together with parts of a temple that dates back to the Hellenistic and Roman periods.
✔️ Plaka
Plaka is the island's capital and one of the most scenic corners of the island. The typical Cycladic architecture set on a hillock 220 meters above sea level is the must-see and must-visit spot in Milos. Magical views over the sea and the imposing Venetian 'Castle' dating back to the 13th century will amaze you. Tiny little paths, scenic shortcuts between the traditionally built houses, tiled alleys and the picturesque churches of Ypapanti of Christ (or Panaghia Thalassitra) and Panaghia Korfiatissa make it an ideal place to experience the island's beauty.
How to get around in Milos?
You can rent a car or a quad. Honestly, I think the best option is to rent a car because it is really cheap: only around 25€ per day. Also, it is really easy to park in Milos. You can park at each entrance of the spots you will visit and at the hotels. Also, it is really quick, you only have to give your driving license and to pay to have the car. You can rent a car on the port when you arrive by boat. It is still open late in the evening.
Where are the best restaurants?
You can easily find many typical Greek restaurants near the port. But we will let you know our favorite one! We loved "Gyros of Milos" which is a small restaurant located near the port. They serve homemade pita bread, greek salads and they have various vegetarian choices! Also, they are adorable!
Where to stay in Milos?
We stayed one night at the beautiful Santa Maria village, perfectly located near the port. And not so far from Sarakinio beach. The rooms are really spacious and minimalist. The hotel has a main pool with a view of the sea, a lovely restaurant in the gardens, and a spa. Also, the staff is really kind.
You are planning to visit Milos?
To conclude, Milos is a beautiful island and really worth a visit! The landscapes are unique and this island is very different from the other Greek islands! If you are planning a trip to Greece don't forget to read also our complete travel guide to Santorini!