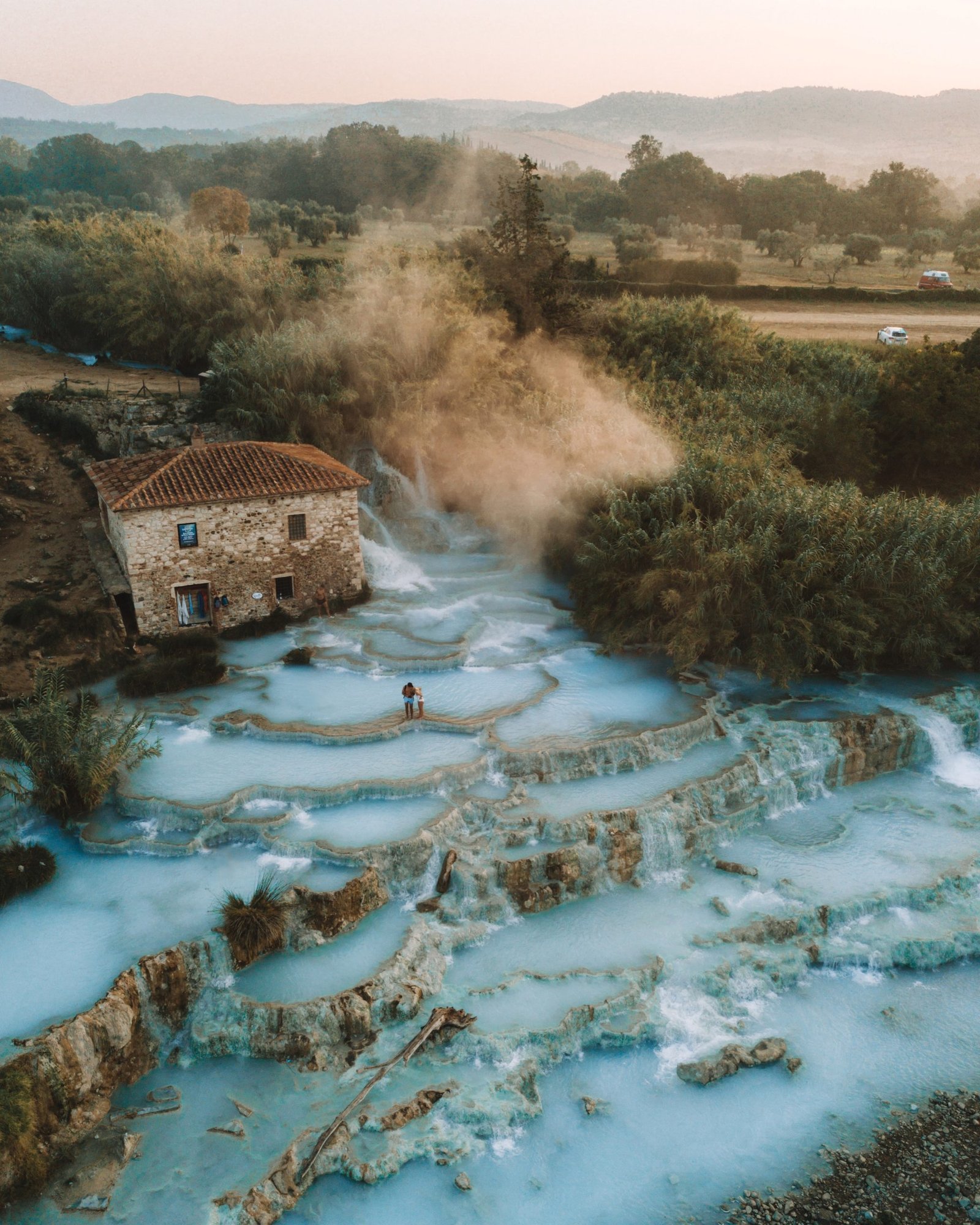 Tuscany is definitely one of the most beautiful parts of Italy. The picturesque and recognizable landscape make this place really special. But there are many different places to see and it can be hard to pick only some of them to visit during your trip! This is why we have created the perfect Tuscany trip itinerary to help you to experience the best places in a few days!
The perfect Tuscany itinerary
When is the best time of the year to visit Tuscany?
Firstly, the best time to visit Tuscany is definitely between May and September. The weather will be perfect as it is spring/summer in Europe. However, you should avoid July/August because it is the high season and these places could be really crowded.
Also, even if Tuscany is more and more a touristic destination; if it is more preserved than certain Greek islands like Santorini or Provence / the French Riviera. We have been there en August several times and certain parts of Tuscany are not crowded. It depends on where you want to stay and if you will visit the famous places or the less known.
How to visit Tuscany?
By car
For us, visiting Tuscany is easier in a car. Because, while you won't need a car in big cities like Florence or Pisa, several places are hard to access by train as the countryside, Siena and Saturnia. If you are coming from Italy or close countries, you should come with your own car. As we are living in south-France, this is what we have done. And what we do almost every summer and it is really easy. If you are coming from other countries you can also fly to Florence and then rent a car at the airport.
Concerning the budget, for our whole Italy road trip, we have spent 500$ for one week for the gas and the high ways.
Our Tuscany itinerary started and ended in Florence. It is a good place to start your trip because this city is located in the north of Tuscany.
By train
You need to know that trains connections between big cities are really nice. You can read our blog about our Euro trip with an interrail pass. We had a really nice experience last year during our Italy road trip. So if you want to visit some of the most beautiful towns like Florence and Pisa, you can only use public transport.
This Tuscany itinerary is made assuming that you have a car but you can easily adapt it to your needs and your way of traveling. You can just use this itinerary as a guide to the best places to visit in Tuscany, to know how much time you need for each place, and how to best plan your trip!
How many days do you need to visit Tuscany?
You can see the main cities in 3 or 4 days like Florence or Pise but we recommend at least 5 days to visit Tuscany. This area is really large and there are so many beautiful places to see. Also, Tthis will allow you to see not just all the most famous towns of Tuscany, but also to see the beautiful Tuscan countryside that is less known and even more beautiful.
This is all we all talk about in this perfect Tuscany itinerary that will help you to plan your trip to Tuscany. Let's start!
The perfect Tuscany itinerary
Day 1: Florence
If you are visiting Tuscany, you need to visit Florence! It is safe to say that it is one of the most beautiful cities in Italy, and you should include this city in your Tuscany itinerary.
One full day is the minimum that you need in order to see the main places of Florence. The most beautiful places to visit are the Cathedral (you can climb the Duomo as well), Ponte Vecchio, Uffizi Gallery, and Palazzo Vecchio. If you have just one day in Florence, stroll the old town, check out the market, and walk to Piazzale Michelangelo for the best view in Florence.
Tip: You should stay in Florence for at least one night, in order to take full advantage of your time here. If you stay in town, I recommend staying at B&B le Stanze del Duomo. If you are coming by car, you can park in the center for 20€ per night. Ask your hotel if they have their own parking.
Day 2 Florence to Siena
You can enjoy your last morning in Florence and then drive to Siena. If you take the high way from Florence to Siena, you will drive for 1 hour. Or you can take the Via Chiantigiana road SR 222. This road is very pretty even if it takes a bit longer.
If you visit Siena, you should see the Piazza del Campo, the Duomo (Cathedral), and the beautiful streets of the Old Town.
Tip: 1-2 nights are enough to visit Siena. If you don't have a car, you can book organized tours.
Day 3 Siena to Val d'Orcia
Val d'Orcia is absolutely stunning. The landscape is so picturesque! You can easily recognize the Tuscany trees along the way.
We have stayed at Trequenda in the Val d'Orcia, a small village at 40km from Siena, a 1-hour drive. I highly recommend staying at Fattoria del Colle. It is a familial hotel, the villas are really pretty and spacious. Also, the restaurant offers homemade pasta and their own Chianti wine.
Tip: If you want to visit the famous way with the Tuscany trees and the house it is called Agriturismo Baccaleno. You can visit the countryside and the vineyards during the day and visit agriturismo Baccaleno for the sunset. It is the best moment to visit this place. But be prepared to see many photographers waiting for the sunset!
Day 4 Val d'Orcia to Saturnia
Saturnia is a small village located at 2 hours driving from the Val d'Orcia. It is famous for the beautiful cascade di Saturnia. You can drive from Val d'Orcia in the morning to Saturnia.
I highly recommend staying at the Terme di Saturnia, a member of the "leading hotels of the world", if you can afford it. You can also choose another hotel close to the cascade.
Day 5 Cascade di Saturnia
Visit the beautiful Cascade di Saturnia. The famous cascade is not the same place as the Terme di Saturnia resort. When searching on the internet, it's easy to make a confusion, but these places are totally different. The first one is a public place and the other one is a resort.
The cascade di Saturnia is open to the public. It is located only 5 minutes from the hotel Terme di Saturnia. This place is totally free and is open 24/7. However, since this place became famous on social media, it's really crowded even late at night.
Tip: If you want to visit this cascade and avoid the crowd, you need to wake up very early! We woke up around 6:00 but it was really worthing it. We had the chance to admire this beautiful place for the sunrise and spend a good time before the crowd arrive. Read our full blog post about the cascade di Saturnia.
Day 6 Saturnia to Florence
You can decide to go back to Florence or to visit other cities in Tuscany. Pisa is really close to Florence. Personally, after these days in Tuscany, we decided to drove to Venice and we ended our trip to the Italian Dolomites. If you are interested you can read our full post about our road trip to Italy.
Bonus : Bagni di San Philippo
The Bagni di San Phillippo is definitely less known than the famous cascade di Saturnia but I swear it is as beautiful! The natural hot baths in the middle of the forest with a pristine blue water are crazy beautiful. You can park easily and walk around 10 minutes. You will easily reach the baths. And will be find many different small baths, so there is a place for everyone!
We still advise you to visit this place in the morning as it will be more quiet, but it is anyway less known and more calm.
Are you planning a trip to Tuscany?
To conclude, Tuscany is definitely a must-see in Italy! If you are planning a trip next spring/summer, you should include Tuscany! You will not be disappointed by the beauty of the big cities, but also the charm of the countryside. My favorites places were Florence, Val d'Orcia and Saturnia. Also, did I mention that the food is amazing in Tuscany? If you love homemade pasta and Pomodoro sauce, you will love your stay!
We hope this Tuscany itinerary will be helpful to plan your next vacation! You can also visit the wonderful Cinque Terre, in La Spezia, really close to Tuscany. You can read our complete travel guide to Cinque Terre. If you love travels and adventures, don't forget to follow our next adventures on Instagram and Youtube!