Are you planning your Euro tour and wanting to visit several countries? Do you want to avoid expensive flights? Are you a little bit lost in the organization? Do you want to try the experience with an interrail pass?
This post is for you!
To discover Europe, we have tried the Interrail Global Pass which allows using trains and ferries in all Europe. Actually, there are two different passes, the Interrail pass, and the Eurail pass. If you are a European citizen or you have a residence in Europe, you can buy the Interrail pass. For international travelers, you can take the Eurail pass. In this post, I'll talk more about the Interrail pass because that's the one we have taken, as we are living in France. But the other pass is working the same way. Let's talk about our experience!
The Interrail Global Pass
The Global Pass: (is working in 28 countries: France, Italy, Greece, Germany, Belgium, Switzerland, Spain, Turkey, United Kingdom, Ireland, Netherland, Danemark, Slovenia, Lettonia… ). This Interrail global pass is the most popular option and that's the one we used. I'll explain later how the other pass is working.
With this pass, you can take a train an unlimited amount of times almost anywhere in Europe. If you don't have much time to travel you can go for 5 days traveling within 10 days travel pass. For example, during your 10 days of Europe trip, you can use the trains 5 times. If you want to make the most out of it, you can get 1, 2 or 3 continuous months.
When is the best time of the year to use the Pass?
You can use your Interrail pass all year but don't forget that the best time to visit Europe is between April-June and September-October. Because in winter the weather is really cold and in summer it's the high season. There are several discounts (generally 25%) for students and people under 27, so check this out on the website!
First or second class?
You have the choice between 2nd and 1st class. The first class is a bit more comfortable and roomy, it will make your journey more enjoyable. There is sockets, useful for your photographic devices 😉 and often free water, and it is generally less crowded. Note that for some trains, you can't reserve your seat, so the 1st class will assure you to have a place.
Rail planner, the application of your trip!
To assist you during your Euro trip, there is a great application (called Rail planner) available on iOS and Android! The plus of this application is that you can use it offline mode so don't panic if you have forgotten your next train. This application is here for you! The other advantage of the application is that the name of train stations on your ticket can be named different in reality. Also, the application has all the stations so you can identify the good station where you must go out. Little tip! If you don't find the station on the application, try to find this station on google maps and try again with the google name of the station.
Interrail fees
Interrail fees: When you reserve seats, a fee can apply. It will happen in 3 different cases :
When you book a night train.
When your train is a "fast train" like TGV in France. It's marked by an R on the application and the website.
When you want to reserve a seat because it is a very popular route during the high season and you want to be sure to have a place.
However, the fees are generally between 3 and 35€ maximum.
Your Journey details
Your Interrail Global Pass is your new friend!
It was a bit hard to understand how it works, this is why I'm trying to explain to you the most clearly possible! During your trip, you will write all the details about your trip. You must inform the day, the month, the departure time, the city of departure and the final destination. When you are going out of the train station it is considered as your final destination.
For example, during our trip, we have been from Toulouse to Riomaggiore but we have written each stop between these two. It is very important to complete this Journey details because it is like your tickets. When you will be controlled, the controller will ask you to show your passport and your Journey details. Several controllers are strict, so you should try to complete this. Feel free to ask questions to the controller before your departure.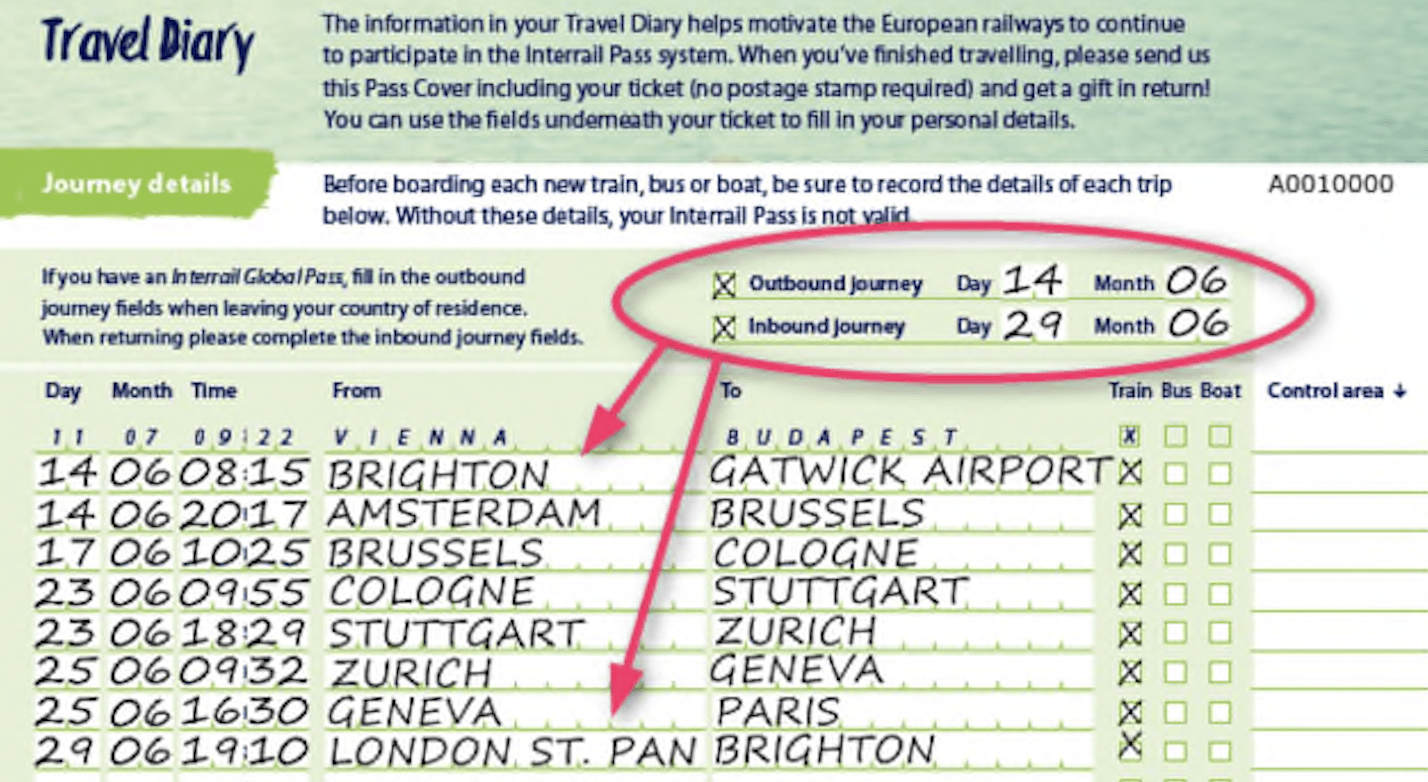 Our experience with interrail
We have been to 5 different countries with our Interrail Global Pass. The first one was France, of course! The second one was Italy, one of our fave countries in Europe. You can find our article about our Italy trip just here! The third country was Switzerland. Unfortunately, we couldn't have stayed longer to visit more of Switzerland because we had to go to Greece. The fourth country was Greece and we have been to the fabulous Santorini. You can read our adventures in Santorini here! The final destination was Cappadocia in Turkey. Read our post just here!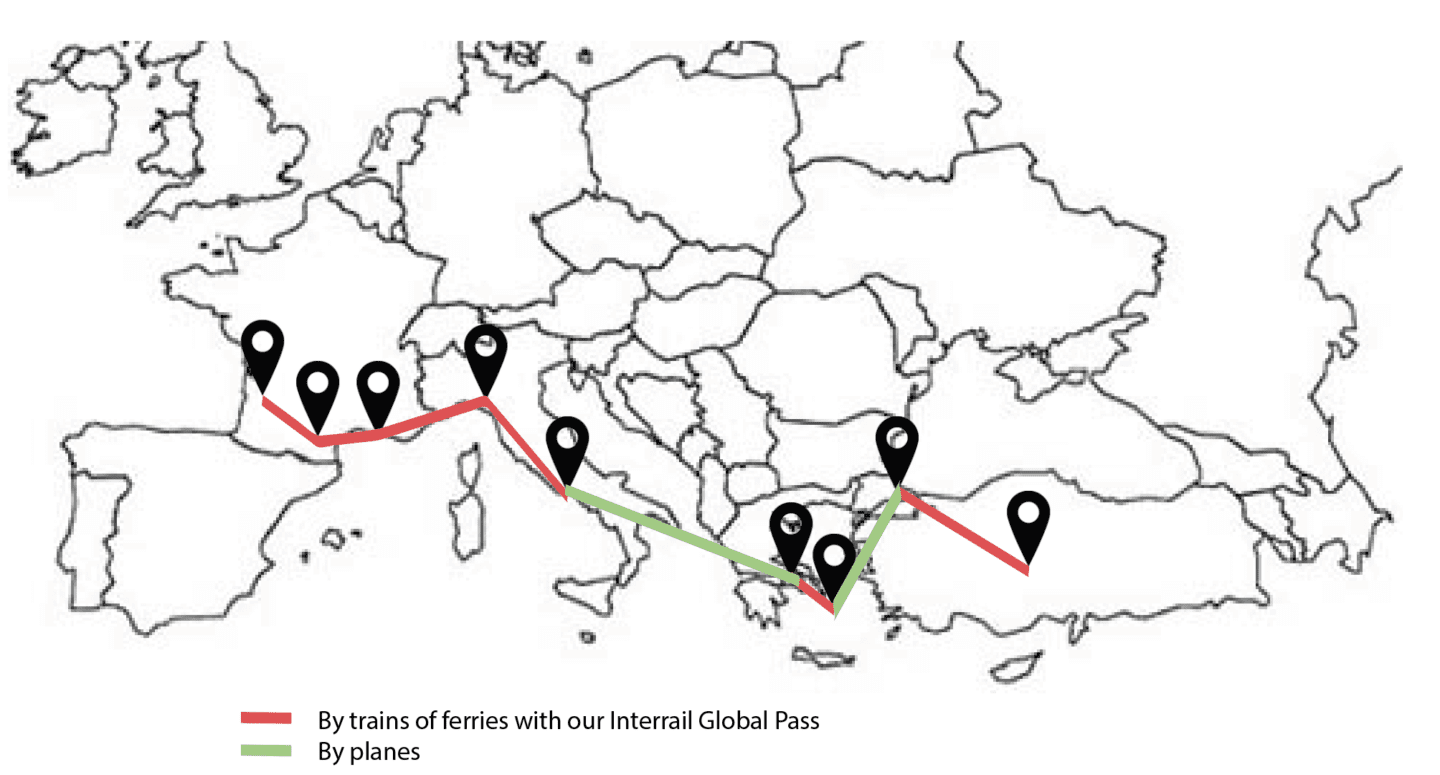 Advantages of an interrail pass
To be honest with you, there are more advantages than disadvantages! First of all, in taking trains, in comparison to flights, you can enjoy the beautiful landscapes of the country that you cross and you can walk between stops that's make the journey cooler! Indeed, during our train trip, we have followed the french riviera and the Italian west coast (Genova, Pize, Cinque Terre, Roma…) and that was so beautiful!
The second advantage is the lake of flight inconveniences. In fact, you don't have passport control, delays, flight cancellations, the endless check-in, the restrictions about liquids and you can arrive just 30′ before the departure. You just have to seat and enjoy the fabulous scenery!
The third advantage is that the train arrives directly in the city center. 45′ taxi/uber is not necessary! Save your tile and your money! Main train stations are generally directly connected to the subway if there is one.
The final advantage is the freedom of the Interrail Global Pass. You can take a train when you want and where you want. Perfect for last-minute travelers! No need to plan 1 month in advance! Also, If you want enjoy another part of Europe that is too far, you can book a plane to save time and continue your journey with your Interrail Global Pass. If you don't like the city, you are tired, or you LOVE the city that you are! No problem, the Pass is flexible! You can move or stay longer!
Disadvantages
The main disadvantages are the fees. Indeed, you have paid your Pass you may have to pay again. But fortunately, it is not really expensive!
The second disadvantages are that you can miss a train. If you have a train without a reservation, there is no problem, you can take the next one. However, if your next train is a train with reservation and you have a delay you must repay for another train.
A third disadvantage is that you can't go everywhere by train so, you may have to book a bus or a boat. Nevertheless, most of the European countries are greatly deserved!
Conclusion: our experience
To conclude, we really loved our experience with Interrail and we highly recommend you this pass if you want to visit Europe on a budget. We hope this post will help you to organize your Euro trip! Let us know in the comments where you are planning to go! 😉 If you want to visit Italy, read our travel guide to Cinque Terre or our travel guide to Positano!