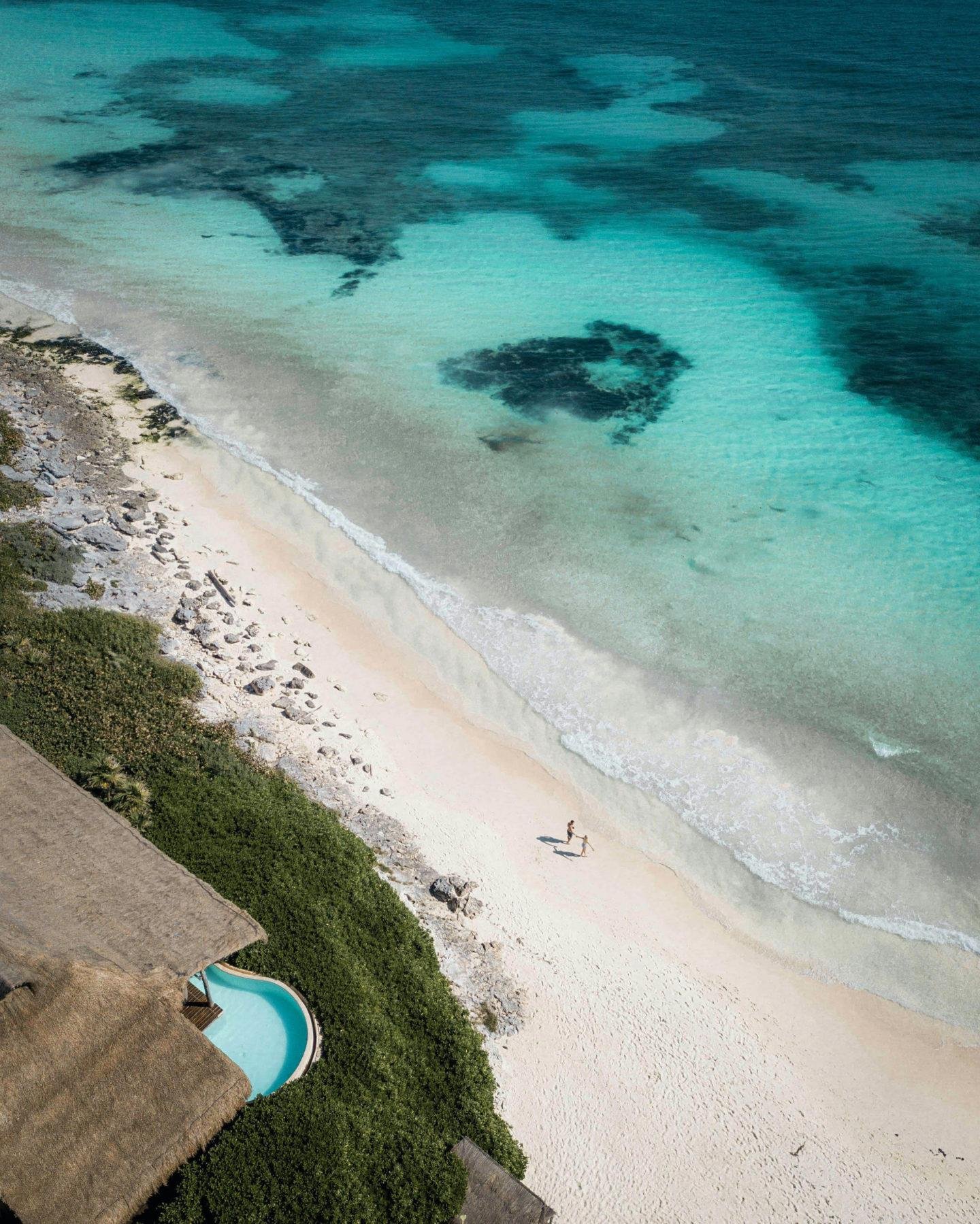 If you are dreaming about visiting Mexico soon, this complete travel guide to Mexico is for you ! We have just spent 11 days road tripping through the country and it was an amazing experience. I wanted to visit Mexico for a while and I was so happy to make this trip a reality! We have planned this trip a few weeks before and added all the places we absolutely wanted to visit : Tulum, the Cenotes, the Yucatan, the Chichen Itza… This trip to Mexico really overpasses my expectations. This destination is the perfect mix between adventure and tropical vacations under the sun.
From beautiful white sand beaches to epic Cenotes, through charming old villages, we have done an epic road trip to Mexico! Many persons are planning to visit Mexico in 2021, this is why we will share everything about our awesome road trip itinerary to Mexico with you. So, if you're planning to travel to Mexico soon, read on ! 😉
Everything you need to know before to travel to Mexico (don't skip this part!) :
The best season to visit Mexico is during the dry season: From December to March. You should avoid visiting between May and September it's the wet season. We have been to Mexico during January and the weather was really nice. We only had a bit of rain but the sun quickly came back every time!
The local money is pesos. If you want an example 300 pesos is equivalent to 15 USD.
In Mexico it's a bit like in the US, every time you're going to the restaurant or you're consuming any service, you'll have to give a tips.
To rent a car you will need your national driving license (no need for an international one) and you will have to make a deposit of around 250 USD that will be given back at the end of your trip.
Be really careful with your bags and luggages all the times. Never let anything in your car.
If the police arrest you during your road trip and ask you money for speed excess or anything like this, give 20 USD and say you have nothing more on you.
Hotels in Tulum beach are very expensive but you can stay in Tulum center or near Playa del Carmen for cheap (around 30 USD per night)
The traffic in Tulum is crazy, the best is to park your car in the morning and then rent a bike
Nothing is free in Tulum! Even parking your car, of bringing a camera in a Cenote. You can find free places to park only near paradise beach. And you need to hide your cameras when visiting Cenotes. Because if no, you'll have to pay twice!
Is traveling to Mexico safe? Police, cocaine, car rental…
I would definitely say YES ! As in every country, when you're traveling, you have to be careful. But in touristic areas it is not dangerous. Tulum, the Yucatan, playa del Carmen, Holbox, Bacalar… All these places are very touristic and are not dangerous. We never felt in insecurity during the whole trip. The local people were really kind and welcoming. We have not been arrested by the police and we've drove a lot during the trip. Even if it arrives to you, give them 20$ and say you don't have anything more.
You need to know that there are cocaine resellers everywhere on the beaches, but if you don't buy anything you won't be linked to these affairs. Just be careful in case the police is coming to the beach that resellers are not leaving anything close to you. It happened to a couple near us, but they were not accused of anything, they just told the story to the police and that's it.
Travel to Mexico in 2021 : the best things to do
The best things to do in Tulum in the Quintana Roo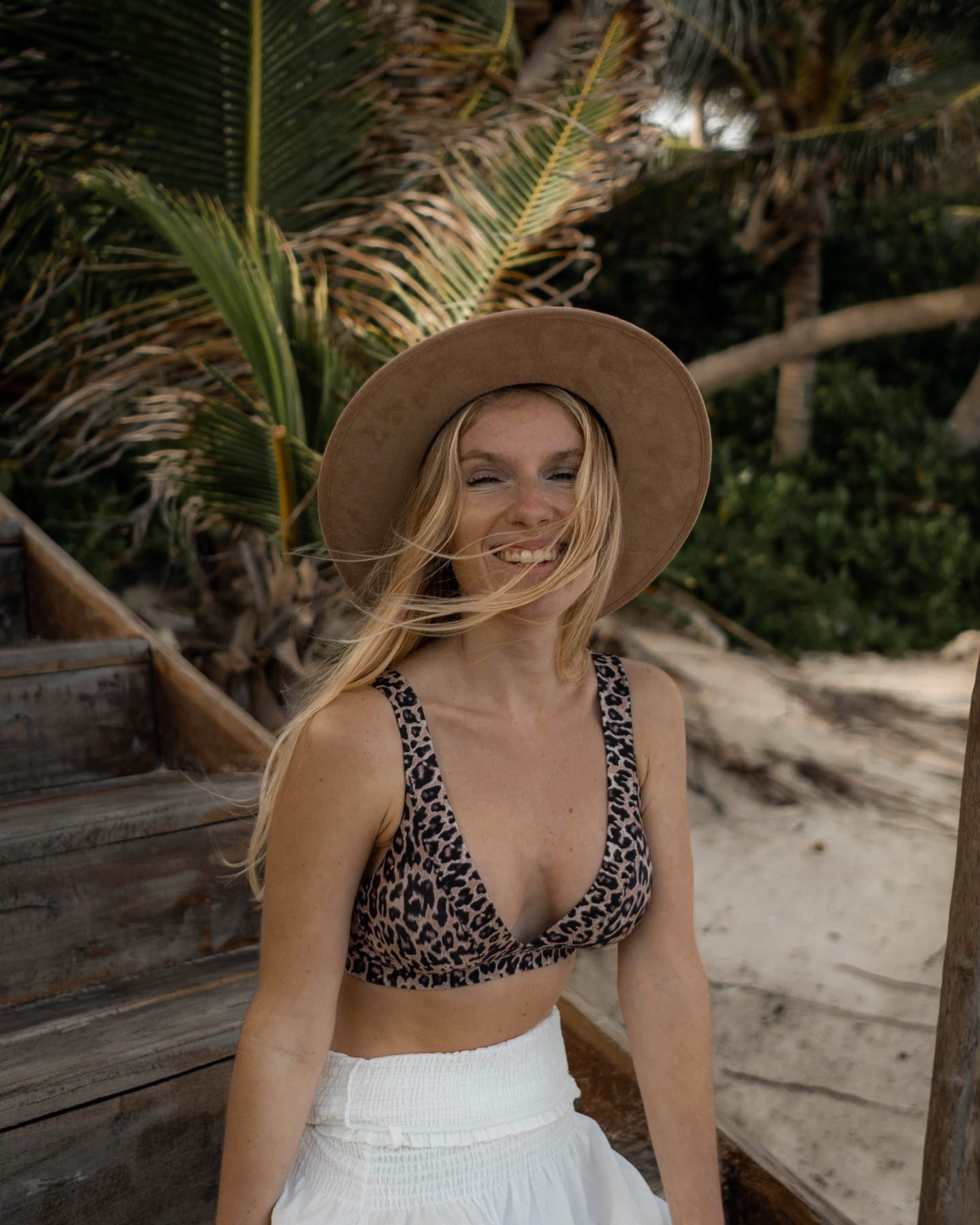 Visit Tulum beach and Tulum center
Tulum was an amazing discovery for us! I've been dying to go there since I've seen these beautiful photos of beaches and Cenotes on Instagram and Pinterest. And even if Tulum is a very "hype" and expensive place, let's say this, it's a must see! You cannot travel to Mexico and skip Tulum. Why? First of all because it's special. There is a particular atmosphere in Tulum. It's like the perfect place for hippies chic, everyone is wearing long dresses or long shirts with hats. All the restaurants and hotels are built with wood, around the trees. You really have the impression to be in the nature, but with infrastructures. It's chic and chill at the same. I just loved the vibe here!
Chill on the beautiful beaches
Also the beaches are absolutely beautiful. If you are a lover of white sand beaches with clear water, you will love Tulum. It's a bit difficult to find the beaches when you don't know Tulum but I'm going to give you the different ways to access them. You can either go to the public beaches like "Paradise beach" that is beautiful, or either go to the hotel beaches. You can totally come to have a drink at the bar and then go to the beach. Of course you can also rent a long chair. But if you're coming to Tulum with a budget, you'll love the two first options. This is what we have done during all the trip. We highly recommend the beaches of "Ahau" and "Papaya playa project".  
Visit the famous Cenotes
My absolute favorite thing in Tulum are the famous Cenotes! It is honestly the best things to visit in Tulum. These caves with turquoise water are very surprising and are totally different from each other! Did you know there were more than 6000 Cenotes in the country? It's crazy to imagine! We managed to visit 7 Cenotes during our trip and every single of them is unique and worth a visit.
It is hard to choose but Gran Cenote and Dos Ojos are our favorites ones near Tulum. Gran Cenote is probably the most famous one and we can easily understand why! This beautiful Cenote has a crystal clear water due to its floor made of white sand. Also it's home of lovely turtles! If you love unique places and animals, you can't skip that one! It's really close to Tulum center. You should also visit Dos Ojos, that is also a wonderful Cenote nor far from Tulum. This one is less touristy, and deeper. This is why you can also dive there. You should also read our post about the 10 best Cenotes to visit in Mexico : Tulum, Valladolid, Yucatan…
Is it possible to visit Tulum on a budget?
Hotels : NUEE Tulum
Yes it is totally possible! If you are planning to travel to Mexico on a budget, you can totally! Even if the hotels near Tulum beach are very expensive (around 200 USD per night minimum), you can easily find cheaper hotels near Tulum center. The price will be more around 70 USD per night like the NUEE hotel Tulum. We stayed there for 2 nights and we had a really nice experience. The hotel is really well located, only 10 minutes driving from the beach and near the restaurants. The room was beautiful and spacious, with a typical decoration and two large beds. Also, we had a private terrace with a jacuzzi.
You can also decide to stay near Playa del Carmen for around 30 USD. It's easy to find really nice hotels like Kaoba hotel. You will not be further from Tulum but if you have a small budget it can be a good option!
Activities
Also, you need to know that nothing is free in Tulum. If you want to park you car near the beach, you'll have to pay around 300 pesos (15 USD). Yes I know its so expensive! You can only park for free around Paradise beach. The best option is to park in the morning and then rent a bike for the day. It will also cost you around 15 USD per day but you won't be stuck in the traffic.
You need to know that the traffic is crazy during the evening. If you're planning to go to the restaurants near the beach like Azulik, Parole, Gitano etc, try to come early or come by taxi! The Cenotes are also a budget, visiting them will cost you between 100 and 500 pesos depending which one you will choose. Gran Cenote is 300 per person, same thing for Dos Ojos. We also really loved Tak Be Ha, Azul cenote and car wash.
Why you should not visit Playa del Carmen?
I will be super honest, there is nothing to see in Playa del Carmen! We have not liked this place at all. Only hotels, shops and restaurants. It's awful, like a fake city built for tourists just like Vegas but versus cheap. No charm, nothing to see. No Mexican culture, just scams for tourists. People are not kind there, just trying to get the tourists' money. You can just continue your road! Of course, if you want to do the Bull shark dive, you need to go there ! But It's the only good reason 😉
Visit the Yucatan : the best places to visit
The Yucatan is another Mexican Provence than the Quintana Roo. It is right next to it. You can reach Valladolid by car in only 2 hours.
The Chichen Itza
Of course, the first reason why you should visit the Yucatan, is for the Chichen Itza ! One of the seven wonders of the modern world. It is the first place we have visited and we were not disappointed! We went early in the morning to avoid the hundreds of tourists. And we felt so small in front of this incredible construction. Can you believe it was built by hands, arount the 5th century by the Mayas? It's crazy to imagine. We stayed in night in a lovely hotel owned by Mexican people for less than 30 USD per night and everything was perfect. Especially the location, 5 minutes driving from the Chichen Itza. We loved having diner on the terrace, eating Mexican specialties. It is called … Don't expect to have internet, but it's the good time a little detox, roh just one night 😉
The Cenotes in the Yucatan
If you are planning to travel to Mexico, you absolutely need to visit the Yucatan! The Yucatan also has amazing Cenotes, totally different from the ones we have visiting in the Quintana Roo. They are mostly underground and deeper. They are paradise for free divers.We absolutely loved the Cenote Hacienda Oxman, this is one of our favorites Cenotes. I loved how beautiful it is from above when we arrived. Also, we could jump into the blue water it was really fun. And the best part of it are the catfishes inside! They are so fun and friendly they come so close to say hi!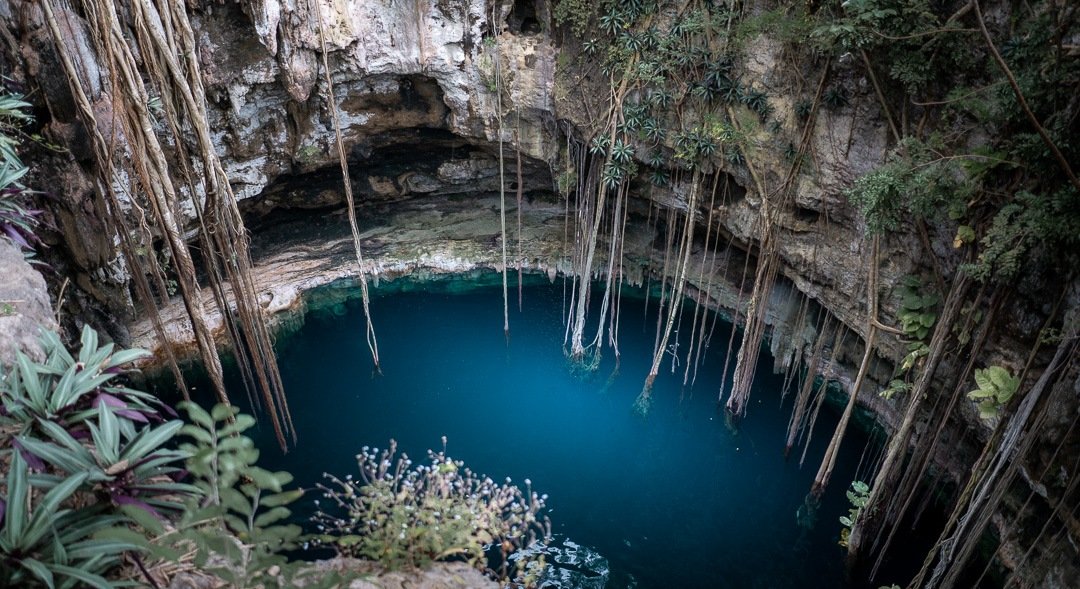 Also, we have been to the Cenote Ik kil and we have not really liked this one. It is very difficult to access the Cenote, especially with bags, you will have to swim to access the cenote. Also, the persons are not friendly at all, we had the impression to not be welcome there. We don't really recommend this one. Also, it is way less beautiful in person, photos are definitely filtered! Also, we don't recommend visiting Syutun, it is so touristy that people are waiting in line to take a pic in the Cenote. We have totally skipped that one and we advise you to do the same thing! You should better visit the Cenote Oxman, you won't be disappointed.
The city of Velladolid
In the afternoon, we have visited the colorful village of Valladolid and we loved it. It is way more authentic then Playa del Carmen for example. The village is made of ancient colorful constructions it does looks like Cuba! Also, we really enjoyed eating at local restaurants owned by Mexican families. We highly recommend having dinner at … You should try their Guacamole and veggie tacos! Also, we stayed at Colonial Zaci by Guru in the heart of the city for less than 40 USD per night and we have a really nice stay.
Visit Bacalar
Balacar looks absolutely incredible but the only little detail to take into consideration before going there is that right now the water is green. Yes, unfortunately it's not blue anymore due to the algeas that are invading the waters. I really hope this place will heal now that there are less tourists. This is why we finally didn't went there during our trip as we planned to do.
Visit the island of Holbox
We only heard positive things about Holbox, a lovely small island located in the north. You just need to take a boat to reach the island. The big plus are the beautiful beaches there and the street Art. We didn't have time to get there, but we'll definitely do next time 😉
You can also read our post about "how to save money to travel more"
Travel to Mexico in 2021 : the best things to do
It is totally possible to travel to Mexico in less than two weeks, but obviously it's impossible to see everything in one time! But that's a good reason to go back right? The best thing to do to plan your trip is to keep in mind all the places you absolutely want to see this time. And then create your itinerary. For example, we absolutely wanted to visit : the maximum of Cenotes, Tulum, the Chichen Itza, the village of Velladolid. Then we organized our perfect itinerary for 10 days in the Quintana Roo and the Yucatan.
Based on our personal experience, we highly advise you to visit in the Quintana Roo: Tulum, Gran Cenote, Dos Ojos and Tak Be Ha. But also in the Yucatan: the Chichen Itza, Cenote Oxman and the village of Velladolid.
We had an amazing experience in Mexico and we really advise you to plan your next vacation there! Mexico is a beautiful destination, as much for couples, families or friends. This country was a big surprise for us and it was the perfect mix between adventures, exploring new places, learning about a new culture and the perfect tropical vacation under the sun!
Let's connect on Instagram! @chiarabarrasso and @jelafaille