You are traveling to Mexico soon and you want to know the most beautiful Cenotes in Tulum? This post is for you! Can you believe there are more than 6000 Cenotes in Mexico ? It's crazy to imagine and it's difficult to choose with one to visit. This is why we have made this post ! We wanted to tell you what are the most beautiful Cenotes to visit near Tulum ! And surprisingly the most beautiful are not the most popular. Most of the time, travelers that come to Tulum visit the most popular Cenotes. But there are hidden gems that you could have all to yourself 😉
During this trip we have really focused our attention on these amazing caves because we were amazed by these mystic places. That were considered as sacred by the Mayas. When we see them we can easily understand why! These Cenotes have something particular and precious. Every single one of them is unique and different from each other. Some of them are really deep and you can even dive into them. Other are not so deep and are home of turtles.
Anyway, if you are planning to visit Tulum soon, you absolutely need to visit these beautiful caves, called Cenotes, pronounces [cé] [no] [té] ! You can also read our complete travel guide to Mexico!
Where are the Cenotes exactly?
Before starting this post, here is a map of the most beautiful Cenotes near Tulum. Most of them are near Tulum, but some of them are in the Yucatan (2 hours driving). You can see them at the maps on the left. The maps at the right is a zoom on Tulum area.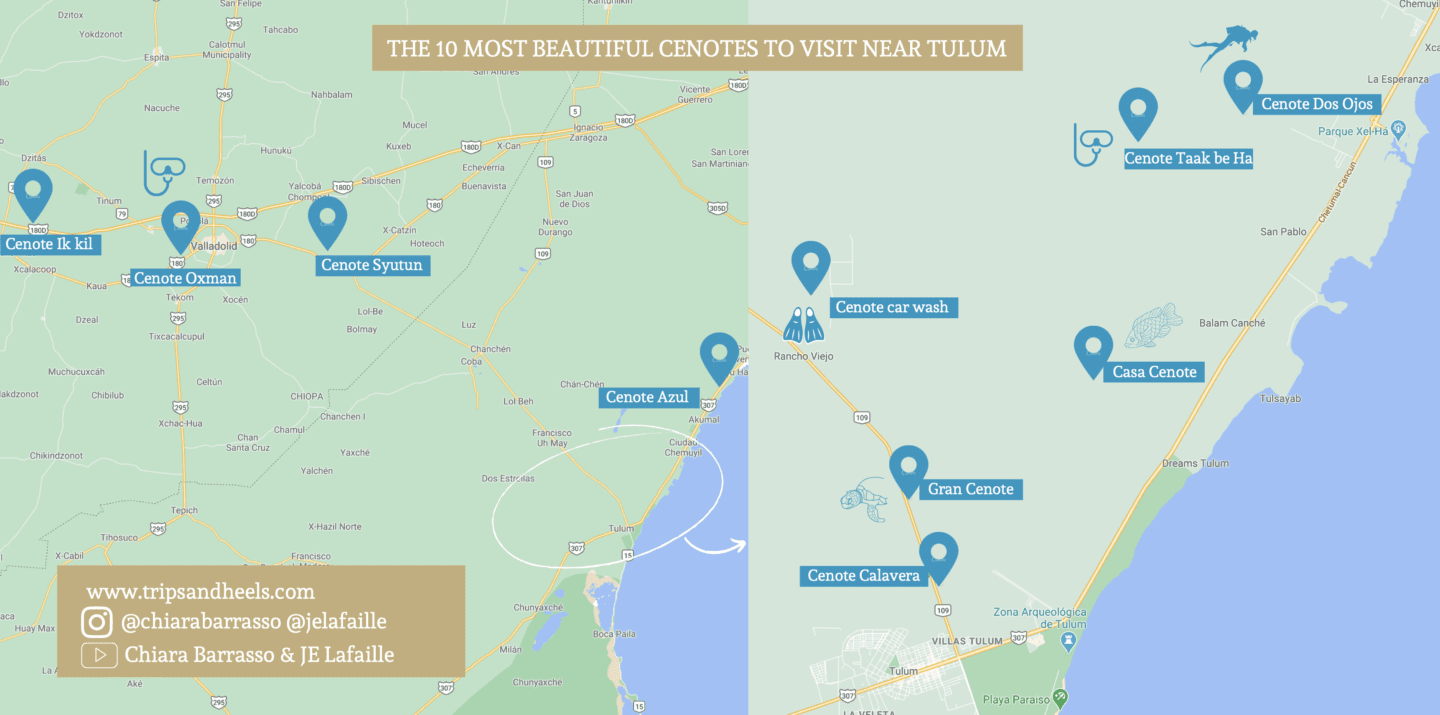 A few informations about the Cenotes near Tulum
There are more than 6000 Cenote in Mexico and they are all beautiful. We have only seen around 10 Cenotes so we are giving you our feedback about these ones. But of course there are many beautiful other ones in the country.
Before entering into a Cenote you need to have a shower to remove : makeup, sunscreen, cream or anything that could alter the health of the Cenote and the living beings that are into the Cenote.
Also, it is very important to NEVER touch animals, stalagmites, stalactites and centenaire trees in the Cenote.
You need to know that entering into a Cenote is NOT FREE ! It is mostly around 300 Mexican Pesos per person. It is equivalent to 15 USD per person. But some of them are more expensive such as Taak Be Ha or Sac Actun and the entrance is around 750 pesos (around 30 USD).
Also, in certain Cenotes the cameras and/or tripod /!\ are not allowed, you can just enter with a Go Pro or your phone… In other you can but you will have to pay a supplement to bring your camera…
The Cenotes are not open 24/24, it is approximately open between 8:30 am and 5:30 pm.
Be careful about your bags, phones etc. Never let anything in your car !
1. Dos Ojos Cenotes in Tulum
Dos Ojos is also a fabulous Cenote to visit. It is also close to Tulum (15 minutes driving from Tulum center). This Cenote is really deeper and you can even practice scuba diving in the caves. Dos Ojos means 2 eyes, this is why there are 2 cenotes. The most beautiful one is the first one. The water is incredibly beautiful, deep blue. There are beautiful stalagmites to observe and even a bat cave !
There is a space to swim and another one for divers. Any cameras and tripods are allowed. The price is 350 pesos per person. You can either buy an entrance pass for this price or buy a pass with a guide.
2 Cenote Taak Be Ha
This Cenote is probably the most breathtaking Cenote and astounding one we have visited! When you arrive in front of this small hole you can absolutely NOT expect to see such a wonderful place like this Cenote. When you finally go down and discover this Cenote you are speechless ! It is simply stunning.
You see a 360 cave under the floor made of incredibly clear water and stalagmites everywhere. It is quite often at some areas (until 15 mètres). And what is really amazing is that everything is lighted by a natural energy made with plants.
The price is more expensive but you can negotiate. We paid around 350 pesos per person (15 USD per person).
3. Gran Cenote and the turtles
Ok, this one is really famous, you have probably seen hundreds of times photos of this breathtaking Cenote. This Cenote is divided into 2 Cenotes. And the most beautiful one is at the end of the garden. The particularity of this Cenote is the fact it is home of turtles! Also the floor is made of sand and it is not so deep, what makes the color of the water really clear and blue.
We had a fabulous experience at Gran Cenote. We came early in the morning at the opening (around 8:20 am). And we had the place all to ourselves ! It was magical to observe the turtles in their natural habitat and being alone with them. Obviously we didn't touch them, we just observed them. This place is simply magical, you can easily imagine why it is our favorite Cenote. We highly advise you visiting this Cenote if you are in Tulum !
You just need to know that cameras and tripods are not allowed ! You can just enter with a Go pro and your phone. The price is 300 pesos per person.
4 Cenote Azul
We have also really loved the Cenote Azul, close to Playa del Carmen. This Cenote is very particular because in the Cenote there are many rocks and the color of the water is crazy. Also it is surrounded by the jungle and you can do snorkeling there are beautiful colorful fishes.
The price is around 300 pesos and you can bring your camera, tripod and everything you want.
5 Calavera Cenote in Tulum
Ok this Cenote is very popular and touristic, this is why we finally didn't make it to this one! There are so many people there and it is definitely not the best one. Also the price is 300 pesos to enter into the Cenote and if you are brining a camera and or a drone you have to pay again 300 pesos. So it is very expensive if you want to keep memories / create content.
6. Car Wash Cenote near Tulum
This one is so cool ! It is an open Cenote, the color of the water is between green and blue. The Cenote is surrounded by the jungle it's beautiful. There are many fishes and aquatic plants to observe. And you can even jump from the pontoon (around 5 meters). It is also a great place for scuba diving.

This Cenote is not so popular and it's weird because it is beautiful and close to Tulum! The price is cheap around 150 pesos per person (7 USD per person).
7 Casa Cenote
This Cenote is also beautiful and is an open Cenote surrounded by trees. The color of the water is crazy blue. It is not so touristic but the Cenote is beautiful. The price is around 300 pesos per person.
8 Cenote Ik Kil
This Cenote is located in the Yucatan region, 2 hours driving from Tulum. But if you are planning to visit the Chichen Itza, you can add this Cenote on your list! It is very close to the Chichen Itza (10 minutes driving). This Cenote is really famous and popular on social media and it is pretty. But I have to admit that I was a bit disappointed because it was not as pretty as in the photos. The color of the water was really dark, it was definitely filtered on the photos !
Also, it is very difficult to access the Cenote, you have water until the belly so if you have bags it is difficult. The price is around 300 pesos per person.
9 Cenote hacienda Oxman
This Cenote was one of our favorites! I totally felt in love with this place. I swear it is even more beautiful in person than on the photos! The color of the water is crazy deep blue. You can even jump into the water it is really fun. Also there are catfishes everywhere and they are so kind and friendly ! The Cenote is 45 meters deep so it is really fascinating and intriguing. The best hour to visit the Cenote is in the morning between 8 and 10 am. It is during these hours that the water will be really blue.
The price is around 300 per person and you can bring everything: camera, tripod, go pro, dome… The staff is so friendly and adorables, we really felt welcomed there. We highly advise you to visit this Cenote !
10 Cenote Syutun
This Cenote is unfortunately really popular on social media and it is so crowded even in the morning that people are waiting in line to have a pic… This is exactly why we didn't visit this one! Of course it is really beautiful and special but we didn't find an interest to wait in line, take a pic and leave…. If you also want to truly enjoy your time in the Cenote, skip that one! If you absolutely want to see it, then go!
The most beautiful Cenotes near Tulum
That's almost over my friends! I hope this post will be really helpful to help you organizing your trip to Mexico. Let us know in the comments if yes and if you have more questions 😉
We had a wonderful time in Mexico and we really loved our experience in the Cenotes. Our favorites ones are Gran Cenote, Taak Be Ha, Dos Ojos and obviously the fabulous Oxman. Let us know which one you are going to visit !
Let's connect on Instagram @chiarabarrasso @jelafaille and on our Youtube Chanel!