Are you going to visit Tulum soon? Tulum in Mexico is a place you couldn't miss unless you live in a cave! You must probably have seen hundreds photos of these superb Cenotes, long beaches and luxury eco hotels on Instagram. Whether we say good or bad things about Tulum it remains a place to see once. Because it is quite unique in its kind. Some will love it, others will hate it (I promise I'll give you my honest opinion afterwards!). Don't be in such a hurry ;), but in any case Tulum, like Dubai, leaves no one unmoved!
You should know that Tulum, like Cancun or Playa del Carmen, is a very recent city. It was created in 2006, around archaeological sites, beaches and parks. Since then, the population has more than doubled and continues to grow. There are so many things to see and do around Tulum. The archaeological ruins, cenotes, long beaches, seabed or even parks and forests. They are truly superb places, treasures of nature. Also, another part of Tulum is the 'hype side' with vegan cafes and famous beach clubs.
We stayed only 5 days in Tulum, when we traveled across the Quintana Roo. This was during our great two weeks road trip to Mexico. Just before going to Veladolid. And I have to admit that my opinion was rather mixed, even if I really fell for these water craters called Cenotes! I'll explain in detail below!
Why to visit Tulum in Mexico?
Tulum is a real paradise for long beaches and cenote lovers. You know, those famous chasms filled with a superficial layer of fresh water, produced by the dissolution and then collapse of limestone terrain. We see them everywhere in pictures. There are more than 10,000 cenotes in Mexico, isn't that crazy?! Some are very deep, you can even go scuba diving or snorkeling. When I saw these cenotes I fell in love with them. I had dreamed of them so much since I had seen them in pictures and I was not disappointed because they were superb and all unique! An always crystalline turquoise color, rock formations around and often incredible bottoms; home to trees, underwater flowers and fish (and sometimes even freshwater turtles)! Yes yes it is true 😉
By the way, if you also dream of seeing the cenotes, you should read this post on the most beautiful Cenotes to see in Tulum!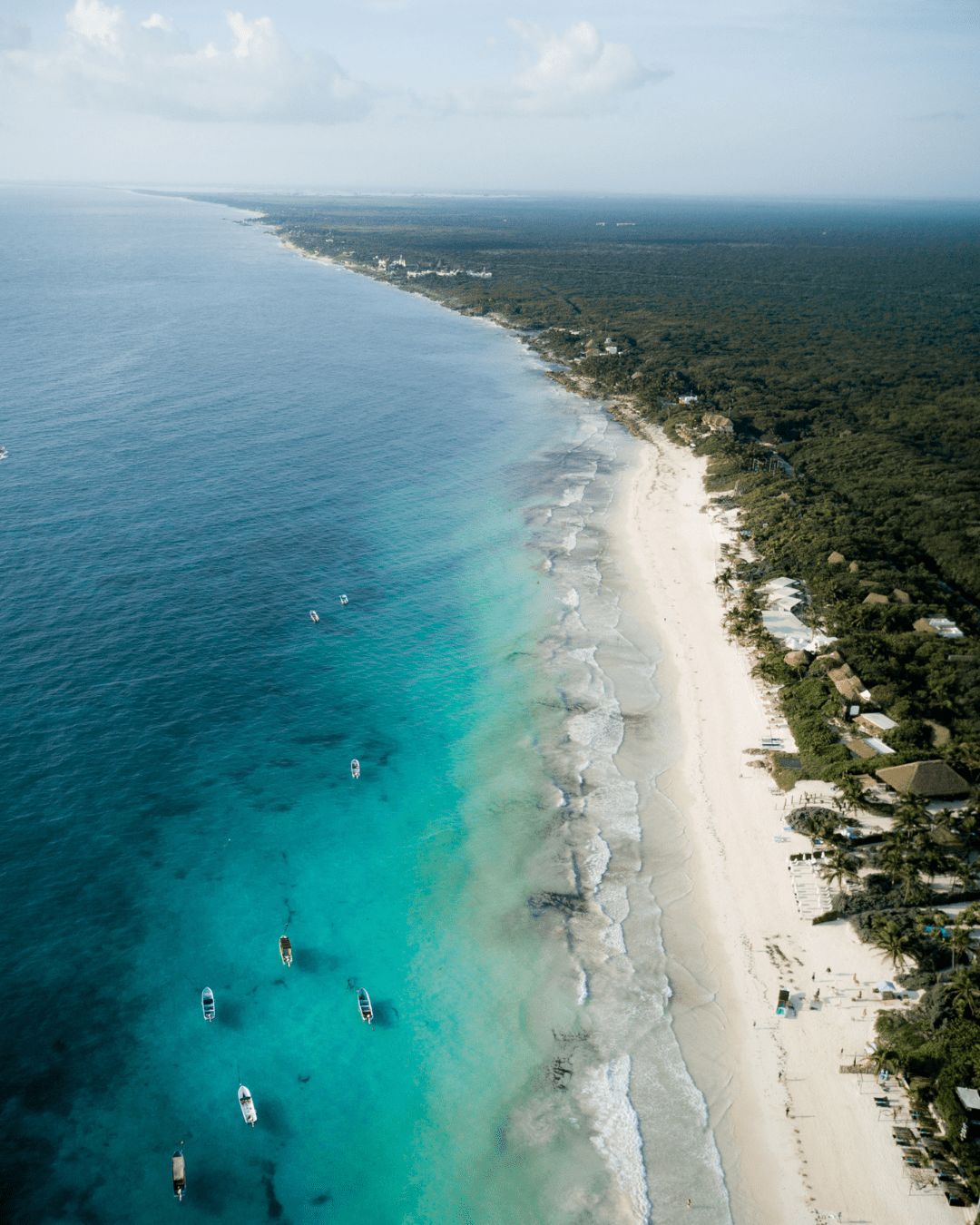 What is also interesting to visit are the archaeological sites, the pretty long beaches that make Tulum so charming. But also go eat at local street foods and walk in the parks. You can also go diving or snorkeling with the turtles.
What is the best season to visit Tulum in Mexico
So my friends, the best season to visit Tulum is between January and April. This is the dry season in Tulum. This is where you will have the best weather: it will be sunny and pleasant. You should really avoid the rainy season which is around July / September. It will be really wet and you won't be able to enjoy your stay even if the prices are lower.
What to do in Tulum, Mexico? The best activities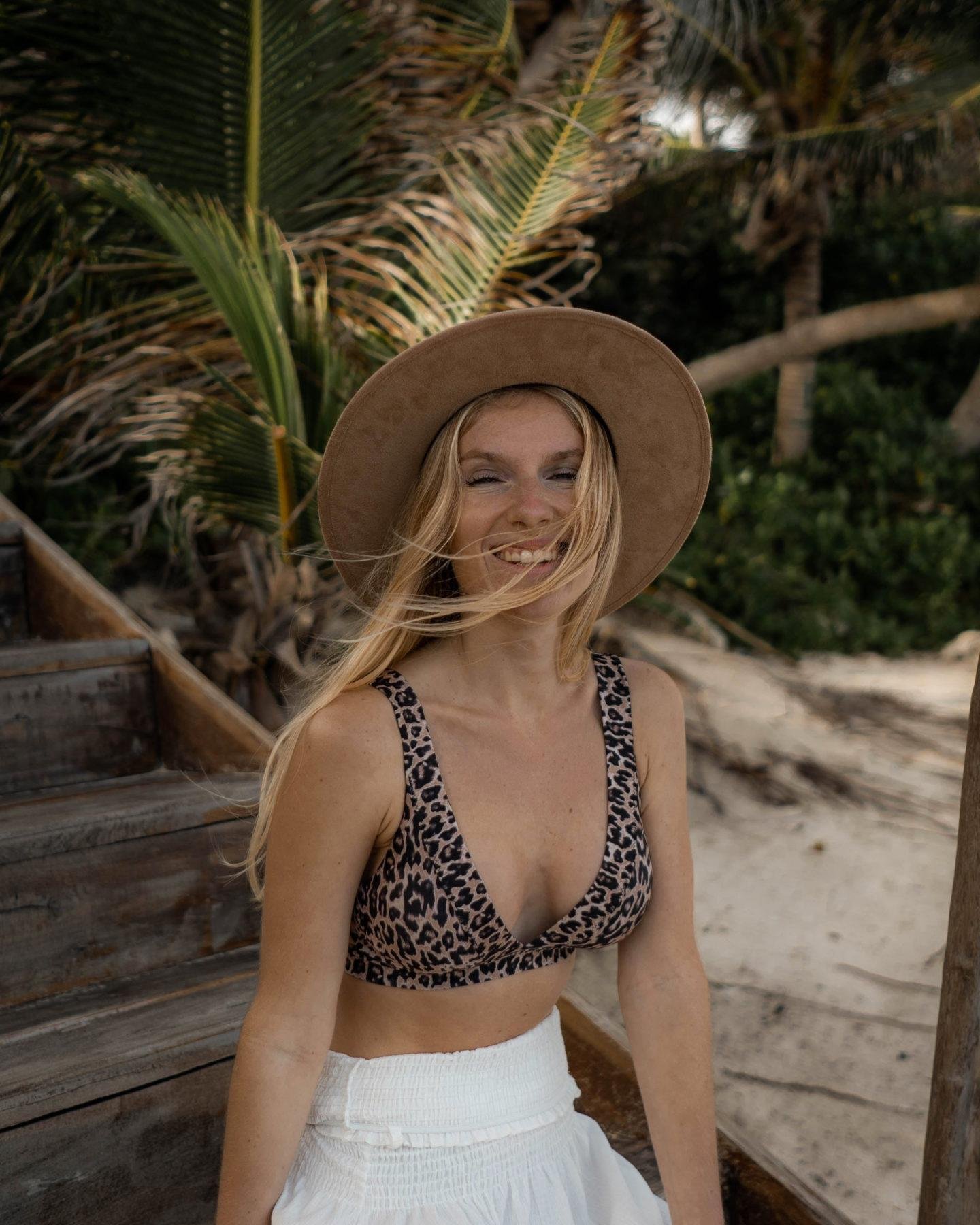 The cenotes
As I told you, the cenotes in Tulum and in the Yucatan were my favorites activities to do. Not only they are all unique and beautiful, but I had never seen them in another country. We really loved the Cenote of Dos Ojos (which means two eyes in Spanish) because there are two connected cenote. You can go scuba diving there to see the underwater insane rock formations. You will also see bats in this Cenote! I also loved the famous Gran Cenote where you can observe adorable freshwater turtles. BE careful to not touch or disturb them, they are so fragile! I also loved Tak-Be-Ha, unknown to the general public, and Car wash in the open air.
The long beaches
Tulum has also stunning long white sand beaches! Ahh we are still in the Caribbean guys! Even if it can be complicated to access it at the beginning. You need to know that there are small public entrances between the hotels and the private entrances to beach clubs. Otherwise you can go for a drink, eat or rent a deckchair to access the hotel beaches. But I think it's not worth it because by walking through a public access… You will get there for free!
The Mayan Ruins
This is definitely a place to visit if you find yourself in Tulum. The ruins of Tulum are a site, housing an ancient city of the Maya people. If you are traveling to the southeast of the country, this is a must visit place. Since 1981, Tulum has been part of Tulum National Park. If you're there, don't miss this place! Admission is charged, around $15 per person.
Sian Ka'an Nature Reserve
It is a summary of the main ecosystems of southern Mexico: Jungle, swamps, lagoons, bays, mangroves, tropical forest. There are lots of things to see. I advise you to take the day and do it with a guide. The boat tour in the lagoons is really nice. The colors are spectacular, the water is really turquoise.
How to get around Tulum?
I recommend you to let your car at your hotel and to rent a bike to go to the beach or to a cafe! There is terrible traffic jam during the day, it is impossible to circulate between 12 p.m. and 3 p.m. and between 7 p.m. and 10 p.m. It's really awful. You can not even imagine. If you have rented a car, leave it parked at the hotel and enjoy your day while riding your bike 😉 Especially along the main alley which connects the beaches, most of the hotels and the shops and restaurants.
Best cafés and restaurants in Tulum
The coolest places for lunch / dinner or a drink in Tulum:
– Raw love: For its superb outdoor terrace. And its sotie bowls, a real treat! Lots of Vegan options.
– Nomade Hotel: For lunch it's really nice. We have our feet in the sand with a bohemian atmosphere.
– Matcha mama: Well this one is a bit of a must if you like smoothie bowls. There is something for everyone: strawberries, mango, coconut…
– Gitano: For its sublime outdoor terrace. I advise you to go there for dinner in the evening: light garlands, lanterns and the jungle: it's really great.
The problem with Tulum : the dark side
As I confessed to you above… my opinion of Tulum has been very mixed. Although I loved the cenotes, the long beaches, the parks and all those vegan options… What can I say… Tulum is exploding and real estate construction is taking over nature. Lots of green washing with not really ecological 'luxury eco hotels'. The traffic is simply abominable at peak times, we are blocked for hours. Really the bike remains the only option because there are too many distances to walk.
And finally, everything is overpriced! Way too expensive for what it is. Hotels, restaurants, everything is too expensive and the value for money is not there. We still have a weird impression of being in a fake city made from scratch like Dubai… Like a tourist trap! I admit that despite the efforts to make everything bohemian and gypsy, you can clearly see that the city is recent and that it is dedicated to mass tourism. Many go there just to party. Tulum is even a dangerous city at certain times and in certain places because it is home to a gigantic cocaine traffic. We hope it doesn't become like Cancun in a few years…
And you, have you ever been to Tulum? Did you like it or not? Give me your impressions in comments friends! And let's connect on Youtube for more adventures 😉