Hey, travel FAM! Today let's talk about one of our best discoveries: Thailand! This Thailand itinerary, made for 10 days, is the perfect itinerary to see elephants in the wild, beautiful islands, temples and beaches! We totally fell in love with this country when we went there for the first time. The beauty of the landscapes, not comparable with everything we have seen before, these rocks formations and the clear water, the long tail boats, the jungle. Everything is epic in Thailand! We also had a magical moment that I will never forget when meeting elephants in their natural habitat. Also, do I need to mention that the food is to die for? 10 days eating Pad Thai and green curry is pure happiness for us!
In this perfect Thailand itinerary for 10 days, we will talk about the best places to visit and how to get there. If you are dying to visit Thailand, and you need inspiration and information to organize your trip, this post is for you! 😉 Also, if you want to know more information read our ultimate Thailand travel guide!
The perfect Thailand itinerary: 10 days
For us, it is the perfect itinerary, including what we have done and what we wish we have done if we had time!
1 Arriving in Phuket
2 Elephant sanctuary
3 Temples and Big Buddha
4 and 5 Phi Phi islands
6 Krabi Railey beach
7 Hong island
8 Hiking in Krabi
9 James Bond island
10 Phuket
How to get around in Thailand?
The best way to get around is to take taxis and long-tail boats. You can easily find a taxi in South Thailand and you can negotiate the price. For the long tails boats, the price is fixed but it is not expensive.
You can also rent a scooter, it is really cheap. The roads are nice. But you need to know that the traffic is insane. And it is really easier by taxi for long distances.
Day 1: Arriving in Phuket
Firstly, you will arrive at Phuket international airport. You can reach your hotel by taxi or you can rent a scooter.
Phuket old town
A place that you can visit is Phuket old town. This Sino-Portuguese splendors and funky shops in the most unlikely places will surprise and delight you in the heart of Phuket. Phuket Old Town offers much more than you think, with some excellent restaurants and local sights. The unique blend of colonial and Chinese architecture, along with a tangible quaintness, makes for a fascinating and unforgettable afternoon spent sauntering around Phuket's Old Town.
Viewpoints
You can also hike to many many viewpoints on both the east and west coasts of Phuket. These viewpoints are perfect for watching the sunrise as well as sunset views. Everyone goes to Promthep Cape, but it doesn't make it any less spectacular. There, you'll get fabulous views over the ocean stretching as far as Phi Phi Island on a good day. Check out Phuket's other viewpoints, such as the '3 Beaches' hilltop view on the road between Nai Harn and Kata, or sip a cocktail at the After Beach Bar.
Phuket night's markets
Also, you can visit Phuket night's markets. Indeed, Phuket has an impressive selection of night markets to choose from. Each one has its own unique charm, but all of them offer interesting souvenirs at low prices. The markets are an excellent place to try local street food and snacks, and some also have street performances and music.
You can also read our post about 10 things to do in Phuket.
Day 2: Visit of an elephant sanctuary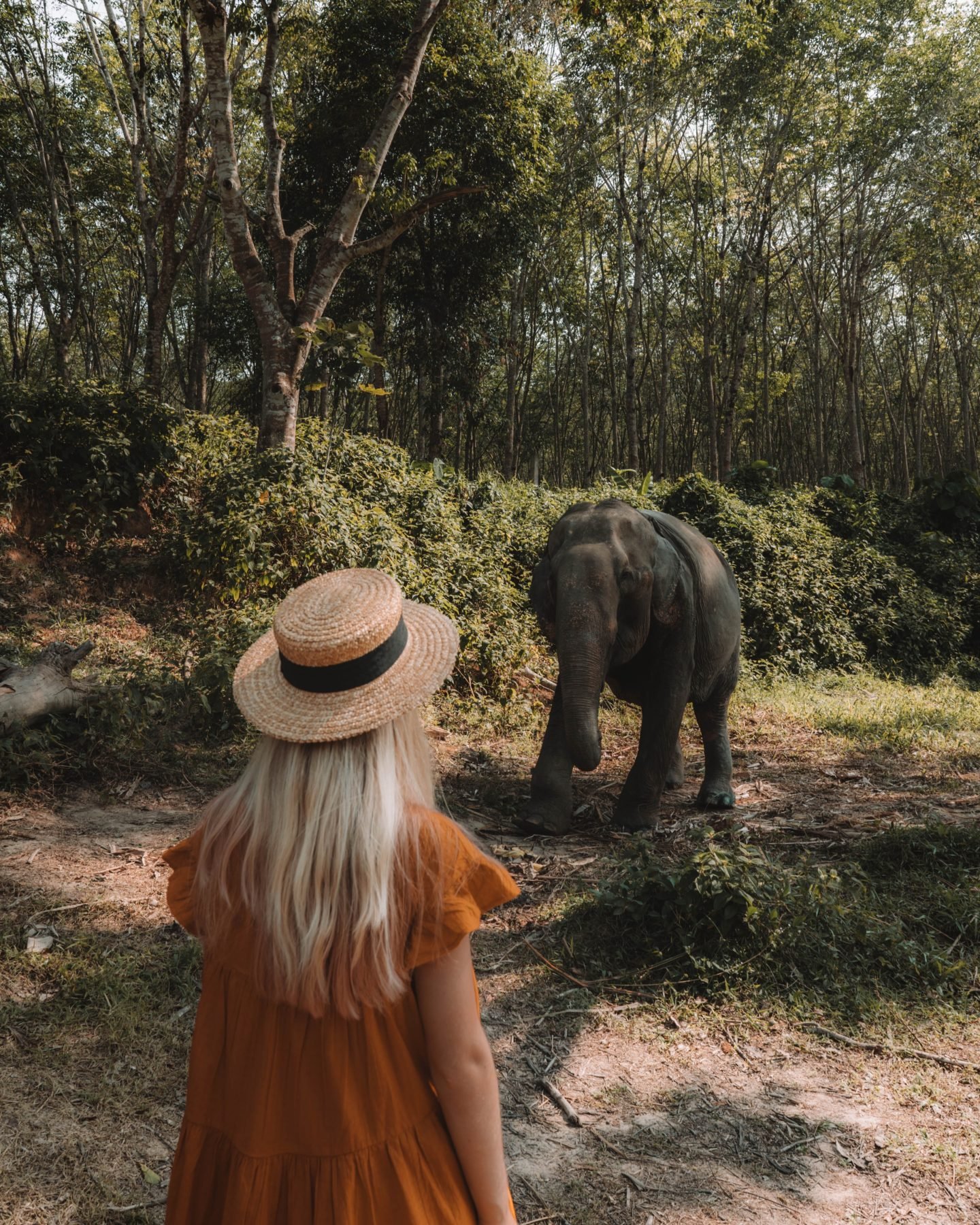 Phuket elephant sanctuary
If you like elephants you need to boycott the circus and elephant riding in Asia! Instead of this, you should definitively visit an elephant sanctuary that is respectful to the elephants! You can spend a half-day or a full day with the elephants. You can feed them with bananas and watermelons it's really fun! They are adorable and beautiful creatures. Please never ride elephants in Thailand, don't go to elephant shows at a circus, or see elephant paintings.
There is a dark side to elephant tourism that many people just don't seem to be aware of. In these places, elephants are chained and mistreated. They are struck to be subject and they collapse during rides because they are exhausted. Elephants are living beings, like us! They feel pain, joy, sadness and love and the lack of freedom! They worth to be well treated and they never should be in captivity.
These elephant sanctuaries rescue elephants mistreated and they offer them a place to be free to be an elephant and not an attraction. If you want to meet elephants, go to a sanctuary, you will help them to buy more elephants and offer to them a better life. The afternoon we have spent there was magical, there are no words to explain how it is to see elephants free, in their natural habitat. If you want to visit an elephant sanctuary, visit Phuket elephant sanctuary. To have more information, read our post about why you should visit an elephant sanctuary.
Note: Be careful before visiting any elephant sanctuary and make your own research. Indeed, several circuses and places where elephants are abused are now boycotted by tourists. So, they are now trying to also create fake sanctuaries that still abusing animals /!\
Day 3: Temples and Big Buddha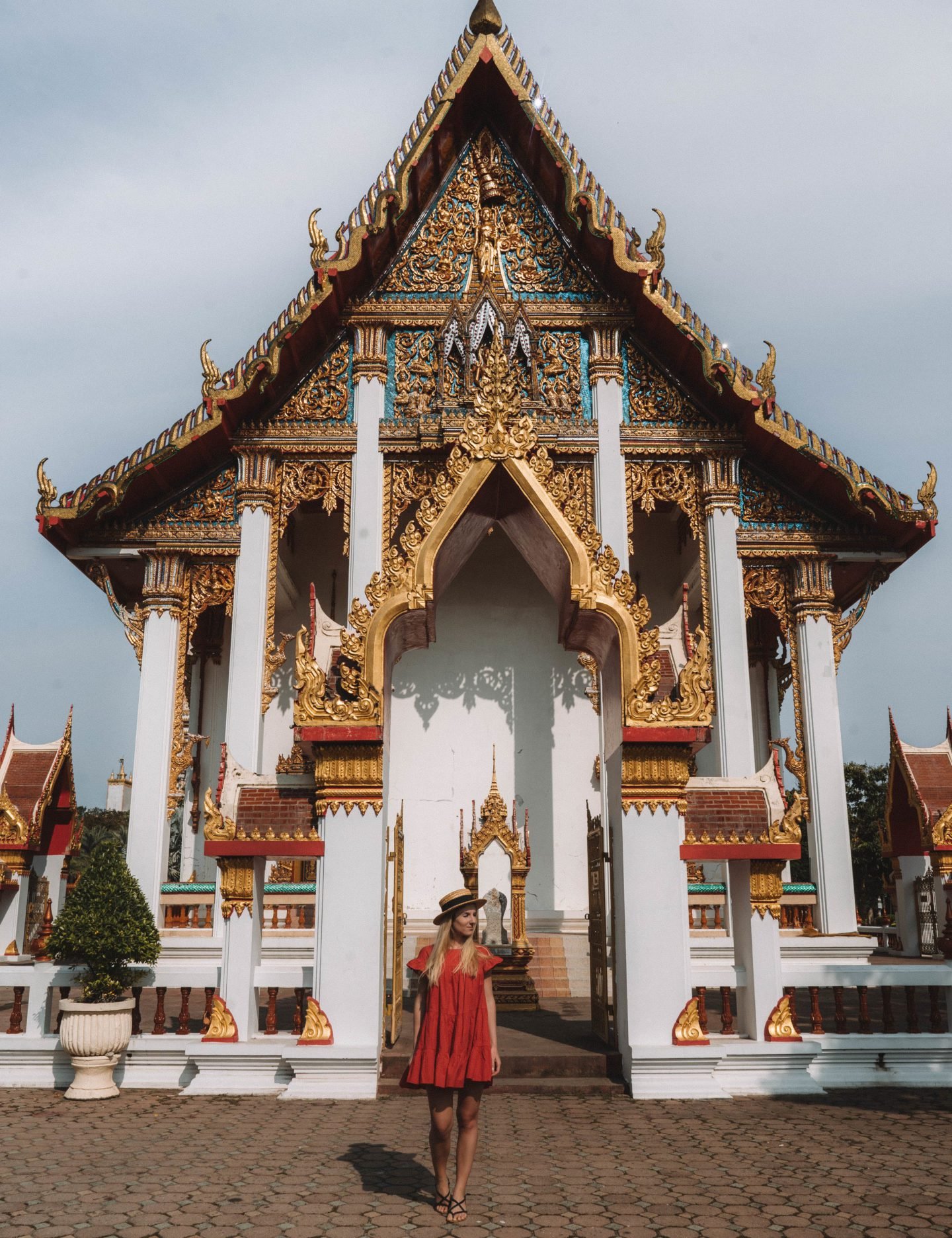 Wat Chalong
There are several beautiful Buddhist temples near the Big Buddha. They are close to each other. Here are the Wat Chalong temples. Locals come to pray and tourists come to discover the Buddhist culture. These temples are absolutely incredible and really worth a visit if you are in Phuket! You can park your car easily for free and take the time to visit the temples. It is open from 7 am to 5 pm. The exact location is 6 Chao Fah Tawan Tok Rd, Chalong, Muang, Phuket 83000, Thailand.
The big Buddha
The Big Buddha is beautiful and is definitively a must to visit in Phuket. This statue on the top of the city has a strong meaning for the locals, it symbolizes the harmonious relationship between man and nature, people and faith. Phuket's Big Buddha is one of the island's most important and revered landmarks on the island. The big Buddha sits on top of the Nakkerd Hills between Chalong and Kata and, at 45 meters tall. This place is easily reachable via a 6-km road leading from Phuket's main artery route, it's a must-visit island destination. You can park your car at the entrance of the site and walk around 10 minutes to the Big Buddha. It is open from 6 am to 7 pm. The exact location is Soi Yot Sane 1, Karon, Muang, Phuket 83100, Thailand
Day 4 and 5: visit of the Phi Phi islands
The Phi Phi Islands are Thailand's superstar archipelago, particularly famous for Maya Bay's role in the 2000 movie The Beach. It is the topic of conversation for travelers all over Thailand. For some, it's the only reason to touchdown in Phuket. Even if this place is crowded, it is absolutely beautiful.
You need at least 2 days on the Phi Phi islands because it will take you around 2 hours by boat to get there. To get to Phi Phi, there are two options: ferries and speedboats. The ferry is by far the most popular method of reaching the islands and the less expensive one. Ferries take about two hours from Phuket and 90 minutes from Krabi or Koh Lanta. The main departure/arrival port in Phuket is Rassada Pier, located in Phuket Town.
Day 6: Railay beach in Krabi
This Thailand itinerary wouldn't be complete without talking about the famous Railay beach in Krabi! Railey beach is a must to see in Krabi. If you want to see typical beaches made of clear water, rock formations and long tails boats, you need to go there! To reach Railey beach, you need first to go from Phuket to Krabi, 2 hours by car. You can take a taxi for 90$. You can try to negotiate but it is the average price. Maybe you can share the taxi with another couple of tourists.
When you have arrived in Krabi, you need first to go to Ao Niang beach. This is the harbor where you will take a long tail boat, you will be at Railey beach in only 15 minutes. The boats are usually shared with 2 or 3 couples.
However, I will not lie to you, it is really crowded from 8:00a m, there are many tourists, but it is absolutely stunning! This place so unique. If you are afraid of the crowd you should try to come really early. Anyway, you will discover a gem! Moreover, the other problem there is this beach is dirty. Certain tourists and even the locals are throwing plastic bottles and other wastes on the beach.
To have more information about Krabi you should read our post about "visit Krabi in Thailand: the best spots"
Day 7: Hong island
Koh Hong island is a small island belonging to the province of Krabi. This island is absolutely beautiful. It really looks like Railay beach but if you are going there, you will see the lagoon of Koh Hong.
To visit this island you need to take a long tail boat also from Ao Niang or from some hotels. This is an amazing experience! You can admire the rock formations and the and the clear water during the traject. You will go through Hong Lagoon which is absolutely stunning! Look at the photo at the right! Isn't it beautiful?
After 25 minutes you will arrive at Hong island. It is a little less crowded than Railay and more natural but there are still many tourists. Of course, the beach is absolutely stunning. You can also snorkel, you will see a lot of colorful fishes! Hong island is a must to see! You need to add it to your Thailand itinerary. especially if you find yourself in Krabi.
Day 8: hiking to the Hang-Nak mountain
The Hang Nak Trail is a hike famous for its breathtaking views from the summit. From the top, you can see all of Krabi's beaches and panoramic views of the valley below. On the summit, there's a big rock perched on the edge, on which you can sit, gape at the awe-inspiring beauty, and click a make-the-world-go-green selfie.
Also, the climb, though extremely rewarding, is quite steep. It's around 3.7 kilometers to the top and would take a fit person around two hours to complete. There are two scenic viewpoints and waterfalls on the way, so even if you are not able to make it to the end of the trail, you can still see some gorgeous views. If you love hiking and an insane point of view, you should add this trail to your Thailand itinerary!
Note: Due to the thick forests, it can get pretty humid here – so make sure you carry at least two bottles of water.
Day 9 Phang Nga Bay James Bond Island
The famous James bond Island also called Phang Nga Bay is unique. A day out here is an unforgettable experience that will definitely get you thinking. A distinctive feature of the bay is the sheer limestone cliffs that jut vertically out of the emerald-green waters. These islands are home to sheltered fauna that are possible to observe on certain tours.
Are you planning to visit Thailand soon?
To conclude, Thailand remains one of our favorites destinations on earth. Even if it is a very touristic destination Thailand has so much to offer! The landscapes are epic, it is the perfect place to meet elephants in the wild, the locals are adorable and the food is insane. Thailand really worths a visit! We hope you like this perfect Thailand itinerary for 10 days 🙂 Let us know in the comments if you have more questions! If you need more information about where to stay? where is the best time to visit Thailand? Read our ultimate Thailand travel guide!
Have a great day! Don't forget to follow our next adventures on Instagram! @chiarabarrasso @jelafaille