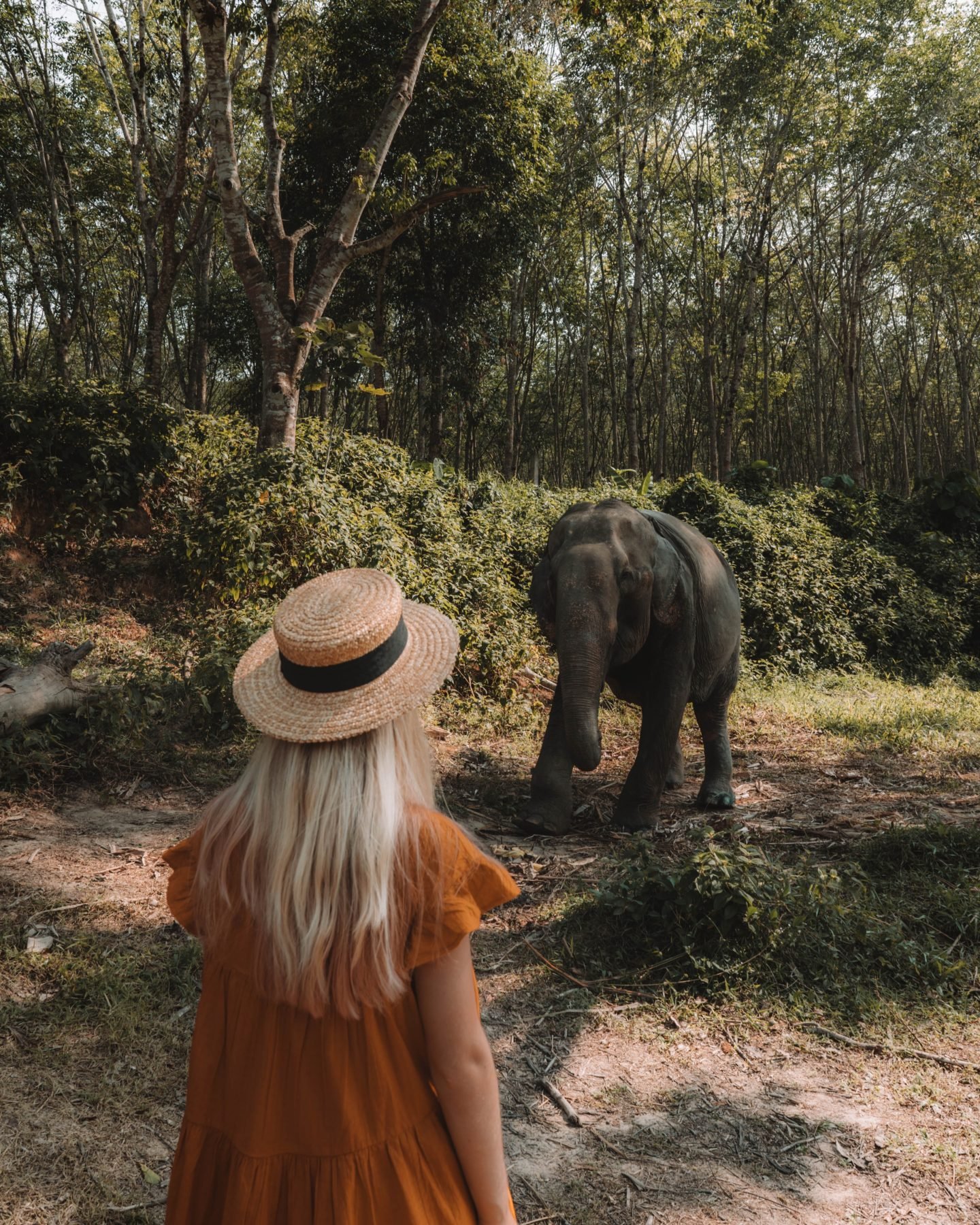 Hey, travel FAM! We recently have been to the South of Thailand for 10 days and we had an amazing experience there! This is why I wanted to share this south Thailand travel guide with you! J-E was dreaming to visit this country for a while and I wanted to surprise him! I heard so many negative and positive things about Thailand, some people didn't like mass tourism there and others totally love this country…We needed to make our own experience there and we totally fall in love with this country!
The local culture which is so special, the locals are so kind and so respectful, the landscapes are epic with turquoise water and the rock formations and the Thaï food is amazing! You definitively need to visit Thailand if it's not already done, you should add this country on your bucket list! If you are seeking adventure, unique places and, experiences, you will not be disappointed! 😉 But there are so many beautiful places to visit and things to do that is impossible to do everything in one trip unless you are staying one month, that's why we have already planned to go back to explore the country properly!
This time we have focused on the south of Thailand and we have been to Phuket, Krabi, Railey and, Hong island. If you want to know where to stay, what places to visit, what activities to do, where to eat traditional Thai food, or how to move, this south Thailand travel guide is for you!
If you want to learn more about this destination before planning your trip, read our post about 10 activities to do in Phuket!
The ultimate South Thailand travel guide
How to get around in South Thailand?
The best way to move is the taxis and the long tail boats. You can easily find a taxi in South Thailand and you can negotiate the price. For the long tails boats, the price is fixed but it is not expensive.
You can also rent a scooter, it is really cheap. The roads are nice. But you need to know that the traffic is insane. And it is really easier by taxi for long distances.
When is the best time to visit Thailand?
The best time of the year to visit South Thailand is between December and April. You should avoid the wet season between May and September.
What places to visit in South Thailand?
Railay Beach in Krabi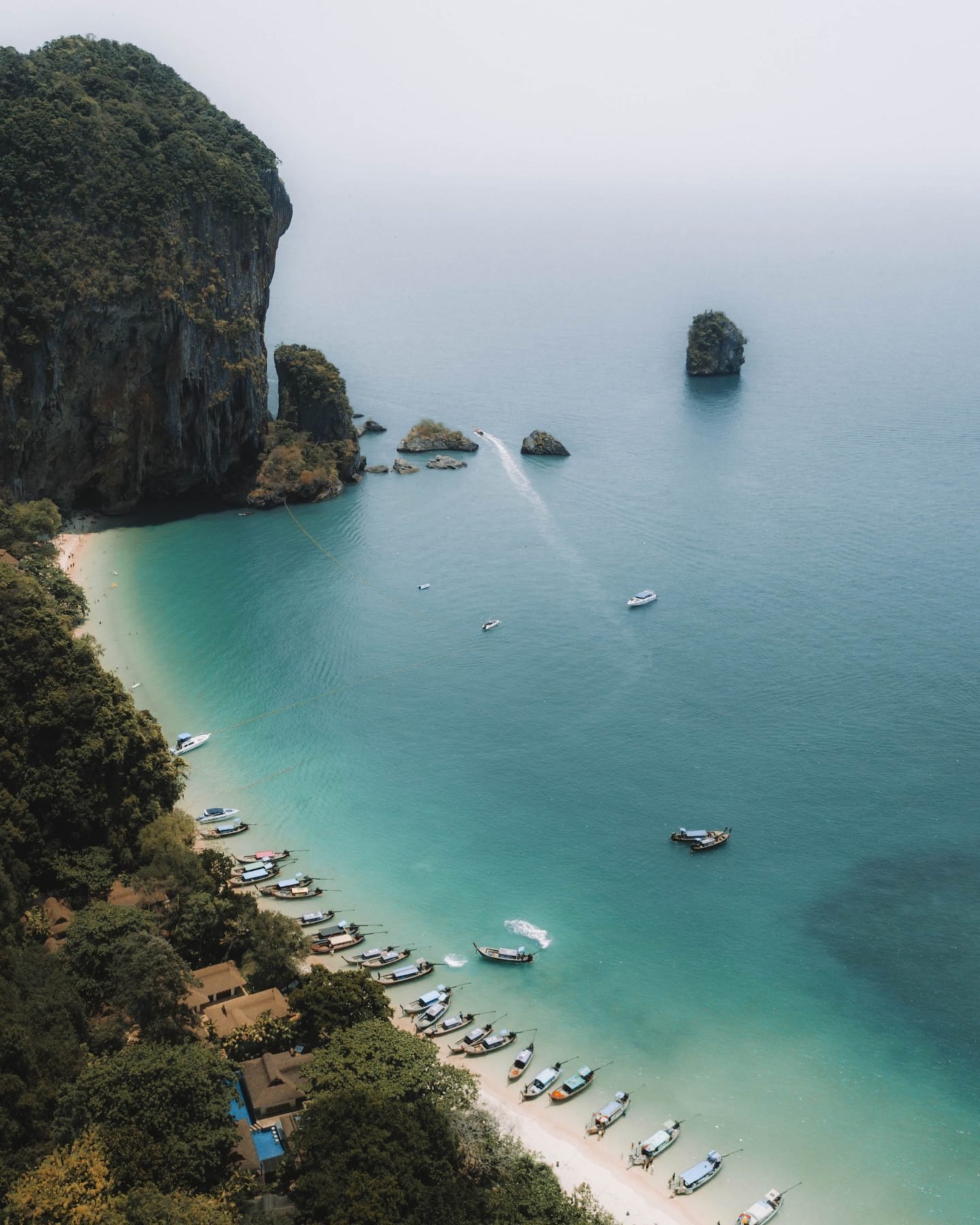 Guys, if you like epic landscapes, you absolutely need to visit the mythic Railey beach! To go there you need first to go to Krabi, 2 hours from Phuket by car. You can take a taxi for 90$. When arrived in Krabi, you need to Ao Niang. Where you will take a long tail boat, and you will be on Railey beach in 15 minutes.
Ok, I will not lie to you, there are a lot of tourists, but it is still stunning! The mountains in the clear water, make this place so unique! If you are afraid by the crowd you should definitively skip this place! If you are not, you will discover a gem!
Travel tip: book at least 2 nights in Krabi and come really early to Railay beach, you will have the beach for yourself until the boats arrive!
Koh-Hong island
Hong island is right off the coast of Krabi. To visit Koh Hong island you need to take a long tail boat which is an amazing experience! You can admire the rock formations and the and the clear water. You will go through Hong Lagoon which is absolutely stunning! After 25 minutes you will arrive at Hong island. It is a little less crowded and more natural but there are still many tourists. Of course, the beach is absolutely stunning and it looks like Railey beach. You can also snorkel, you will see a lot of colorful fishes!
We have been to Koh-honk island during a private tour with our hotel (Phulay Bay). But you can reach this island easily from Ao Nang Beach.
Visit an elephant sanctuary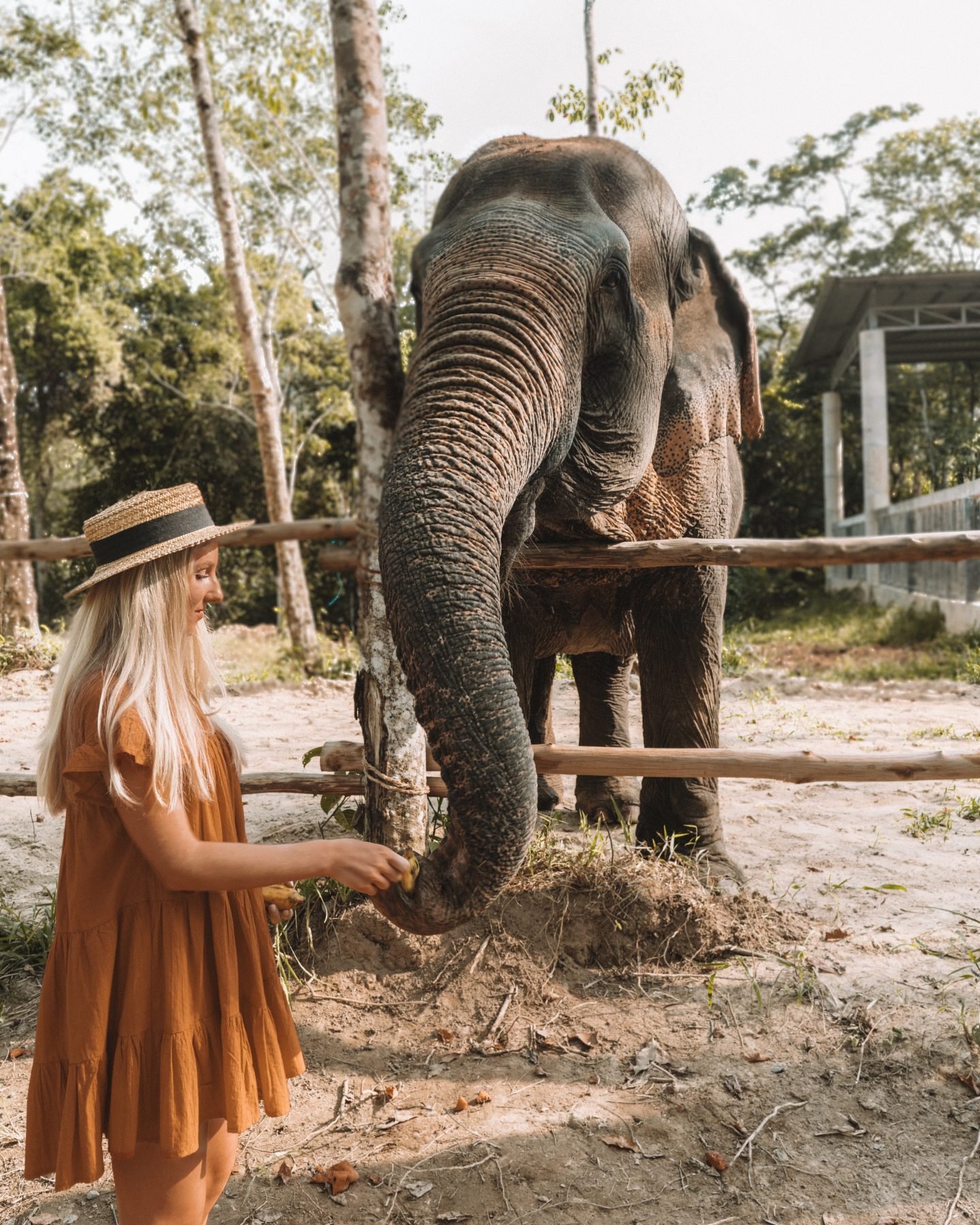 If you like elephants you definitively need to visit an elephant sanctuary! You could feed them and spend time with them, they are adorable and beautiful creatures. But please don't ride elephants in Thailand, don't go to see elephant shows at a circus, or see elephant paintings. There is a dark side to elephant tourism that many people just don't seem to be aware of. In these places, elephants are chained and mistreated. They are struck to be subject and they collapse during rides because they are exhausted. Elephants are living beings, like us! They feel pain, joy, sadness and love and the lack of freedom! They worth to be well treated and they never should be in captivity!
These elephant sanctuaries rescue elephants mistreated and they offer them a place to be free to be an elephant and not an attraction. If you want to meet elephants, go to a sanctuary, you will help them to buy more elephants and offer to them a normal life. The afternoon we have spent there was magical, there are no words to explain how it is exceptional to see elephants happy, free in their natural habitat, doing what they want. To visit them go to Phuket elephant sanctuary. Read our full post if you want to visit an elephant sanctuary.
Visit the temples and the Big Buddha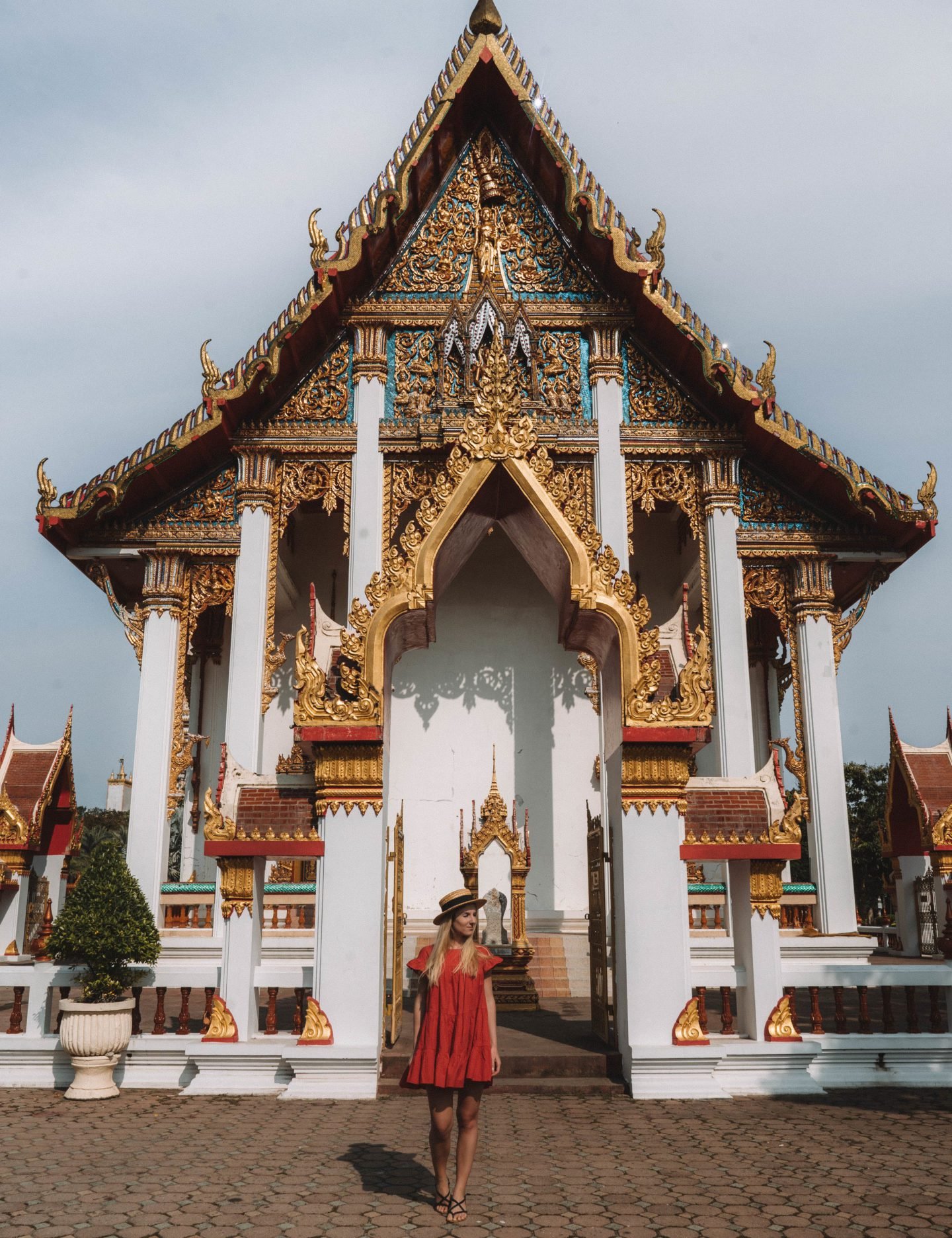 Wat Chalong Temples
There are several beautiful Buddhist temples near the Big Buddha. They are close to each other. Here are the Wat Chalong temples. Locals come to pray and tourists come to discover the Buddhist culture. These temples are absolutely incredible and really worth a visit if you are in Phuket! You can park your car easily for free and take the time to visit the temples. It is open from 7 am to 5 pm. The exact location is 6 Chao Fah Tawan Tok Rd, Chalong, Muang, Phuket 83000, Thailand.
Big Buddha in Phuket
The big Buddha in Phuket is beautiful and is definitively a must to visit in Phuket. This statue on the top of the city has a strong meaning for the locals, it symbolizes the harmonious relationship between man and nature, people and faith. Phuket's Big Buddha is one of the island's most important and revered landmarks on the island. The big Buddha sits on top of the Nakkerd Hills between Chalong and Kata and, at 45 meters tall. This place is easily reachable via a 6-km road leading from Phuket's main artery route, it's a must-visit island destination. You can park your car at the entrance of the site and walk around 10 minutes to the Big Buddha. It is open from 6 am to 7 pm. The exact location is Soi Yot Sane 1, Karon, Muang, Phuket 83100, Thailand
Where to stay in South Thailand?
Phulay Bay a Ritz Carlton Reserve in Krabi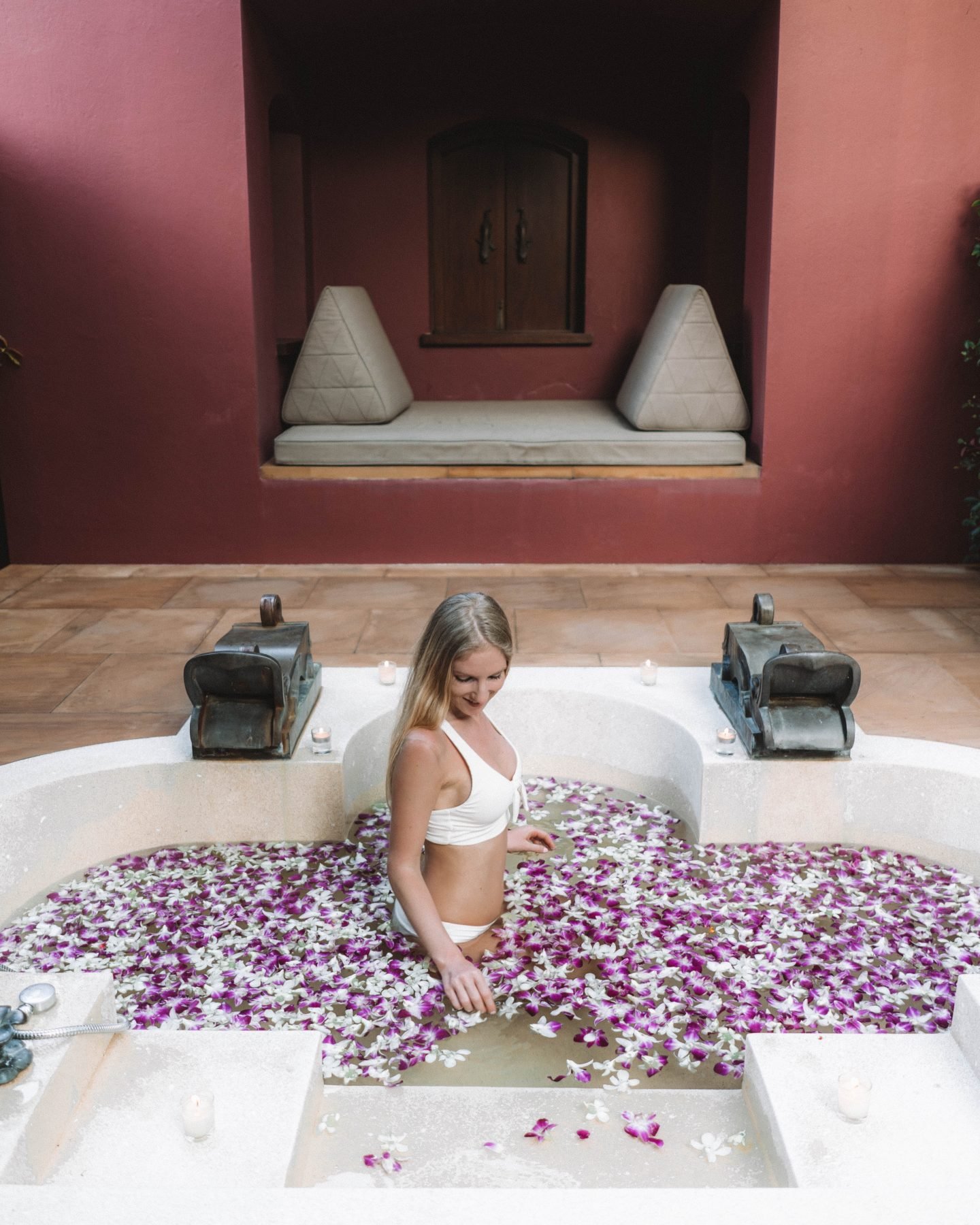 We stayed at the beautiful Phulay Bay in Krabi and we had an amazing stay! This hotel is just another level of luxury and elegance. It is the perfect mix of luxury and nature. Located in a huge reserve, full of beautiful plants and flowers you will totally feel like you are in wonderland! There is also a beautiful infinity pool with a view of the ocean. Don't need to mention that breakfast is to die for. The room was the most incredible I have never seen! Have you seen on Insta stories? the bed was huge, the traditional decoration was so pretty and we had an amazing outdoor bathtub! Also, they propose excursions to Hong Island by long-tail boat. It was another amazing experience, going through lagoons and stoping by the beautiful beach of Hong island was an unforgettable experience!
Dream hotel in Phuket
This hotel in Phuket is really well located, close to the temples, elephant sanctuaries and a lot of beautiful places to visit. Also, this hotel has a stunning rooftop with an infinity pool and a view of the mountains! When the sun goes down, the ambiance on the rooftop is on point! Music, coconuts, and sunset are the perfect mix! There is also another huge beautiful pool on the ground floor! You can have your breakfast by the pool. Also, they have a super cool beach club at 5 minutes of the hotel!
Baba beach club in Phang Nga
This amazing hotel is located in Phang Nga in the north of Phuket. The private beach is absolutely beautiful and empty! You can have the beach all to yourself! This is the perfect place to watch the sunset or to surf! They have also lovely swings and hammocks 😉 The villas are absolutely insane and have a view on the pool! The restaurant of the hotel is really cool too, you can eat traditional Thai food and the breakfast is fabulous (pancakes, french toast, fresh fruits….!)
Kata rocks in Phuket
The "Kata rocks" is the last hotel we have stayed at. I'll highly recommend you to stay there! It's located in the south of Phuket, but we feel like in Santorini! As you can see the pool and the view on the ocean are stunning! The villas with privates pools are amazing too! The modern and minimalistic decoration is so pretty. And the ambiance on the night is really cool, cocktails and tapas by the pool, no better way to end the day!
Are you planning a trip to South Thailand?
To conclude, we hope you liked this South Thailand travel guide! Seriously Thailand is one of my fave countries in the world if you have never been there you definitively should plan to go there! This country is so special and unique and worth a visit! If you have any questions feel free to ask me in the comments below! Don't forget to follow our adventures on Instagram to not miss our next trips! Have a beautiful day!