To visit the province of Krabi in South Thailand, was a total dream come true. I have been dreaming about these landscapes made of clear water, mountains and long tails boats for so long and it was even more beautiful to see in person! The water is crystal clear, the view on the mountains is absolutely incredible and riding on a long tail boat is an amazing experience. I totally felt like Jake Sparrow when we ride on one of these typical boats, we cam through beautiful lagoons and we finally reach these amazing beaches.
Ok, Krabi is very touristy, as most of the best spots in Thailand, but it is still beautiful and I promise you won't be disappointed. You need to visit Krabi in Thailand once in your life! Just because this place is unique and has so much charm. If you love Asia and epic landscapes, you will fall in love with Krabi! Here I will let you know all the best spots to visit in Krabi, how to get there and where to stay! Read on 😉
You can also check out our post about "the perfect Thailand itinerary for 10 days"!
How to get to Krabi?
Taxi, rent a car, or by boat
Firstly, let's talk about how to get to Krabi. If you are coming from Phuket, you have a 2h45 drive. The province of Krabi is located 169 kilometers from Phuket. You can take a taxi a bargain about the price. It will cost you around 90$. You can also rent a car at the airport. We don't advise you to get there by scooter. Either, you can reach Krabi by boat but you will need to take a taxi to reach your hotel.
Activities to do in Krabi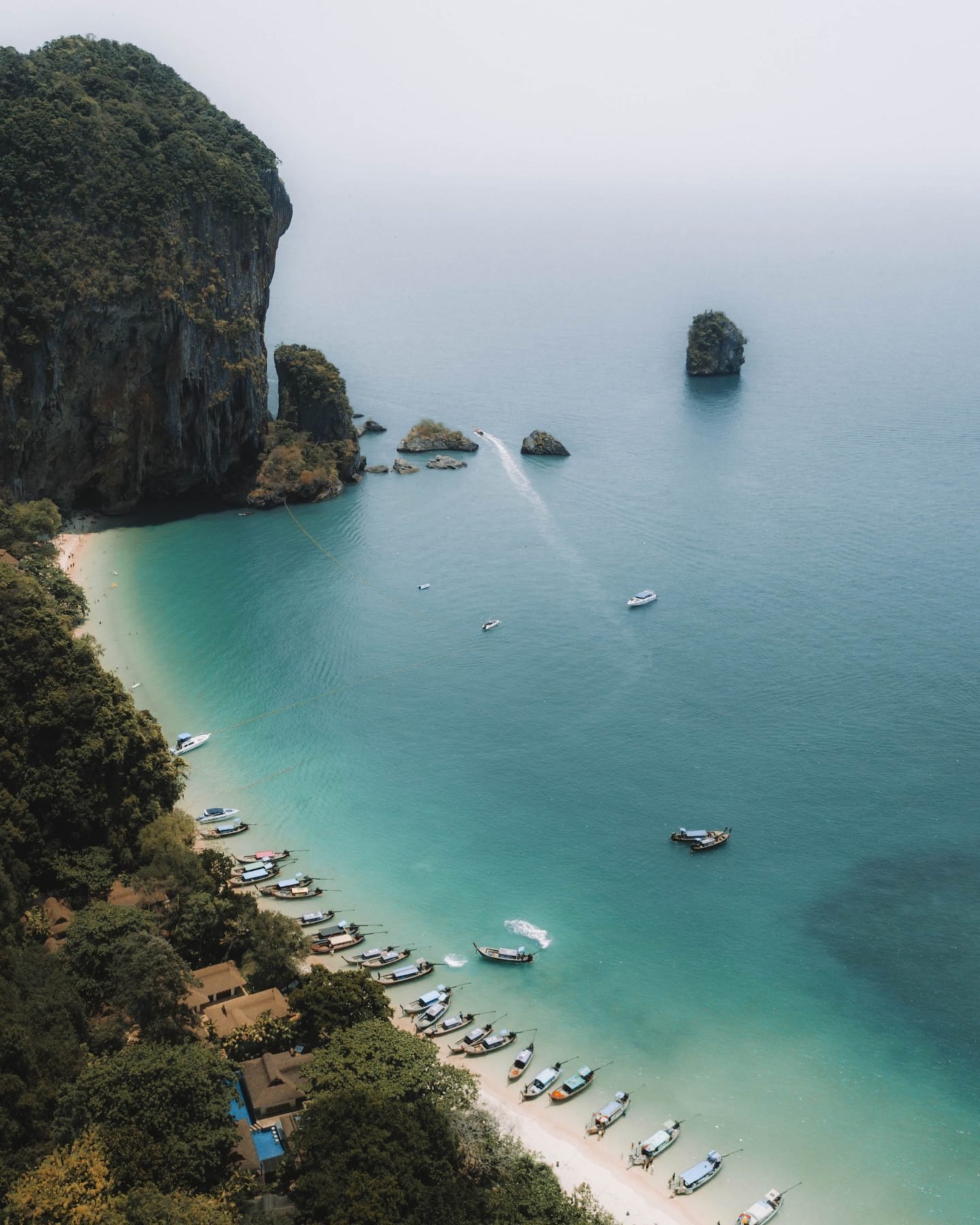 Hong island
You can book a tour to visit the beautiful Hong Island. It is located only 20 minutes from Phulay Bay by boat. You can also reach Hong island from Ao Nang Bay harbor. If you want to avoid the crowd, try to visit Hong island early in the morning. The island is absolutely beautiful, the beaches are made of clear water and views of the mountains. It is a real postcard! Also, You can take your fins and mask and explore the reef. You will find a few parrot fishes and many scissortail sergeants.
Railay beach
Then, if you find yourself in Krabi, you should visit Railay beach. This is probably the most popular and famous spot in Krabi. To go there, you first need to get to Ao Nang harbor. And then, you need to take a long tail boat to Railay beach. It is around 15 minutes. It is a beautiful beach, it looks like Hong island. You can see Railay beach on the photo on the right. The beach starts to be really crowded around 8/9 am. You should try to go there around 6 or 7 am to have the beach to yourself. Especially if you want to take photos!
Hike to dragon crest mountain
Also, you can hike to the dragon crest mountain and get to the famous point of view! The beginning of the hiking trail is located only 5 minutes drive from the hotel. The trail takes anywhere from 2,5 to 4,5 hours to complete depending on your fitness level and how many photos breaks you take along the way. Usually, it takes around 1 hour to reach the peak, at a consistent pace. Don't forget to take good shoes, water, and a snack!
Khao Kanab Nam mountains
This place is also one of the most famous spots to visit in Krabi. The mountains sit either side of the river and are a natural wonder. The two mountains sit on the top of a large series of caves that have many stalagmites.
Krabi Hot Springs
The Krabi hot springs set inside beautiful rainforest surroundings. They have been cut into the smooth rocks and the water is provided from deep-rooted thermal springs located inside volcanic chambers. The waters are warmed at 40 degrees Celsius and contain natural mineral salts.
Phuket
If you are in Krabi for a few days, you can also visit Phuket. There are many amazing things to do as visiting an ethical elephant sanctuary, the temples, the Big Buddha and the typical markets. We highly recommend you to also visit this place. Check out our post about "10 things to do in Phuket"!
Where to stay?
The Phulay Bay, a Ritz Carlton reserve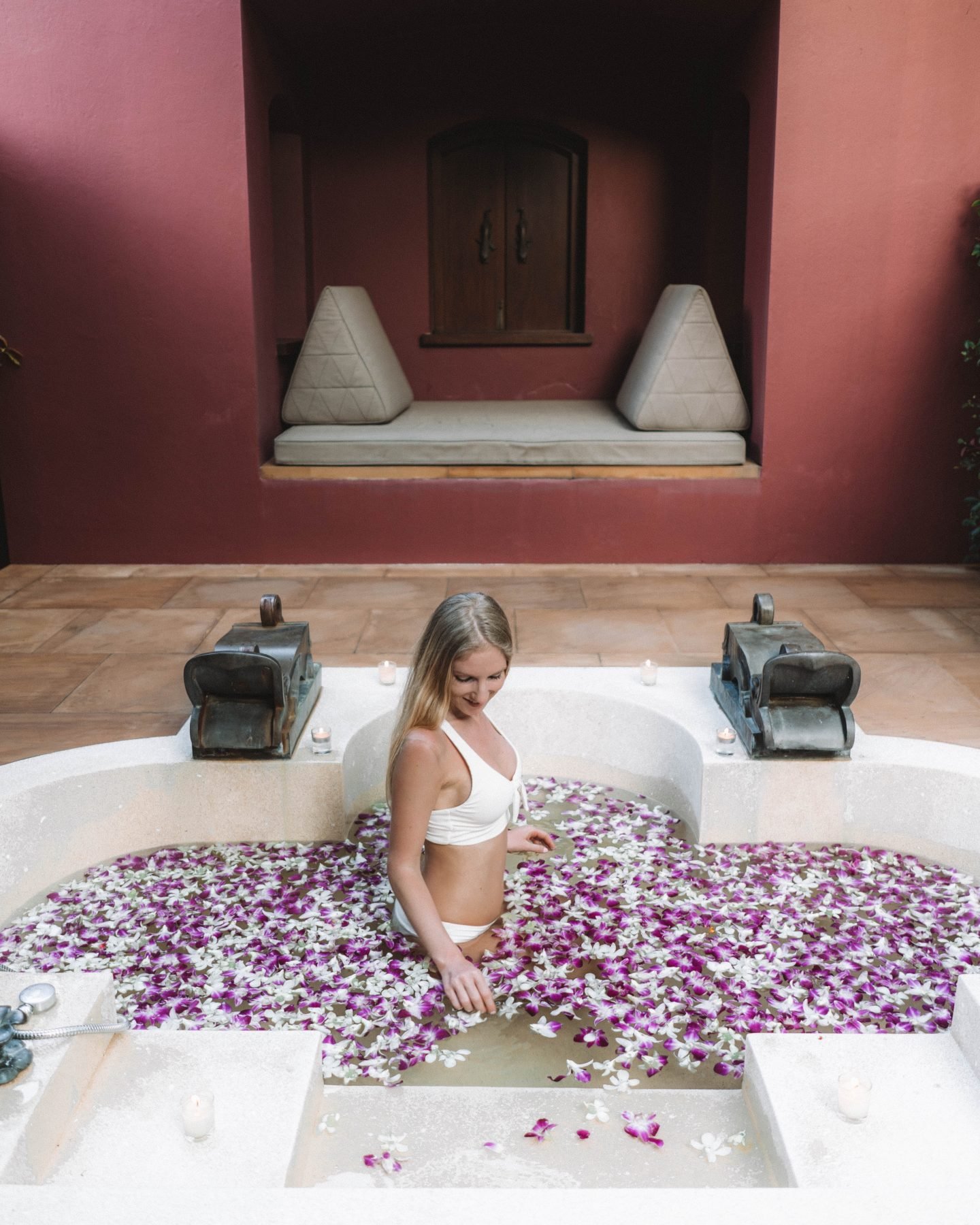 To be honest I think it was the most beautiful hotel we have ever stayed at. We had a wonderful stay at the Phulay Bay, which is the very first Ritz Carlton reserve located in Krabi. This is definitely one of the best hotels in Krabi Thailand. The hotel, located on the shores of the Andaman Sea, is a 54 villas boutique hotel. Its perfect location on the most pristine areas with incredibly beautiful views of mountains, beaches, and islands make this hotel unique.
The hotel
When you arrive at the Phulay Bay, you are warmly welcome by the kind staff, with a fresh flower bracelet and homemade cocktail. Then, you enter the hotel and you are in awe of the beauty of the location. The hotel and the villas are perfectly integrated into the decor. All you can see is a beautiful reserve full of plants and flowers and you totally feel in nature. You can hear the sounds of birds. Staying at Phulay Bay was one of our best experiences. If you are looking for a haven of peace in nature to have a romantic stay, it is the best place for you!
The facilities
Also, the hotel has a beautiful main pool with a view of the Sea, a SPA, a fitness center, a typical Thai restaurant, and a dive center. The villas are absolutely incredible. We had a wonderful villa, lost in the jungle with a private natural pool. But also a private backyard with an outdoor bath. The bed was the comfiest we have ever experienced. The decoration was gorgeous, the perfect mix between a Typical Thai decoration and a modern, actual and chic decoration. The food was really nice too. We had an amazing buffet breakfast with everything we can imagine. And an amazing dinner with delicious Thai specialties. Also, the hotel is offering day excursions to visit Hong island. Usually, the boat is leaving in the morning and go back for lunch. If you visit Krabi in Thailand, you should stay there to be close to all the best spots.
Other accommodation
However, if you can not afford to stay there, you can easily find other accommodations in Krabi. You can either book a room in a hotel or rent a villa. The prices are really low in Krabi. You can find great accommodation for less than 30$ per night.
Are you planning to visit Krabi soon?
To conclude, You should definitely visit Krabi in Thailand, it is a must to see. We highly recommend visiting Railay Beach and Hong island. Even if these places are very touristy, it is still beautiful. You can still visit these places early in the morning! We hope this post will help you decide which spots to visit in Krabi! Let us know in the comments 😉
Don't forget to follow our next adventures on Instagram! @chiarabarrasso and @jelafaille