If you are currently looking to upgrade your videos and you want to know how to use LUTS, you are at the right place! If you are a video lover and you want to learn more about video color grading and LUTS, this post is for you. We will define what are LUTS, how to use them and how to color grade your videos in a professional way. Color grading is really important in video, this is what makes them more attractive and bring them to life. This is as important than the choice of the song, the sound design, the transitions… So if you want to take your videos to the next level, here we are! 😉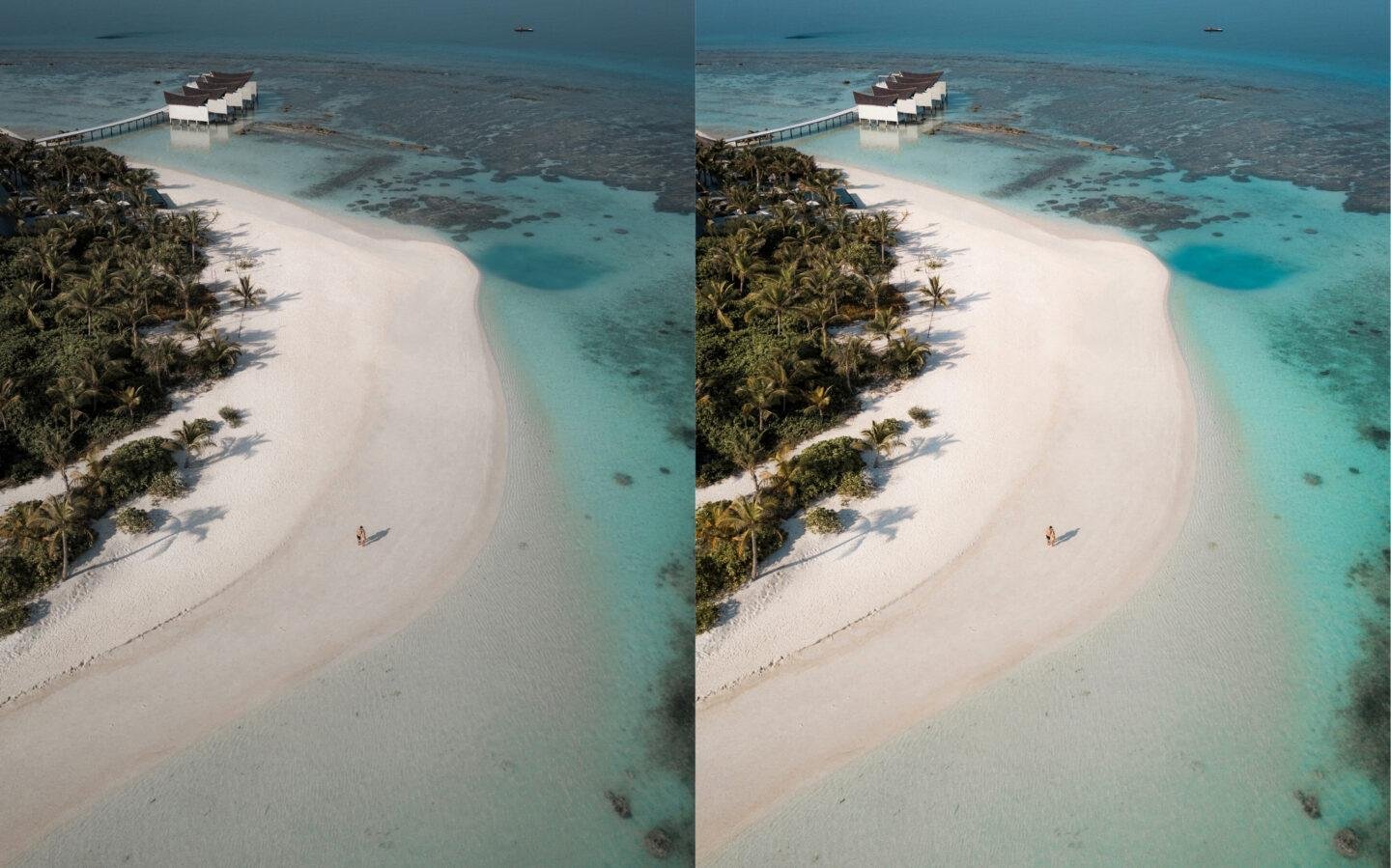 What are LUTS in video editing ?
Before starting we need to know what are LUTS exactly. They are basically 'video filters' that you will apply on your clips to color grade them. A LUT (look up table) is a tool that lets filmmakers, editors, and colorists save as a template. A LUT as a 'color preset' that a filmmaker can easily use to color grade his/ her footages when working on a project. It allowed to edit the colors but also the contrast, shadows, whites, high lights of his/her videos to give them a particular look. To make it easy to understand, it's basically the same thing that Lightroom presets but for videos. You can watch our last film from Mallorca to see how LUTS are amazing to color grade a video and how they match with every kind of situation and light. By the way, all our travel videos are on our Youtube channel 🙂
Why to use LUTS?
Anyone that has already tried their hand at video editing known that full-blown production is a time-consuming, sometimes even fastidious process. Color grading takes up a big chunk of that time. So, if you're looking to optimize your filmmaking post-production and color grading methods? Shop LUTs!
Read on to learn what LUTs are, get to know the different LUT types, and the most important : find out how to use them.
What kind of LUTS do I need ?
First of all, you need to know that there are 3 main video editing software on the market : Adobe Premiere Pro, Final Cut Pro and Da Vinci Resolve. Before buying LUTS, you need to make sure they will work on the software you are using.
There are basically 6 types of LUTS, but the main ones and the ones you will use are the Look LUTS. There are :
Look LUTS
Look LUTs are really easy to use for everyone. They're used to apply a specific, unique look that compliments your script and vision. You will use look LUTs after you're done with color correction.
Log normalization or input LUTS
If you are shooting RAW or LOG you will have to use log normalization or inputs LUTS. Log normalization LUTs transform log footage to a standard or cinematic color space. Apply this LUT before color correcting for satisfactory results.
How to use LUTS to color garde your video ?
It's really easy to use LUTS and start color grading your videos!
1. Normalize your log footage
If you're serious about color grading, shoot in Log whenever possible. Footage shot with a log exposure works way much better with LUTs, even though it seems washed out at first. It will retain more details, shadows and highlights. And will allow for a more vivid and vibrant end result!
Therefore, the first step you need to take is normalizing your log footage. After this, it will appear in standard color space, allowing you to really see what you're working with.
2. Color correction of your film
The next step is to move on to color correction. While color grading is an artistic process, color correction is an absolute necessity.
It will helps the footage appear as natural as possible. This will create the perfect starting point for color grading.
3. Time to choose the perfect LUT to apply
Your footage is now ready for LUTs! The last step is to find the correct LUT to really elevate your film to the next level. You can do this by experimenting. Feel free to try several ones until you find the one who matches your clip.
After that, you will have to import LUTs and then apply them on you clips to see their effect on your footage. You can easily find hundreds of FREE LUTS on the internet but I think that if you really want to have quality ones you will have to buy them.
Where to shop Luts ? For what software ?
If you are looking for great LUTS working on Premiere Pro, you can shop our LUTS just here! We have created a various range of LUTS for every kind of footage : bright, moody, drone clips, landscapes, portraits, underwater… They are ready to use in one clic, you will be able to color garde your clips and take your films to the next level! They have been created to be used easily to give life to a video. From soft one to brighten your clip to more original ones, you will find the LUTS that fits your video!
Color grade your videos like a Pro!
Once you have the LUTS you need, you're ready to try them on your clips and to color grade your videos like a pro! Color grading your movie can truly elevate it and speak to audiences in a whole new way. You can simplify your color grading by using LUTs. Feel free to tag us or send us your videos, we would love to watch them and engage with them 😀
When LUTs might not work ?
Since LUTs are fully automated, they might not work in the following cases: Your footage doesn't match, likely because it was recorded on different cameras. It's not properly exposed, or it's not properly color corrected. If you're having issues applying a LUT to your footage, check if any of the above apply.