Hi loves!
Hope you are doing well, we are back from Bali! After 3 weeks spent there it was so hard to leave! I have already been to Bali last year with my mum for the first time, I have fallen in love with this island. The kindness of the people, the landscapes, the food. I knew that I needed to go back with J-e to show him this incredible place and also to explore more the island. Last time I had only 12 days, so this time I wanted to go there for a long trip!
We planned to go back this year for 3 weeks at the best season, that's why we came in June! We were planning this trip for months and we were so excited to go there! So it was my second time in Bali and it was even better than the first time! It was an unforgettable trip. We moved a lot to explore properly the island and 3 weeks were at least what we needed! There are so many places to see and activities to do in Bali that you always want to go back! haha
I wanted to make a long post for you, to tell you all about our trip and all the places we have visited. Also, I will give you a lot of tips about how to move in Bali, what are the best places to visit and the best activities to do, where are the cutest restaurants to eat smoothie bowls and what are my favorites hotels there! So first we visited the north west of Bali: Sumberkima, then the south-west: Seminyak, Canggu, then Gili islands, Ubud, Nusa Penida and the north of Bali: Munduk! So let's start!
Bali north-west: Sumberkima hills
We arrived on the 1st of June at Nyuh airport, we stayed one night in Ubud and early in the morning we took a taxi to go to Sumberkima. It's easy to find a taxi in Bali, there are so many ones in the streets. But the prices are not fixed you can bargain. The official price is approximatively 7000 IDH per kilometer. There were 150 kilometers but it took like 4 hours to get there because there is a lot of traffic in Bali. Expect very early in the morning, there is always traffic lol.
During this traject, we pass thought Munduk and we saw beautiful points of views on the lakes, many wild monkeys we stopped by to play with them and give them fruits! Also, we stopped by a Balinese restaurant to eat Migoreng and spring rolls (my faves Balinese specialties!).
When we arrived at our first hotel, Sumberkima Hills, we discovered a beautiful village on the heights of Sumberkima, surrounded by mountains. The infinity pools with the view of the mountains were so stunning. It was so peaceful and calm, it's not so touristy and there were no a lot of people at the hotel. If you are seeking a retreat in nature, to disconnect of daily life and the stress I think it is the perfect place for you. There is a beautiful spa, we had an amazing traditional Balinese massage and a flower bath in the middle of nature.
Also, there is a huge swing bed with an amazing view. You can do a yoga class or a canoe trip for the sunrise. We have done the canoe trip and it was beautiful. The rooms were so luxury, we had a beautiful 3 bedroom villa with an infinity pool with the view of the mountains and a volcano. On the night you can see the sky full of stars! We stayed there for 2 nights and we left this place so relaxed! If you can to book your stay at Sumberkima Hills click here!
Sumberkima hills retreat
Seminyak/ Canggu: the coolest places!
After this relaxing stay in the north of Bali, we went to Seminyak (at the south-west)! It took us approximatively 4 hours to get there by a taxi booked for us by the hotel. We arrived at the beautiful Villa Sinta. A 3 bedroom villa with a pool in the heart of Seminyak, really close to Nalu bowls! The staff was so kind! They prepared for us an amazing breakfast with fresh fruits and fresh juices. Also, the villa is really pretty and the garden with the pool is amazing! This villa is perfect for staying with friends or family! Seminyak and Canggu are really cool, there are many restaurants, shops, bars and you can sufr there.
You can have parties on the beach, or you can go to cute restaurants to eat smoothies bowls and avo toasts! They are many vegan restaurants so it was really cool for us, we could choose anything on the menu haha. My favorites are Kind community, Peloton supershop, Nalu bowls, sea circus and cafe organic. You can also eat vegan ice cream at Mad pops! The potato head club was really cool, we had a party on the beach with tapas and cocktails and we've spent a really good night!
Also, we stayed at the beautiful Sahana villa. A 3 bedroom villa with an amazing garden with a pool, an open kitchen and living room. The rooms are absolutely amazing and the staff was also really kind! They prepared a delicious breakfast with fruits, pancakes, and fresh watermelon juice! We stayed 2 days at each villa. After that, we wake up really early to go to Gili islands! If you want to book your stay there click here and for the beautiful Villa Sahana click here!
Kind community
Villa Sahana, Seminyak
Villa Sinta
Gili islands: Gili Meno the most paradisiac places
We had to go first to Sanur beach (harpor) to take a boat to the Gili islands. From Seminyak in the morning, it was approximatively 30 minutes. The price for the boat is 600 000 per person and you should reserve in advance on internet. It took 4 hours to get to Gili Meno, with passed Nusa Ceningan, Lombok, Gili Trawagan and we arrived at Gili Meno. The last stop is Gili Air. When we arrived we discovered a paradisiac beach with turquoise water and mountains. It was absolutely stunning! There was no way to go to the hotel if we didn't want to go with horses carriages. The horses were so thin and exhausted so we decided to walk to the hotel, it was only 15 minutes from the beach.
We arrived at the beautiful Avia villas. The hotel is located on the beach. There's a restaurant on the beach where you can have your breakfast with a view! The pool villa we had was absolutely amazing! It was surrounded by flowers, the bed was so comfy, and there was an outdoor shower! We really felt wild during these 3 days. I liked Gili Meno so much! This island is an absolute paradise! The day after we went diving and we meet a lot of huge turtles and colorful fishes, they were super friendly and came so close to us! These 3 days were amazing! If you haven't been to Gili Meno you should add this place on your list! If you want to book your stay at Avia Villa you can click here!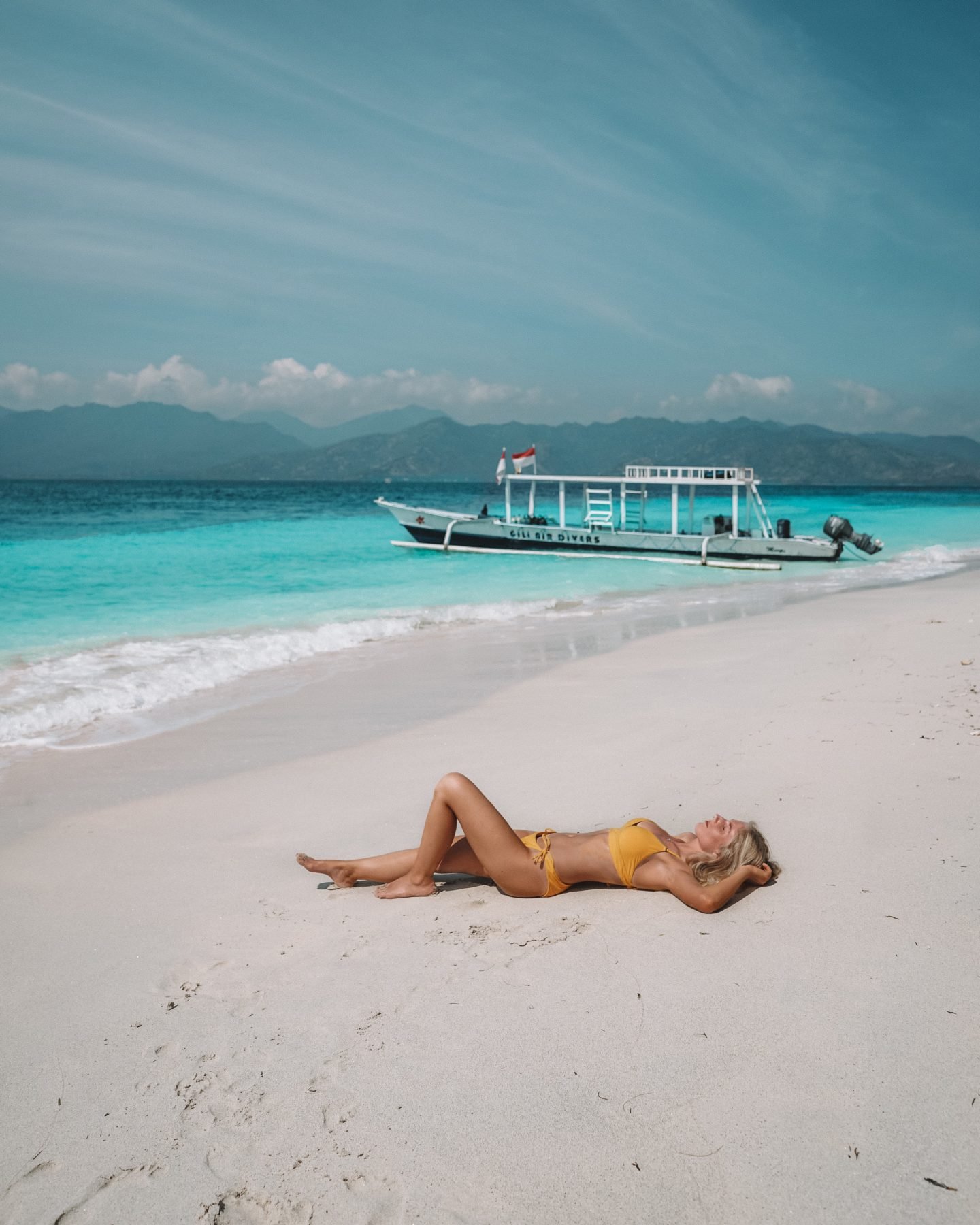 Gili Meno
Villa Avia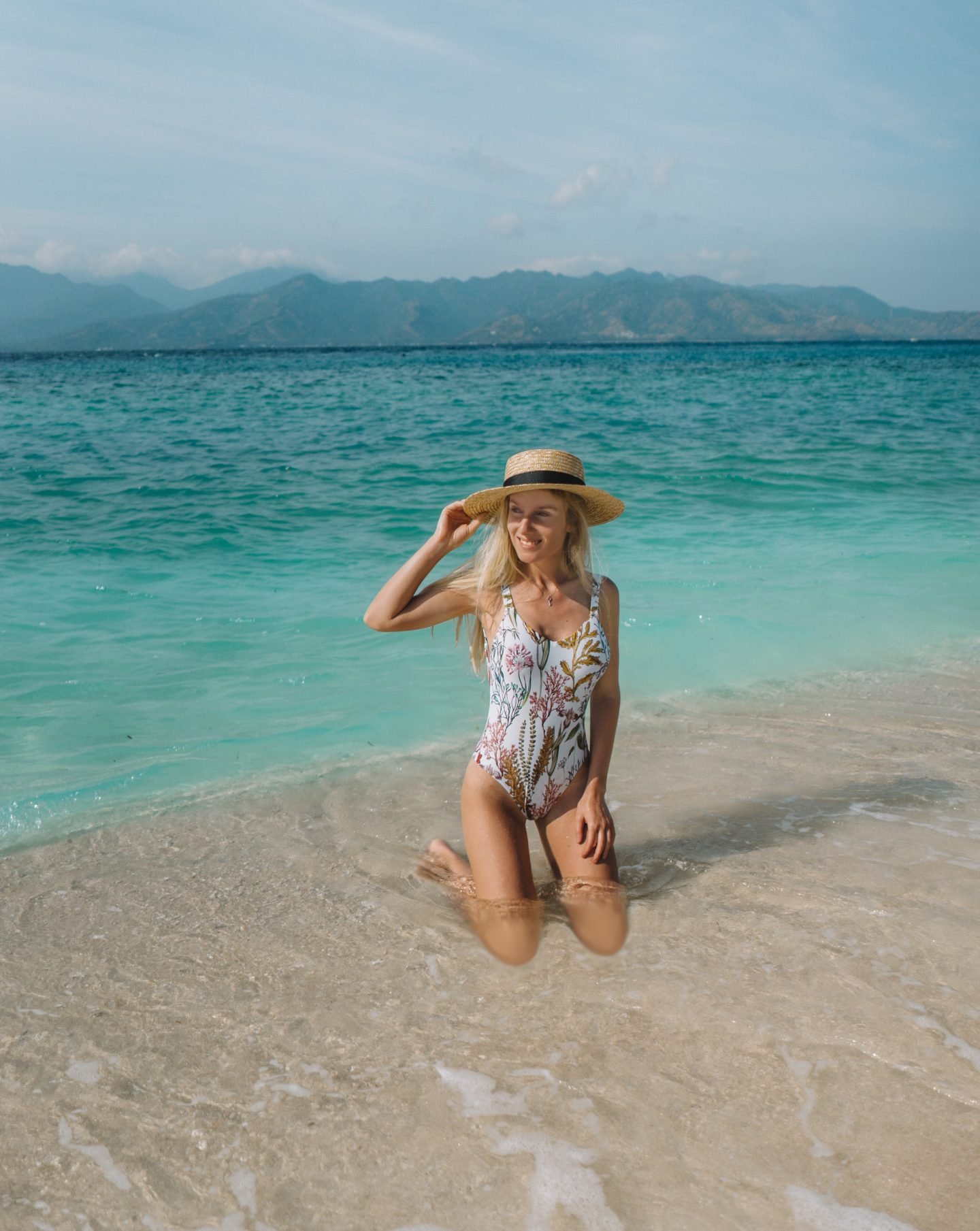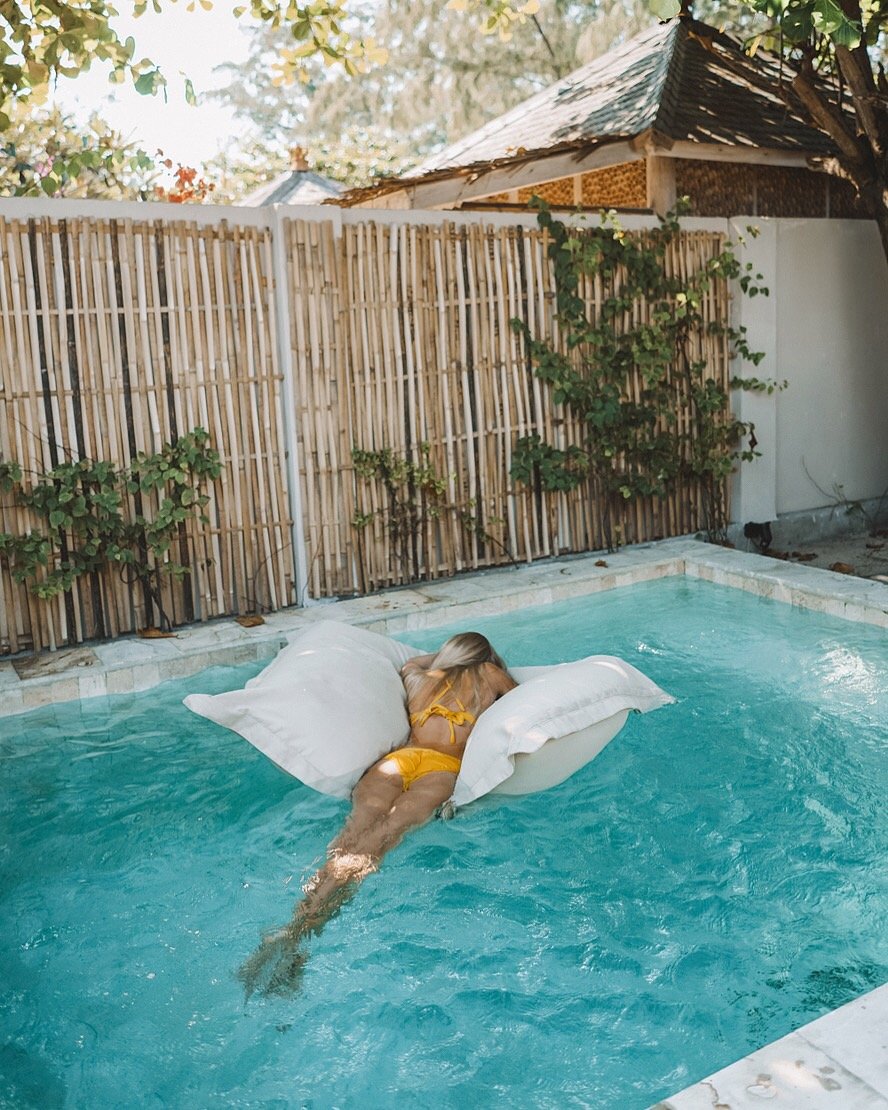 Villa Avia
Ubud: the most authentic place
After these 3 days in Gili Meno, we moved to the most authentic and traditional place in Bali: Ubud! I have been to Ubud last time and I was really happy to show this place to J-e ! We arrived at the wonderful Udaya resort & spa. It is for me one of the most beautiful and traditional hotels in Bali. We had an amazing villa with a private pool. Their villas are so typical with a Balinese decoration. They are so beautiful! There is also a fabulous main pool with a jacuzzi!
The day after we had the traditional floating breakfast in the pool it was amazing! If you want this you have to book the day before and choose what you want to eat. They have a large choice of fruits, french toasts etc. It was delicious! After that, we booked a massage and a flower bath! As you can see on the pictures it was so so pretty and it smells amazing! It is one of my favorites memories from this trip. If you come to Ubud you need to have a flower bath 😉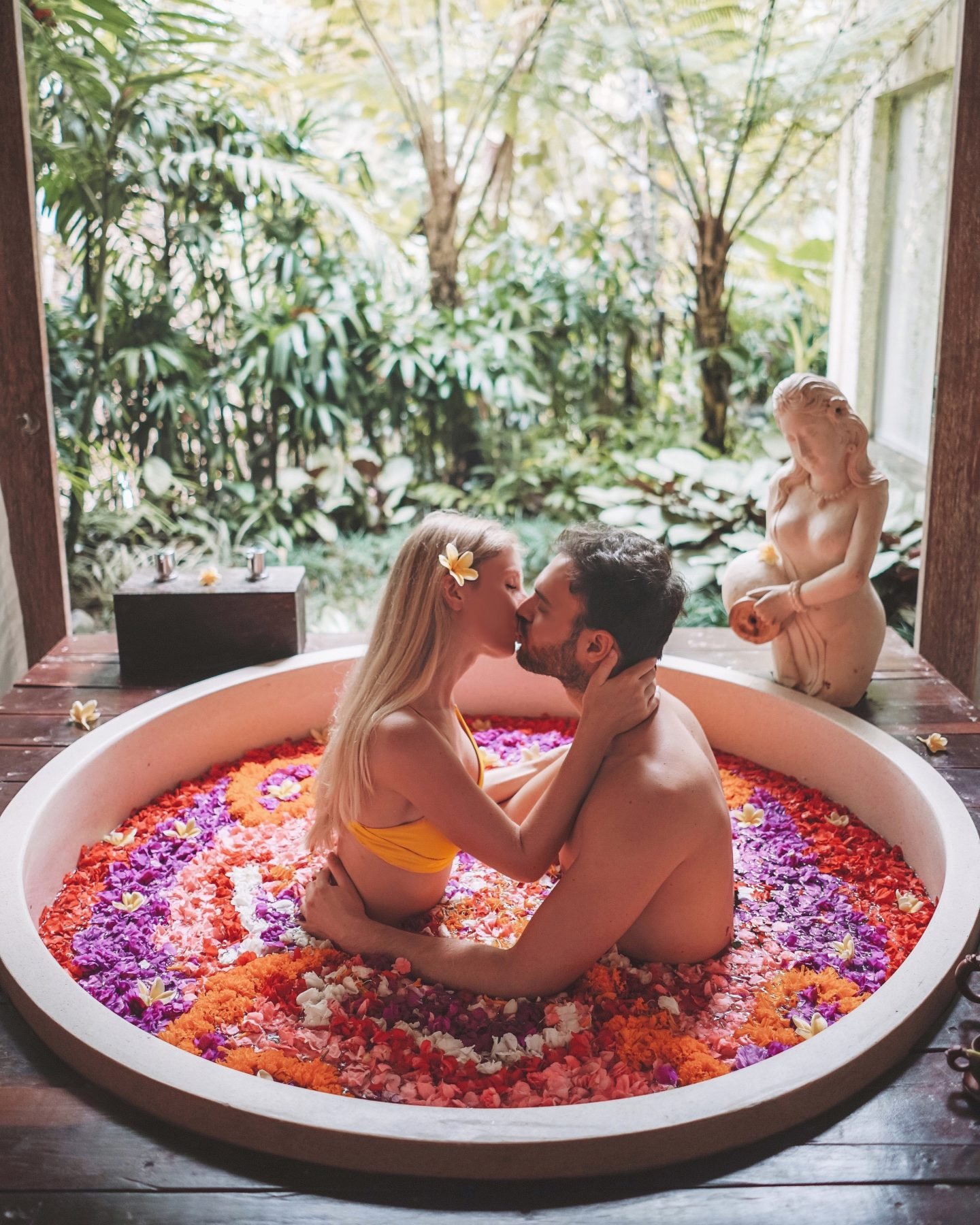 Udaya resort & spa
Udaya resort & spa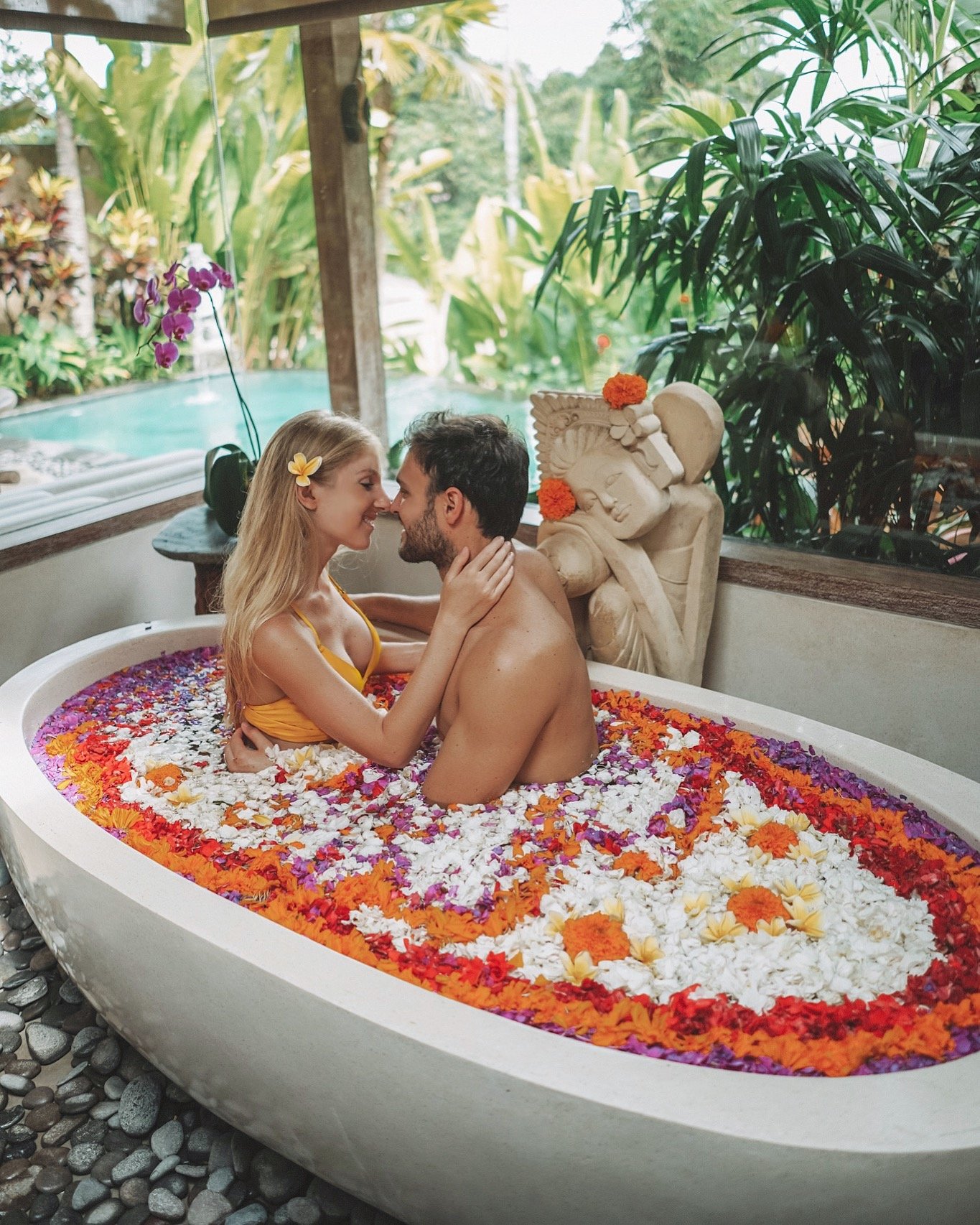 Our stay at Nyuh resort & spa
After 2 amazing days at the Udaya, we went to the Nuyh resort & spa for 2 other days! Nyuh means coconut tree in Balinese language. This hotel was beautiful and traditional. The pool villa was amazing. This villa is perfect for couples who want to relax! There is a huge room with a beautiful bathroom and an outdoor shower.
Nyuh resort is at 20min of the Ubud center. The staff can arrange for you a free shuttle to go there. This hotel is composed by several villas with private pools and a main pool. You have also an outdoor lounge where you can have the afternoon tea. You can also enjoy a beautiful bath with a view of the pool.
The hotel proposes also some excursions, you can visit Tegalalang rice terraces, bali swing or waterfalls. Near Nyuh there is Rudana Museum (3,3km) and the famous Tegenungan Waterfall (3,5 km).
If you want to have a massage, Nyuh propose a large choice of massages (traditional, full body, back etc.) and you can have also yoga sessions or Balinese cooking lessons. We couldn't try the cooking lessons but it sounds good!
We had the famous floating breakfast by the pool! And it was amazing! You can chose a plate of fruits (dragon fruits, pineapple…), bread with strawberry and banana and honey etc. If you want to have lunch or dinner, the hotel propose a menu for vegetarian/vegan people. At 4pm you can enjoy a tea/coffee time where you can taste Balinese coffee and tea with traditional Balinese food. It is really pleasant to take a coffee in your pool! If you want to book your stay at the beautiful Nuyh resort & spa click here!
During this stay we spent a full day exploring Ubud, we went to Campuhan ridge walk, monkey forest and Bali swing. Campuhan ridge walk was so beautiful and there was nobody! At Monkey forest we had so much fun playning with monkeys. And at Bali swing we also had so much fun swinging in the jungle, it was an amazing experience!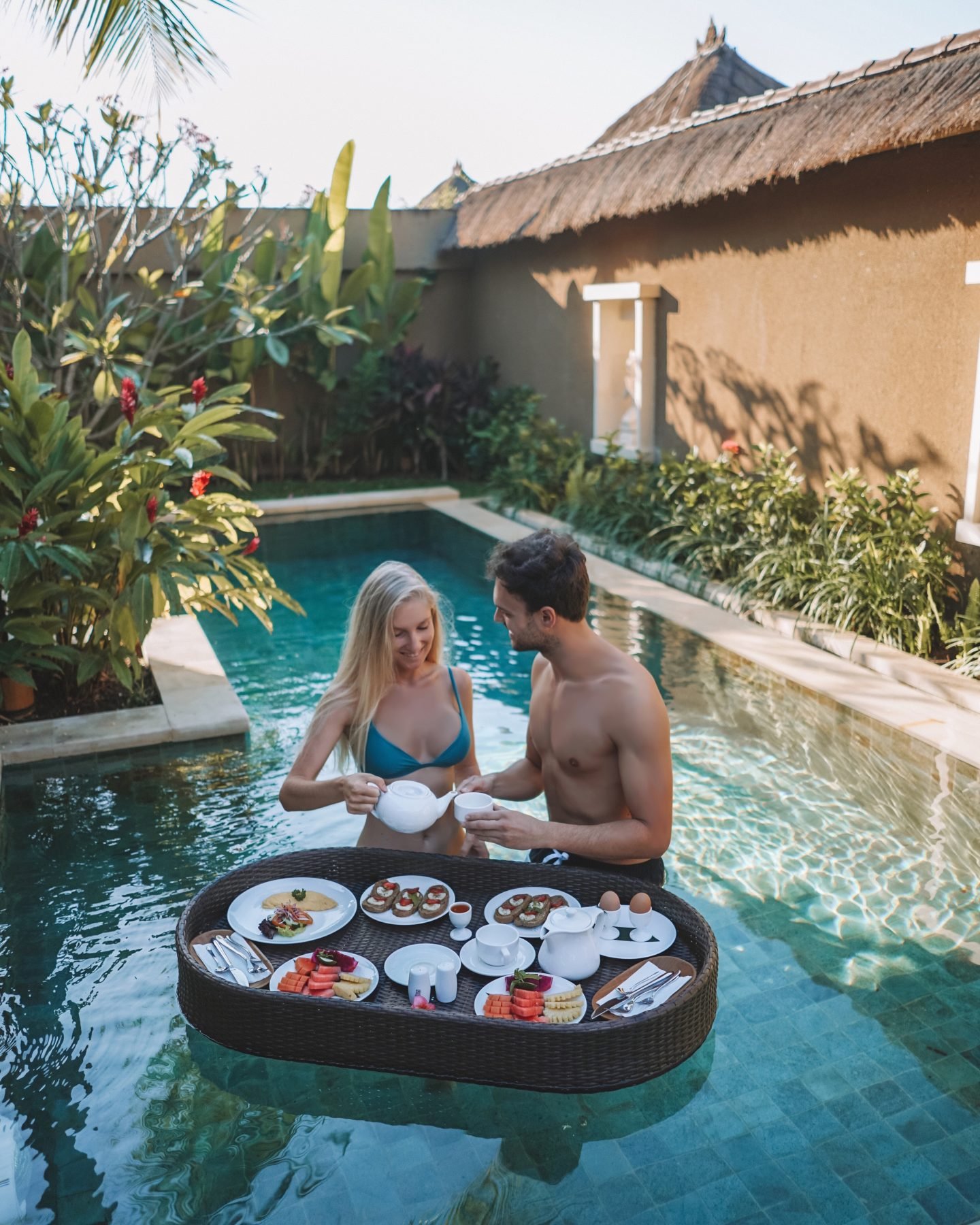 Nyuh resort & spa
After these amazing 4 days in Ubud we went to Nusa Penida for 3 days and it was insane! I'll make a special post for Nusa Penida because I have a lot of things to tell you! After that, we spent our 3 last days in Munduk in the north of Bali, at the wonderful Munduk moding plantation! I have been dreaming to go there for so long! I had seen this hotel on Instagram and I wanted to go there so badly.
After Nusa Penida we came back to Sanur beach in Bali. It was quite long to get to Munduk from Sanur ( 4 hours in taxi) but it worths it! We came through a lot of beautiful places and of course, we stopped by to take memories! We went to the famous doors of the Handara golf resort & spa, yes now you have to pay to take a picture there haha
Munduk : the most peaceful place
When we arrived at Mundul moding plantation, we discovered a beautiful, small and luxurious hotel, located in the coffee plantation. It was surrounded by plants and flowers. I felt like Alice in Wonderland. The villa was amazing too, the decoration is the perfect mix between tradition and modernity. The main pool with the view on the mountains was absolutely stunning. And you can't imagine how beautiful is this place for the sunset, it was breathtaking! We stay there together to watch the sky turned pink, it was unforgettable.
After we had an amazing dinner at the restaurant near the pool, there was a large vegetarian choice and the meals were really refined and elaborated. Also, the fruits and vegetables come from their own garden! It was fresh and really delicious.
The day after we woke up early (yes we always wake u early because we love having the places all to ourselves 😉 ) and we went to the Munduk waterfall, the hotel proposes this excursion. It was amazing, after only 30 min in taxi and walking only 20 minutes we discovered a beautiful hidden gem. This waterfall was breathtaking! We arrived early so there was no a lot of people. This moment was one of my favorites of the trip. If you come to Munduk you need to see a waterfall. You can also visit Banuymala twin waterfall or Sekumfull, but you should go there early in the morning! We have also visited a temple in the middle of a lake it was so beautiful and peaceful!
Also, we took the breakfast at the hotel, near the pool, it was perfect. They have fresh watermelon juice and mangos, I couldn't be happier haha. We spent the rest of the day enjoying the pool and the hot tub! We had an amazing stay there, honestly, it is for me one of the most beautiful and typical hotel in Bali. If you want to stay at this hotel click here!
Munduk moding plantation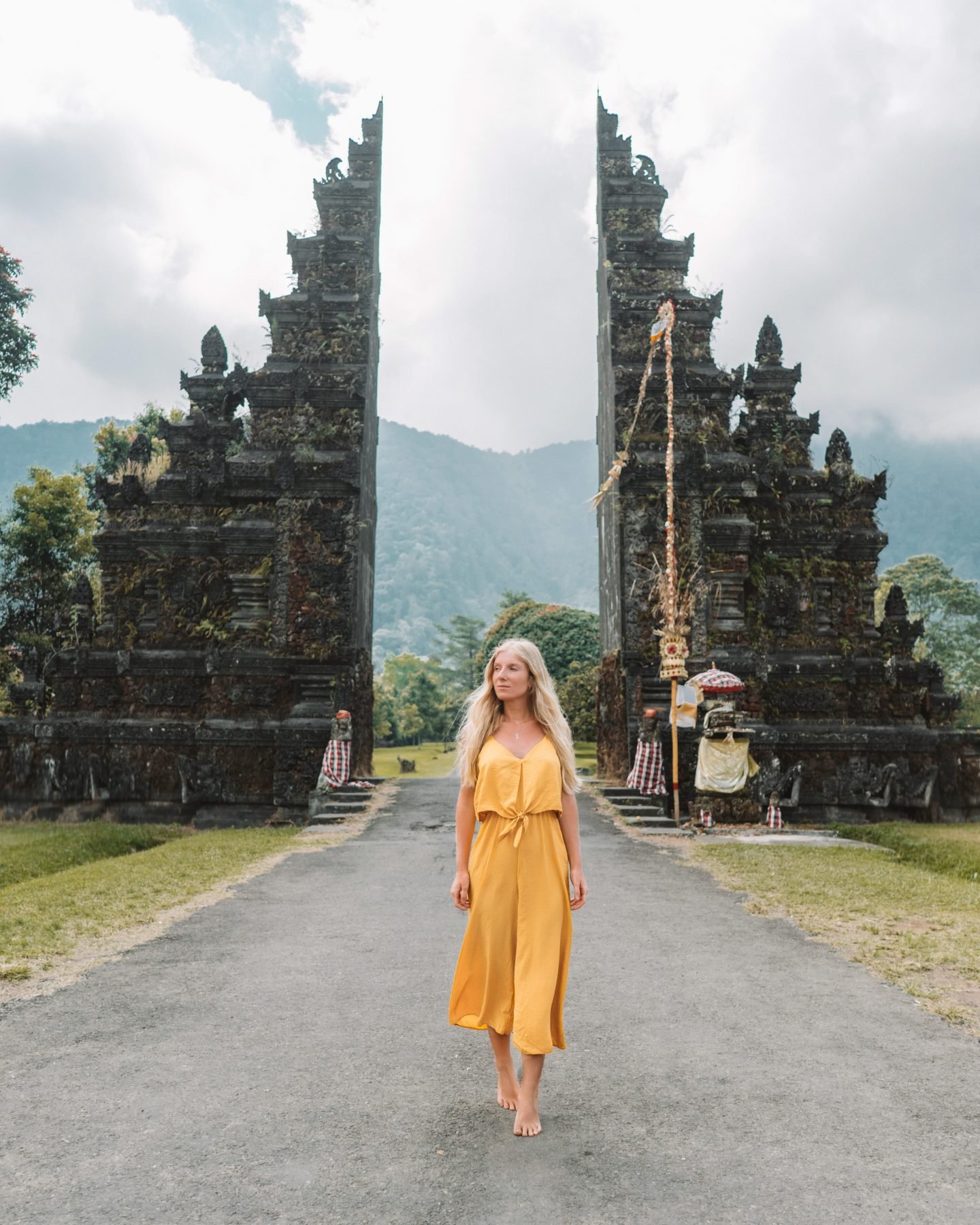 Handara golf resort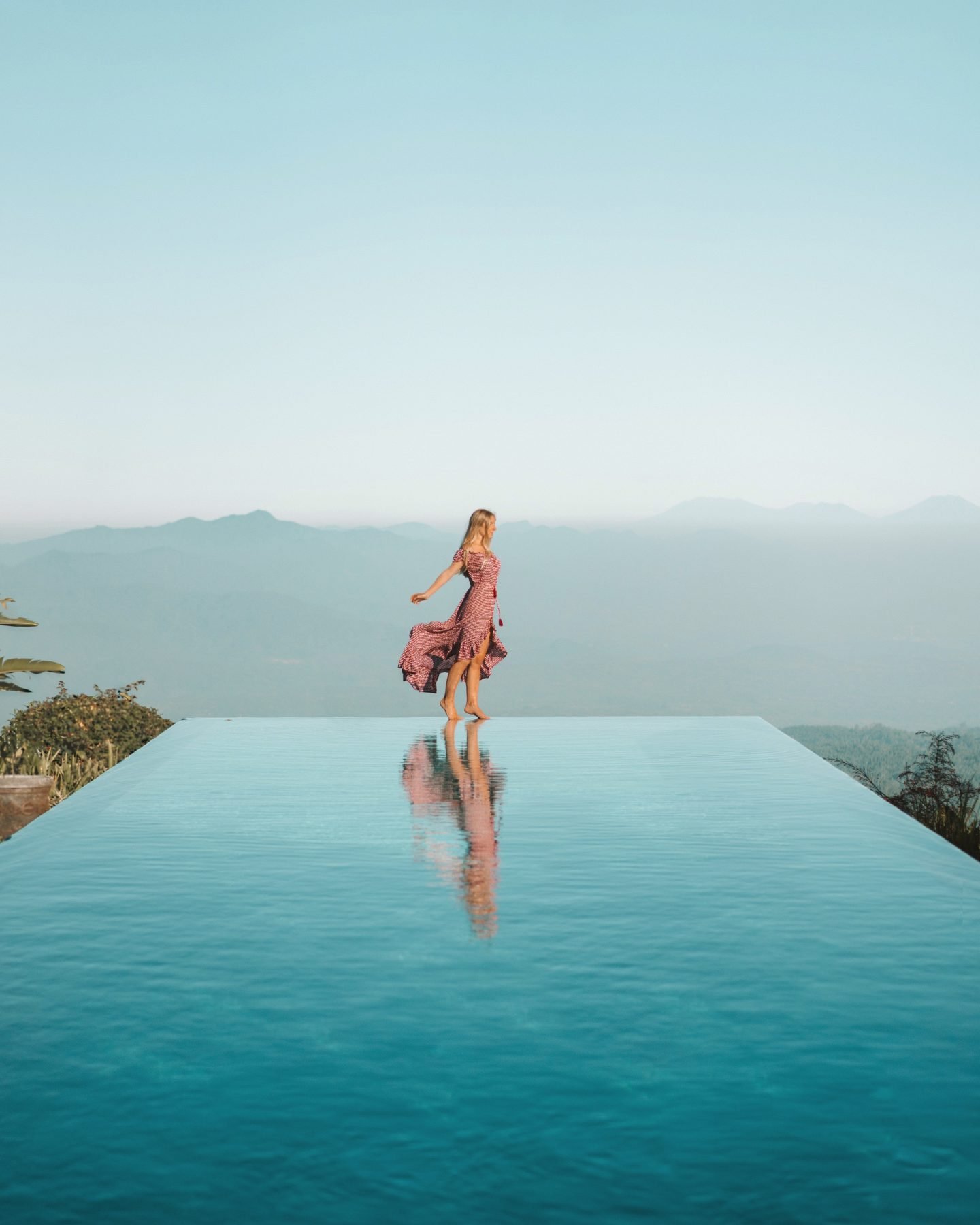 Munduk moding plantation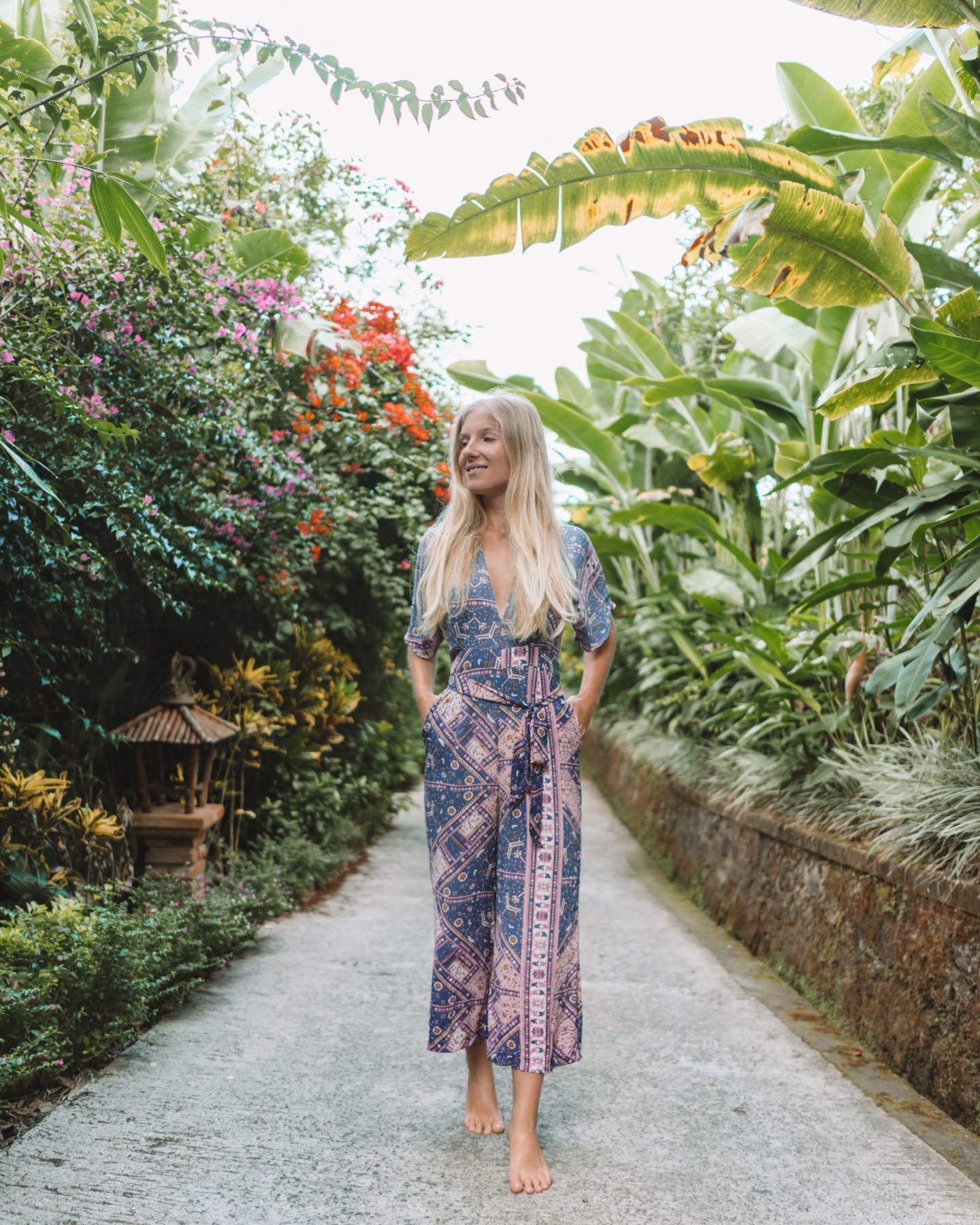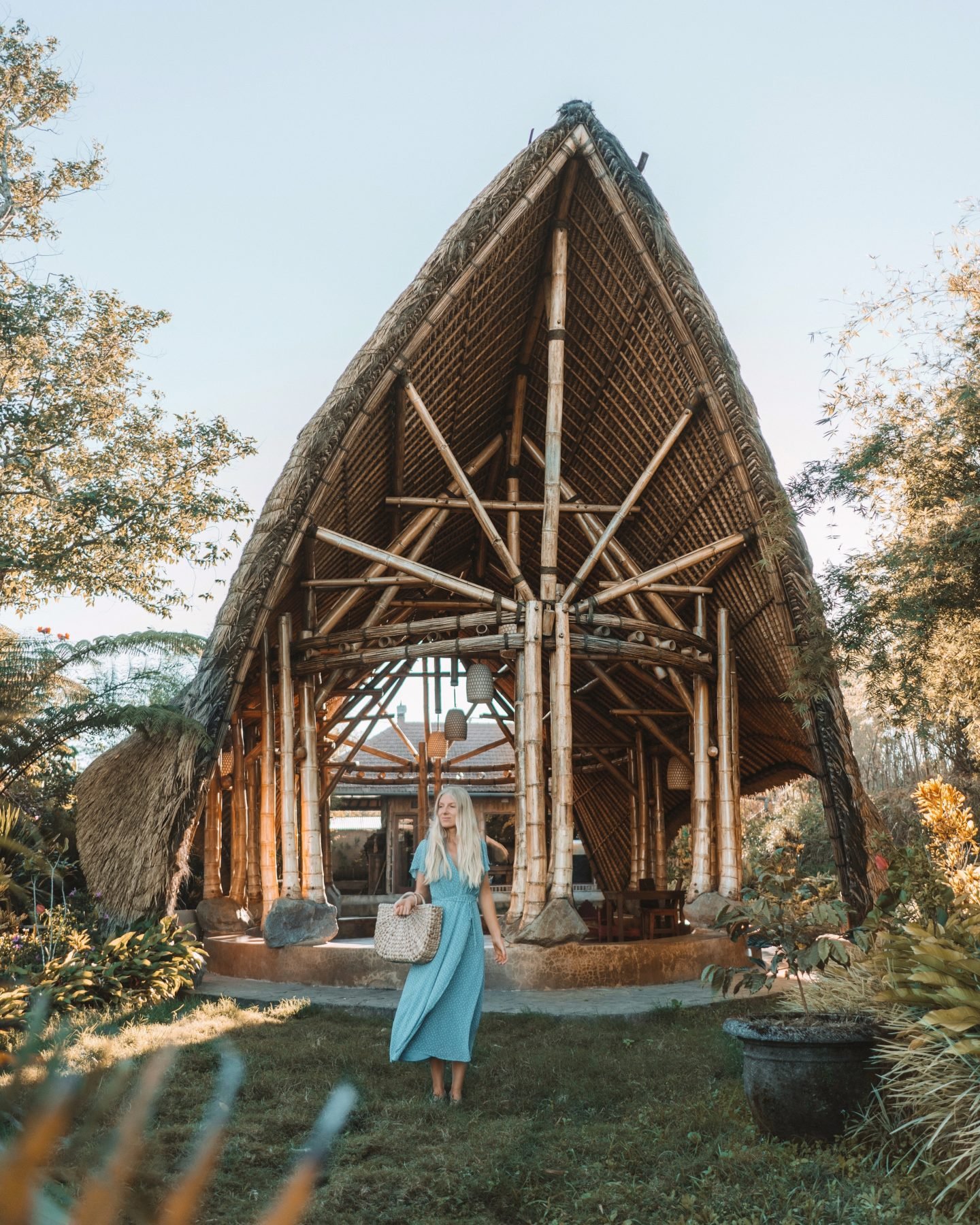 Munduk waterfall
This trip was unforgettable. We lived a lot of amazing moments, we have seen incredible places and meet beautiful people and animals. We lived the kind of moments that left us speechless and that made us realize why we are traveling. These 3 weeks were like a dream and I will never forget Bali. All I want is to go back every year because I feel like home there. Thank you so much for reading, I hope this post will be helpful for you! If you have any question feel free to ask me!
Have you ever been to Bali? Or have you planned to go there? Drop a comment I'll be really happy to read you 🙂 have you seen my post about how we take and edit our photos?
Now we are back in France and we will start soon our Euro summer! So stay tuned on Instagram for our next adventures!
xxx Chiara