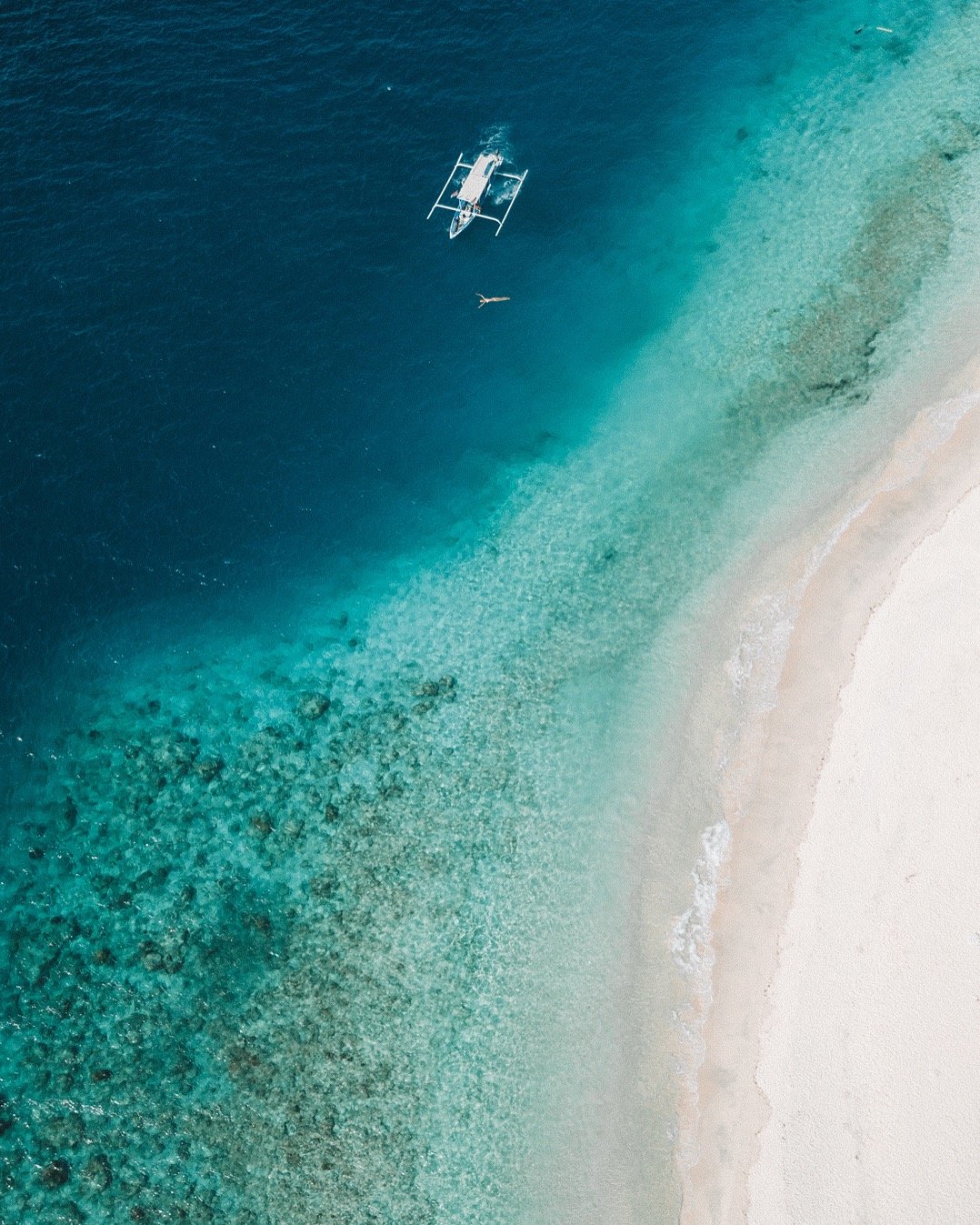 You are planning to visit the Gili islands but you don't know which Gili island is the best for you? You are at the right place 😉 There are 3 Gili islands, Gili Trawangan, Gili Meno, and Gili Air. The landscapes are quite similar: dream beaches made of white sand and clear water. Moreover, the 3 Gili islands are great diving and snorkeling spots.
But they also have several differences! One is more relaxing, one is more festive and the other one is a mix of the two! If you want to know which one of the Gili islands is made for you, read on!
Where are located the Gili islands?
The 3 Gili Islands are located between Bali and Lombok and are belonging to Lombok. They are very close to each other. The first one is Gili Trawangan, then there is Gili Meno and then Gili Air.
How to get there?
From Bali to the Gili
You can easily reach the Gili islands by boat from Bali in 3 hours. You first need to reach Ahmed, Padang Bay or Sanur beach. It is depending on which Gili island you are going to and the schedule.
Then, you will have to take a ferry to the Gili islands. You will probably go to Nusa Ceningan, than to Lombok and then you will reach the Gili Islands. There are several companies but they are quite equivalent. The price is around 35$ per person for one way. And it will take you around 3 hours to get there.
The ferry might be canceled due to bad weather conditions. You will be informed the day before by email and be refunded 30 days after. When the weather will get better, they will schedule new ferries. If you are also planning to visit Bali, you can read out ultimate travel guide to Bali.
From Lombok to Bali
You can reach the Gili islands from Lombok, with a fast boat from Teluk Nare, Teluk Kade in the north of Senggigi. But most people are using the public boats from Bangsal harbor. It is the only place to buy a boat ticket. Be careful to not buy a boat ticket elsewhere.
If you are taking public boats, you can easily find one before noon. After that, they are leaving approximately every hour. If you want to reach Gili Meno, there are special boats at 2 pm and 5 pm. The boats are full when they reach 45 people. If you want to take the public boats, one-way will costs you 14,000 RP to Gili Air, 15,000 RP to Gili Meno and 20,000 RP to Gili Trawangan.
When no public boat is leaving, you can take a charter boat. The price is between 350 000 RP and 500 000 R and is up to 10 people.
Travel tip: Bangsal Harbour had a bad reputation but it is reduced now. However, still, avoid touts and keep in mind that everyone that helps you with luggage/bags deserves a tip. By the way, if you're also planning to visit Nusa Penida, don't miss our guide!
Which Gili Island is the best for you?
Gili Meno: the relaxing island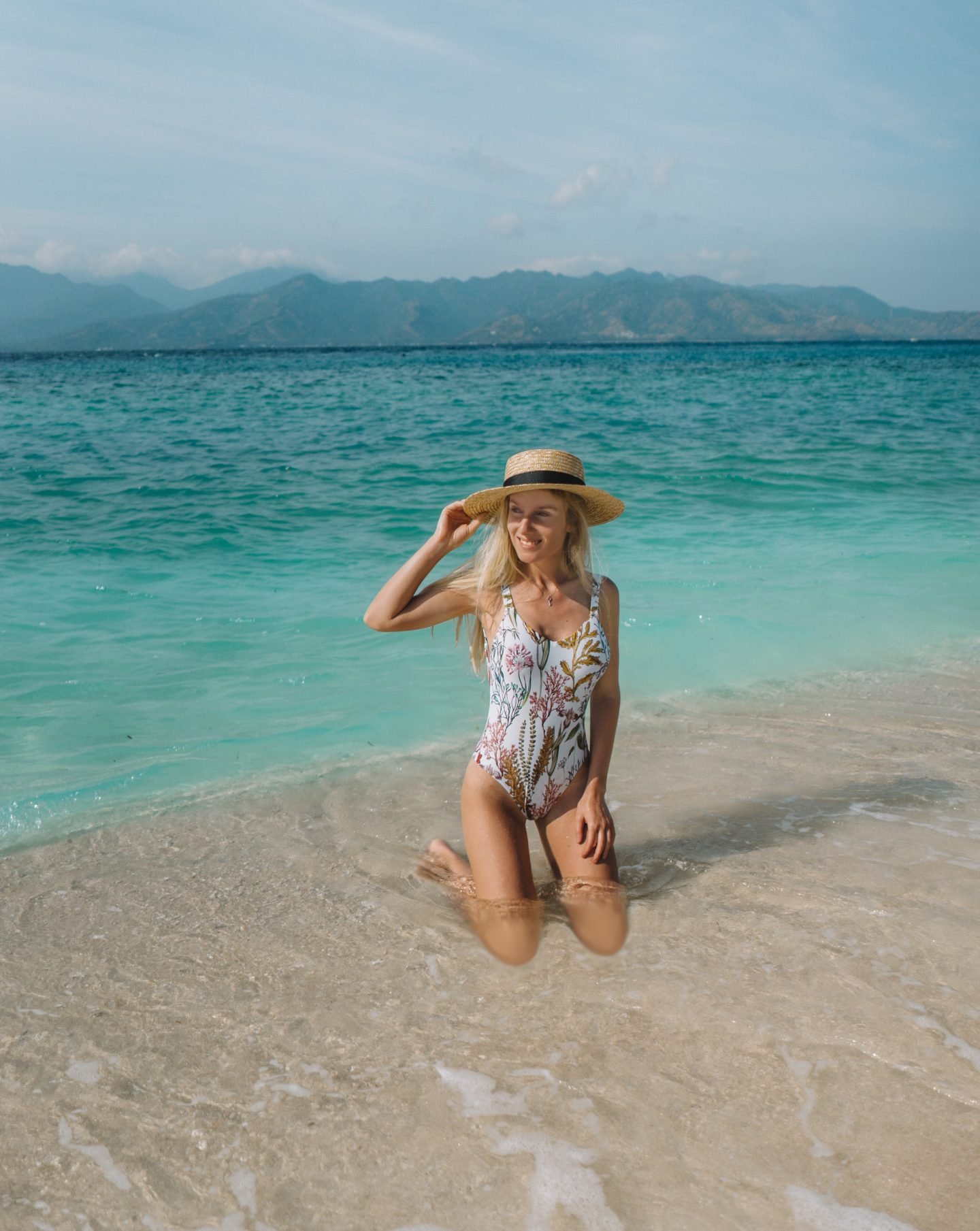 Gili Meno is probably the less touristy of the 3 Gili islands. This small island of 15m2 is a paradise for couples and families that are looking for beautiful beaches and relaxing vacation. This small island is perfect for you if you want to avoid the crowds and relax on empty beaches. Also, this island has the most beautiful beaches of the 3 islands. You can just bike or walk around the island and find empty beaches.
Moreover, it is a paradise for diving and snorkeling. If you love turtles you will be happy because there are many ones! You can dive with Marine diving which is PADI accredited and the staff is adorable. By the way, there is a turtle nursery on the north of the island where locals are taking care of turtles until they are 8 months. At this stage, they are big enough to be released in the sea. You can support them and help them to feed the turtles. Also, Gili Meno has amazing snorkeling spots as the famous "Nest" which is an underwater sculpture with 48 life-sized human figures. Made by the artist Jason deCaires Taylor.
Concerning the accommodation, there are only a few hotels on the island, so you are sure to not have hundreds of tourists on the beaches. However, you have the choice between affordable hotels, eco-resorts and luxury hotels. I highly advise you staying at Avia Villa, which is a beautiful small hotel perfectly located on the beach. They have beautiful eco villas with outdoor showers. On the island, there are several typical Indonesian restaurants on the island. Some of them also serve international food. If you want to learn more about Gili Meno, read our complete travel guide to Gili Meno!
Visit Gili Meno if:
If you are looking for a romantic or relaxing vacation. If you want to avoid the crowds and have empty beaches just for yourself. Also, Gili Meno is for you if you want to dive, snorkeling with turtles.
Don't visit Gili Meno if:
If you are looking for parties, bars, tapas and making new friends!
Gili Trawangan: the festive island
First of all, Gili Trawangan is the largest and the most developed of the 3 Gili islands. You can visit the island and walk around in 2 hours. Also, you can rent a bike to explore the island easily. You need to know that Gili Trawangan also called Gili T has a friendly vibe and a social atmosphere. This island is full of travelers that want to make new friends. Each night, a different club or bar is hosting a party, so everyone ends up in the same place.
However, if you are not into partying you can still enjoy Gili T and explore the underwater world. Indeed, if you love marine animals, you can learn to dive with a small budget in Gili Trawangan. There are plenty of good diving schools on the island. Also, you can learn or practice free-diving, snorkeling excursions, and day trips. Or you can just search for calm beaches and chill out!
Hotels and restaurants in Gili Trawangan
Concerning accommodation, there are many different resorts on the island! You can either stay in a lovely bungalow by the beach, an eco-resort or a luxury villa. I can advise you to stay at the Kelapa Villa which is a beautiful hotel located in the northeast of the island. They are gorgeous luxury villas with private pools. They are perfect for a friend's vacation. Also, it is really close to the beach.
There are many restaurants and bars on the island. And when I say many I mean that every meter you will find a restaurant or a bar. You can just walk or take a bike and stop when you find somewhere that looks cool! You can have tapas with friends by the beach and watch the sunset. They serve typical Indonesian food and also international food.
If you want to learn more about Gili Trawangan, read this complete travel guide!
Visit Gili Trawangan if:
You are a solo traveler or friends that are looking for parties and making new friends.
Don't visit Gili Trawangan if:
You are a couple or a family that is looking for a romantic or a relaxing vacation!
Gili Air: a mix of both calm and festive as well
Gili Air is a perfect mix between the two other islands! It is the perfect place to chill out and it is almost as peaceful as Gili Meno. But it also has similar facilities than Gili T. There are many restaurants and diving schools. The north and the south of the island are full of restaurants and bars. Concerning the nightlife, the bars are more into guitar and chill-out sounds. If you are looking for parties, you might not be on the right island!
If you want to dive, there are several diving centers on the island. There are great diving and snorkeling spots. Like the other Gili's, you might see turtles or clownfish. Also, there are several places that are renting bikes to explore the island. On the west of the island, you can find empty dreamy beaches!
Visit Gili Air if:
you are looking for a place to relax and have a local experience but you also want to have a similar choice of facilities as in Gili Trawangan.
Don't visit Gili Air if:
If you are looking for wild parties!
Are you planning to visit the Gili islands soon ?
We hope you like this post! And that it will help you decide which Gili island is the best for you! Let us know in the comments 🙂 Follow our adventures on Instagram @chiarabarrasso and my fiance @jelafaille