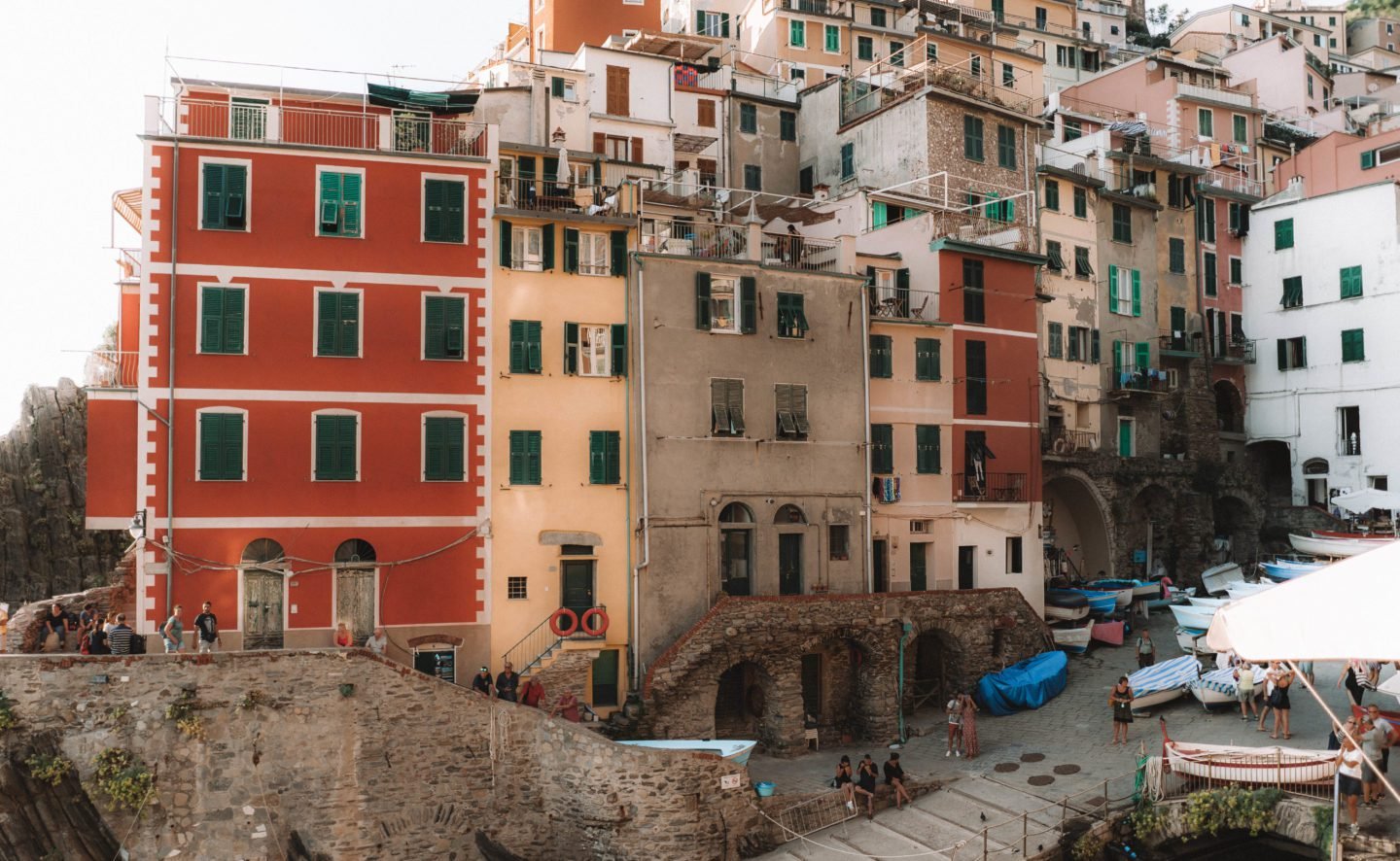 Italy is one of our favorites countries in the world, not only for the beauty and the diversity of its landscapes but also for the strong Italian culture, history, and the special atmosphere. During this Italy road trip, we have been to two beautiful places we have been dreaming to visit. Firstly, the unique villages of Cinque Terre: Riomaggiore, Manarola, Vernazza, Corniglia and Monterosso al Mare. Then, we have visited the wonderful and so special Amalfi coast and especially the village of Positano. If you are dreaming about a romantic road trip through colorful villages to live La Dolce Vita, this Italy road trip itinerary is for you! Read on! 😉
Our Italy road trip itinerary: from Cinque Terre to the Amalfi coast
Here is our detailed itinerary improved. We didn't have time to visit Corniglia, in Cinque Terre, and Capri, on the Amalfi coast. Also, unfortunately, Fuordo de Furore, on the Amalfi coast, was closed for renovation. So it is our itinerary but improved a little by our experience! This itinerary is made for approximately 10 days but obviously if you have less time you can only visit the Cinque Terre or the Amalfi coast. We have done the whole road trip by train, if you are interested you can read our experience with an interrail pass. However, you can totally do the same thing by car if you prefer!
1st day: arriving at La Spezia in Riomaggiore
2nd day: visiting Riomaggiore
3rd day: visiting Manarola
4th day: visiting Monterosso al Mare + Vernazza
5th day: visiting Corniglia + leaving for the Amalfi coast
6th day: arriving in Sorrento
7th day: visiting Positano
8th day: visiting Positano/ Capri
9th day: visiting Fuordo di Furore
10th day: last day
The Cinque Terre
How to get from a village to another?
You can take the local train to visit all the villages. The ticket is around 3€ per day. I think this is the best solution to visit Cinque Terre. It comes from La Spezia then go to Riomaggiore, then Manarola, Corniglia, Vernazza, Monterosso and then Levanto.
You can also hike from a village to another if you want to see more of the landscapes, and to your cardio! Be careful some parts are closed for the moment. Also, you have to pay around 7€ to have access to the hike paths.
Riomaggiore
Riomaggiore was our absolute favorite of the Cinque Terre. Not only for the beauty of these red and yellow buildings but for the special ambiance in this small fisherman village. When you have arrived at the train station in La Spezia, you will first discover the village of Riomaggiore which is the closest. We totally fell in love with this colorful village built on the coast, near the Sea. You will see the harbor near the red and yellow houses. The village is living, in summer it's full of tourists and it feels good, the ambiance is warm and welcoming.
Where to eat?
There are several typical Italian where to eat homemade pasta or take away a pizza and eat it on the rocks for the sunset. Our favorite one was the Trattoria Lampara because their pizza are pure happiness! The restaurant is located near the harbor. We took away their pizza and ate them on the rocks for the sunset. It was really romantic.
Where to stay?
You need to know that Riomaggiore is a small village and most of the hotels, and Airbnb are owned by local Italian families. The quality and price are the same everywhere. The average price for a night is around 120-150€ per night for a bed and breakfast. Note that if you arrive after 9 pm you will have to pay 25€ more.
Manarola
Manarola was absolutely breathtaking and unforgettable. We took a full day to visit Manarola because it seemed to be one of the most beautiful villages and it was true! The colorful houses built in the rock near the sea are making together a gorgeous landscape. The houses have different colors, they are more into orange, yellow and pastel pink. It's a pleasure to just sit and watch the landscape. Also, during the afternoon, people are jumping from the cliffs to the water, and people are applauding, it's really fun. It is a very romantic and familial place. If you are organizing your Italy road trip itinerary you should add this place on your list!
Where to eat?
There are many restaurants, much more than in Riomaggiore, the village is bigger. But our favorite one was obviously the famous Nessun Dorma. the restaurant is built on the height or Manarola, you can eat typical Italian dishes while enjoying a stunning view of Manarola and watching the sun going down! Obviously, we loved having dinner there it was a magical experience. We took two Spritz and bruschettas. We totally felt Italian at this time!
Travel tip: the restaurant is really famous and crowded and doesn't accept reservations. If you want to have dinner there, you need to come in advance, we made 30 minutes queue. But obviously, it was worthing the wait 😉
Where to stay?
We actually didn't stay in Manarola, we stayed 2 nights in Riomaggiore, but you can easily find accommodation on Booking or Airbnb.
Monterosso al Mare
The city of Monterosso is a bigger town where you can visit churches, find many restaurants and just walk to explore the pretty streets. However, Monterosso al Mare is a village near the Sea. You can see the private beach of Monterosso on the photo on the left. We spend a half-day to visit the city of Monterosso and chill on the beach. It found it was enough. During summer the beach is really crowded. Also, if you want to rent a long chair and an umbrella you have to pay around 15€ per person.
Where to eat?
We easily found a cute Italian restaurant to eat a hoven wood homemade pizza in the city of Monterosso. There are many ones. Ok, we were totally addicted to Pizza during this trip!
Where to stay?
We actually didn't there neither, but you can easily find accommodation on Booking or Airbnb. Monterosso is the village where there are the most hotels, Airbnb and where the nightlife is more developed, there are many bars. If you are going there with friends, this may be a good option.
Vernazza
You can see the pretty city of Vernazza on the photo on the right. We only took a half-day to visit Vernazza and it was enough. We made the quick hike to this point of view and it was beautiful! The hike took us around 20 minutes and was not hard. However, bring good shoes and a gourd of water! It can be really hot in the summer. You need to know that sometimes the area on the photo is closed to the public so you can still hike to this point of view, but unfortunately, you may find barriers closed. If you have seen photos of people having a picnic there… I guess it was a long time before. You can still visit the city and the harbor that are really pretty!
Where to eat?
Also, you will find several restaurants on the main alley and near the harbor. We didn't have lunch there so we can't advise you one of them
The Amalfi coast
After this amazing trip to the Cinque Terre, we left for the Amalfi coast! We have been dreaming to visit Positano for so long! And we were not disappointed. Yes, it is really crowded, even more in the summer, but I promise you to need to see this place once in your life. All the Amalfi coast is gorgeous and there are other pretty places to visit but Positano was our absolute favorite.
How to get to the Amalfi coast?
If you are coming by train like us, you need to go from La Spezia to Pompei. Then, you can either rent a car at the train station and directly go to the Amalfi coast. Or you can take the local subway and then the bus which is less expensive. The local subway will take you from Pompei to the Amalfi coast. Then, to reach your hotel you can easily take the bus. The bus is going to Sorrento through Piano di Sorrento, Positano, Fuordo de Furore, to Amalfi. It is only 2€ per person for a return ticket.
Positano
We when finally arrived in Positano early in the morning, we were in awe! This lovely village took our breath away! We arrived in the heights of Positano, and we couldn't wait to take the stairs down, get lost in the little streets and see the beaches! We started to explore the city, we stopped at a cute bakery called… to take a cappuccino and a chocolate croissant. Then, we explored the city and its lovely colorful streets. We stopped at every corner to take photos, buy fruits at the market and admire porcelain creations and paintings. There are many artists in Positano. Also, there is a wonderful church with a golden dome that you can see on the photo on the right. The city of Positano is just too pretty to not visit! You definitely should add this place on your Italy road trip itinerary!
Where to eat?
There are many restaurants in Positano, for every budget. We have been to the Poseidon, on the heights of Positano and we loved the experience. We took the homemade gnocchi and it was amazing. Also, we tried La Buca di Baccio on the beach. I swear they have the best pizza! We had lunch at the restaurant and another time we took away pizza and ate them on the beach for the sunset. Also, there is the famous Chez black, to have cute heart-shaped pizza. But it is always full, you need to reserve a table!
What to do in Positano?
You can just walk and get lost in the little streets. Or go to the beach, there are a small public beach and a private beach called La Spezia Grande. The price for a long chair and an umbrella is around 20€ per person for the day. There are also less famous beaches that are less expensive. Also, you can do a boat tour. We had an amazing experience with "Blue star Positano". We have done a boat tour for the sunset along the Amalfi coast together and we even have seen dolphins!
Where to stay?
Also, there are many hotels in Positano, if you book in advance (at least 6 months), you can find a great hotel in the heart of the city for a reasonable price. Personally, we stayed in Piano di Sorrento because it was near Positano and it is less crowded.
Are you planning your Italy road trip Itinerary?
To conclude it was a fabulous road trip through Italy! We hope you loved this post about our Italy road trip! And we hope that it will help you to organize yours! Let us know in the comments 😉 Follow our next adventures on Instagram! @chiarabarrasso @jelafaille
Pin this post and read it later!