Hello, travel FAM! Today we are talking about photography and more precisely how to create awesome underwater shots! We have recently made an underwater shooting with Alizée and Pierre @hellotefiti and we've absolutely loved the experience and the results! 😉
You already know that with J-E we are two passionate about diving and marine animals, so create and share underwater shots is obvious for us! And especially being able to share our diving and snorkeling experiences during our travels. We have done many ones during our trips in tropical destinations (Maldives, Bahamas) you have probably seen them on our IG accounts @jelafaille @chiarabarrasso.
To create underwater shots is really particular and not really like classic photography. You will have to be more imaginative for the composition, angles and poses. You'll have to play with the light entering into the water, the shadows and the aquatic elements. You will see it's really physical and you'll have to work on your apnea skills but it's really fun!
If you also want to start creating underwater shots but you are wondering what gear to invest in? How to edit your photos? How to work on your apnea? And what kind of poses to do to create awesome shots? You are at the right place, let's go!
What gear to use for underwater shots?
That is the big question! What gear do you need to create underwater shots? A Go Pro or a water housing for your camera ? So my friends, there are several options depending on your needs, what your gear you already have and your budget!
A Go pro
To start the underwater photography, you can invest in a Go Pro. For an affordable price (around 400€ and 200€ for an occasion Go pro), you can buy a Go Pro and have a good price/quality ratio. This will help you to familiarize with underwater captures, start playing with elements, angles, the light…
The last one Go Pro hero 7 black is really nice compared to the previous ones. These 2 shots have been taken with a Gro Po. You can see that the quality is not that bad! All is in the edition 😉
You can edit all your underwater shots with our Lightroom presets.
Camera water housing
However, to be really honest, after having tested the two options, you will not have the same quality than photos taken with a pro camera and a water housing. If you already have a good camera you have invested in, the best option for you is maybe to buy a water housing. You have to buy a housing adapted to your camera. Every housing is different and adapted to cameras.
The first prices are starting around 800$ with the brand Seafrog that is really nice. The water housing is available for Sony Alpha. You can use different lenses but no really small and big zooms. You can put on and putt off the camera even into the water. Also, you can invest in the famous Aquatech imagine solutions camera housing but they are more around 1400$.
How to make 50 water / 50 sky photos?
With a Go-Pro
To create 50/50 photos with a Go-Pro you will need a dome. You will put it directly on the Go Pro. You can find really nice ones around 80$, we have the Polar Pro and we are happy with it.
With a camera and a water housing
To create 50/50 underwater photos with a camera you will not have to use a dome because the lens is already large enough. It depends on what lens you have. For example if the diameter is large it is easier, if it's small it's better to have a dome.
How to improve your apnea time?
To create underwater photos, you will need to improve your apnea skills! It's really hard at the beginning but don't worry, you can improve it with respiration exercices and with the experience you'll manage to stay longer in the water.
You can read this post about how to improve your apnea time!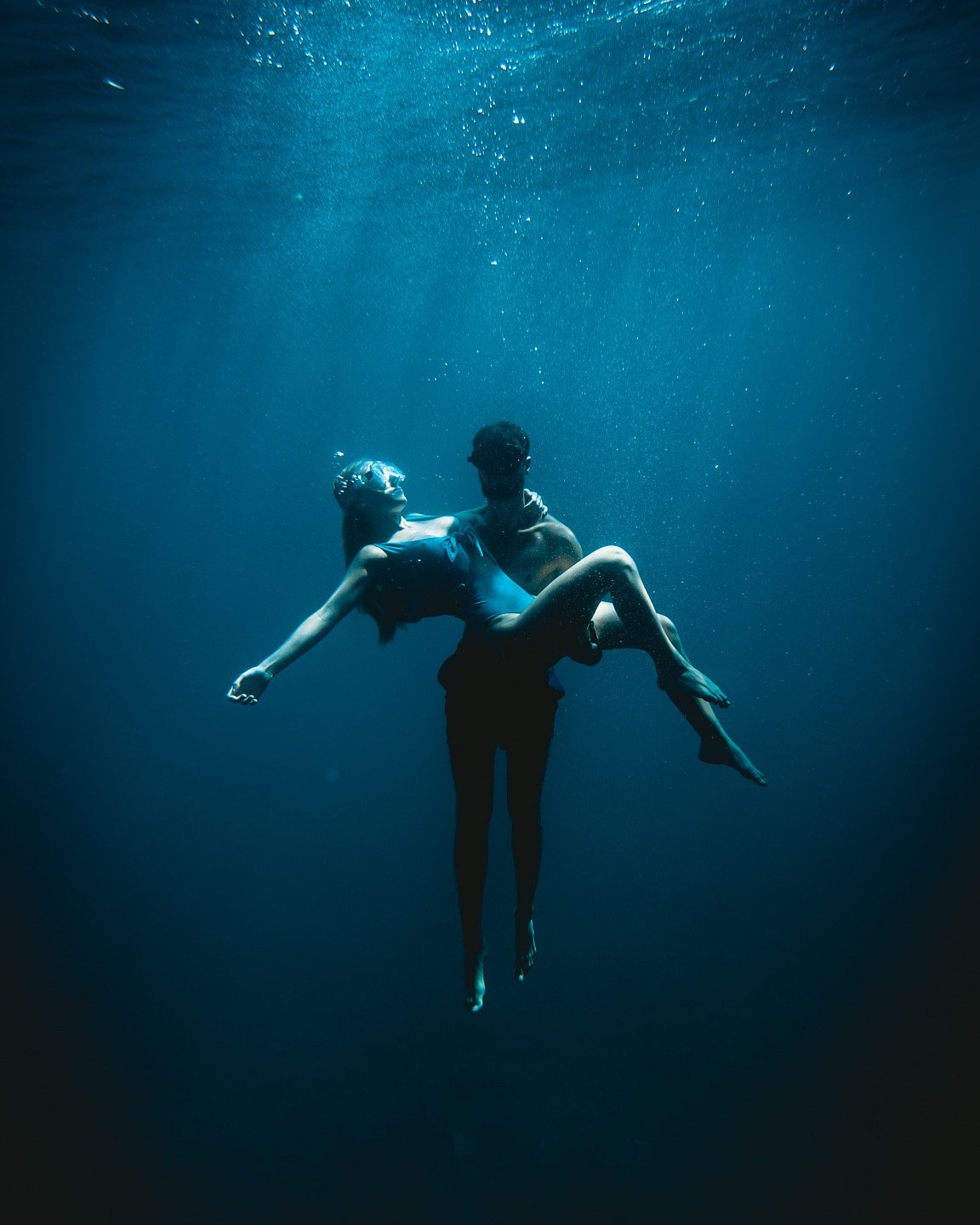 What poses to do to create awesome underwater shots?
To create great underwater photos, feel free to get inspired by free diver photos. They are doing an amazing job on IG and Pinterest! I have created a board on Pinterest about my favorites "underwater photos"!
Ready to create amazing underwater shots?
That's it my travel FAM! It's already finished! Are you now ready to create underwater shots? If you have more questions feel free to ask us in the comments, we would love to talk with you! And when you create underwater photos, send them to us, we will repost you on stories 😀
You can also read our post about 10 tips to create awesome photos! Let's connect on Instagram! @chiarabarrasso and @jelafaille