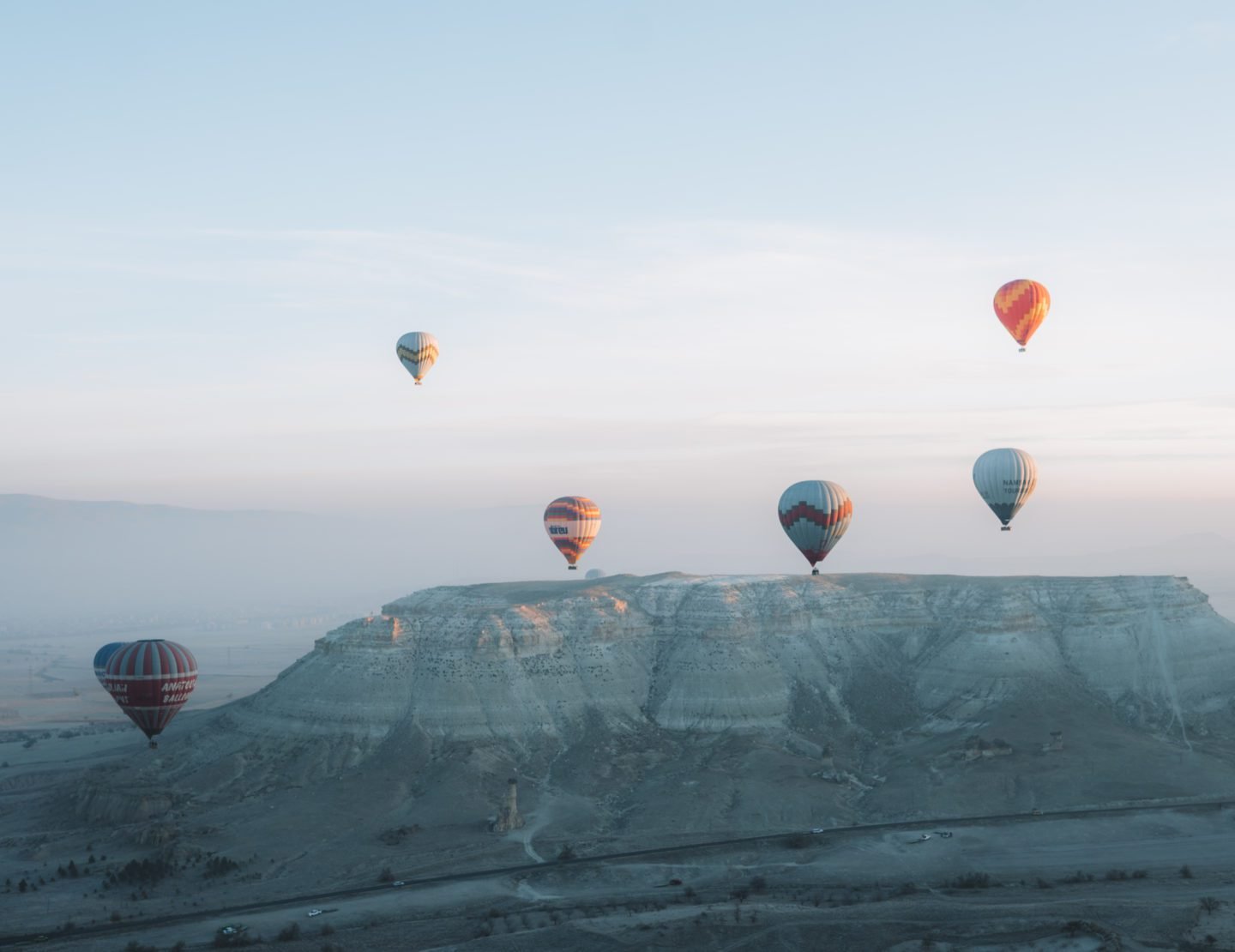 In this complete travel guide to Cappadocia, you will find all the information you need to plan your trip! Cappadocia was on the top of my bucket list for years! I have been dreaming to see this place in person for so long. And it was even more beautiful than I could imagine! The balloons flying in the sky, with beautiful the colors of the sunrise, the epic landscapes, the valleys, the cave houses and the kindness of people made this place one of my favorite on earth. If you are also dreaming to visit Turkey and Cappadocia, this post is for you! 😉
The complete travel guide to Cappadocia
How to get to Cappadocia in Turkey?
Cappadocia is a city in the center of Turkey, located in the province of Nevsehir. And 721km from Istanbul, the capital. The airport of Cappadocia is called Nevsehir Kapadokya Airport. To get to Cappadocia, you first need to go there. From Istanbul, it is only a one-hour intern flight.
Once you have arrived at the airport, you will have a 40 minutes drive to the center, called Göreme. The best option is to take taxis during your stay because it is really cheap. But you can also rent a car at the Airport.
If you are coming from Europe, you can find cheap flights to Cappadocia, with Turkish airlines, around 300€ for a return ticket.
Where is the best time to visit Cappadocia?
The best time to visit Cappadocia is between May and September. The weather will be amazing. And you need to know that the balloons are only flying in good weather, and spring/summer is the best time for them! During winter, balloons are often canceled and it is really cold.
However, you should avoid July and August because it is the high season in Europe and Cappadocia is really touristy!
How to get around in Cappadocia?
Taxis
Honestly, the taxis are really cheap and the drivers are really kind. This is why we choose this option. To go from the center to a valley it costs approximately between 5€ and 8€.
Rent an ATV
If you're looking for an adventurous option, you should probably rent an ATV! The prices are depending on how long you want to rent one for and which company you use. Some companies let you rent them alone and some companies prefer a tour guide to come along with you. The prices are starting at around 35 Euros for 2 hours. Which is quite expensive. In comparison in Greece, we paid 15€ per day.
Rent a scooter
You can rent a scooter for 100 Turkish Lyra per day. If you are not confident in a scooter, skip this option! Some of the roads are really bumpy!
How is Cappadocia, Göreme?
The center of the city is really small. You can visit it in an afternoon. It's a typical city made of cave houses builds in the rocks. It's really amazing to visit. Also, there are typical restaurants to eat Turkish food, which is delicious. They have many veggie options. The best places to visit are the valleys near the center of the city. I will let you know all the best places to visit and the best things to do later in this travel guide to Cappadocia!
Where to stay in Cappadocia?
Sultan cave suites
This luxury hotel is probably the most famous in Gorëme. It has an amazing rooftop with a crazy view of balloons at sunrise and sunset. This is where the adorable Izmir, the coker is living! The rooms are all beautiful typical cave rooms. If you want to stay there, you need to book months in advance!
Artemis cave suites
This one has the same owner and is located not far from the other. This luxury cave hotel has several rooftops to enjoy the view and have tea. They have 25 typical cave rooms and a garden.
Koza cave hotel
This hotel has also an amazing rooftop with an insane view of the city. Then the balloons are flying there come really close to the rooftop it's amazing to see! Like the other, they have typical luxury cave suites.
Mithra cave suites
This one has 2 rooftops where you can have breakfast and admire the city. They also have traditional caves rooms. This one is more affordable if you are traveling on a budget.
Best things to do in Cappadocia
Ride on a hot air balloon for sunrise
Ok riding on a hot air balloon is clearly one of the best things to do in Cappadocia. This travel guide to Cappadocia wouldn't be complete without talking about the hot air balloon rides! I have done this during my trip and it was a magical and unforgettable experience! Admiring the valleys with hundreds of other balloons and the colors of the sunrise is epic! If you are dreaming to do this, read our complete post about "ride on a hot air balloon in Cappadocia".
Stay in a traditional cave hotel
Also, staying in a traditional Turkish cave hotel is an experience to do when in Cappadocia. These hotels, located in the heart of Göreme are all built-in cave houses.
Gorëme open-air museum
Then, this site is a part of the UNESCO world heritage. It has been an important Byzantine monastic settlement that housed monks is now a pilgrimage site from the 17th century. This place houses some of the finest rock-cut churches. This open-air museum has more than 30 carved from rock churches and chapels.
Pasabag
Visiting Pasabag is a must in Cappadocia. You need to see these extraordinary fairy chimneys. Indeed, Pasabag is famous for its fairy chimneys. These amazing structures are the natural result of erosion that took place millions of years ago. The locals call them mushroom-shaped fairy chimneys.
Travel Tip: There is a chapel in one of the three-headed fairy chimneys, and a seclusion room dedicated to St. Simeon. You should visit the inside of this fairy chimney and also climb to the top.
Love valley
Love Valley in Cappadocia is a hidden valley with epic natural formations. You will probably laugh when you see them for the first time! They are ancient structures that sit at over a thousand meters altitude. You can either visit the viewpoint and see the place from above or you can trek down to the base of these structures. The entrance is free and it is easy to park.
Rose Valley
Next, the Rose Valley in Cappadocia is a unique area with sharp ridges, and is particularly beautiful at sunset! Over thousands of years, the ridges have formed to create a unique landscape. Almost all of the time, one side of a ridge is in the sun while the other in the shadow, further accentuating the sharpness and scale of these sandstone formations.
Lover hill for sunrise
Then, this panoramic sunset viewpoint in Goreme Town is the perfect spot to watch the sunrise. Unfortunately, it is quite crowded in the morning for sunrise and of course sunset. Despite the crowds, it is one of the best spots in Cappadocia, especially to take photos! You are often above the balloons and can shoot towards Uchisar Castle, Red Valley or over Goreme Town.
Are you planning to visit Cappadocia?
To summarize, Cappadocia is one of the most beautiful and epic places I have traveled to! It really worths a visit. If you are dreaming to go there, don't wait and do it in 2020! You won't be disappointed 😉 I hope you like this complete travel guide to Cappadocia! Let me know in the comments! Don't forget to follow our adventures on Instagram!