Ride on a hot air balloon in Cappadocia in Turkey, has always been on my bucket list! And it was even more magical than I expected! We flight above the beautiful valleys of Cappadocia, with hundreds of other balloons and the magical colors of the sunrise. It was definitely one of the best experiences of my life (promise I am not exaggerating!) And one of these I will never forget!
Cappadocia is probably the only place in the world where hundreds of balloons fly nearly every single morning, giving over 2000 people a day the experience of a lifetime. Up to 100 balloons are allowed to take off before sunrise, and another 50 are granted permission to take off half an hour after sunrise.
How to get to Cappadocia?
We went to Cappadocia from Europe, we had the first flight to Istambul and then a second one to Cappadocia. Then, we easily found a taxi to reach to our hotel By the way, taxis in Cappadocia are really cheap and honest. It was one of the first destinations
How to get on a hot air balloon ride in Cappadocia?
There are many different companies that offer hot air balloon rides in Cappadocia. You can easily find them online and book your flight directly. Also, you can call them when you have arrived in Cappadocia but it is not the best solution as the flights may be fully booked!
The day you will ride on a hot air balloon, the company will pick you up at your hotel around 5:00 am. And then, bring you to a collective breakfast with hundreds of other tourists. After, you will be brought to the hot air balloon.
Book your flight early and stay at least 3 nights in Cappadocia
You need to know that hot air ballooning is probably the most popular activity to do in Cappadocia! So you must book in advance because balloons fill up months in advance. Just because 100-or so balloons fly every morning does not mean that you are guaranteed a spot.
Also, one of my biggest tips for traveling to Cappadocia is to stay at least two to three nights to maximize your chances of getting on a flight.
Hot air balloon in Cappadocia can be canceled
Indeed, the hot air ballooning in Cappadocia runs all year long, but flights do get canceled if the weather is not good. On average, flights take place on approximately 250 days of the year, but the Civil Aviation Authority can cancel flights for all balloons if there is rain, strong wind, fog, snow or thunderstorms.
Unfortunately, you may wake up early and learn at the last minute that the flights will be canceled. You will be driven back to the office, get a refund and dropped off at your hotel.
What happens if your hot air balloon ride in Cappadocia is canceled? The very first thing you must do is try rescheduling with the same company you booked with. However, most of the time (especially during the peak season) they are already fully booked for the next day's flights. E-mail and call every hot air balloon company in Cappadocia! Ask about spaces on their deluxe flights (more expensive), sunset flights, post-sunrise flights. Don't rely solely on your hotel to book a flight for you, because they might only contact one or two balloon companies.
So, if you are staying at least 2 or 3 days in Cappadocia, you will have more chances to have good weather and to be able to catch a flight!
The best time of the year to ride on a hot air balloon
Hot air ballooning in Cappadocia is incredible not only because of the unique landscape but also because the balloons fly approximately 250 days of the year, compared to about 60 days elsewhere in Europe. Not only can you soar above the terrain in summer and spring, but you can explore the winter wonderland from above.
The best time of year to go hot air ballooning in Cappadocia is from April to October as the most favorable weather conditions are during these months. Because of strong winds most of the flight cancellations take place from December to March.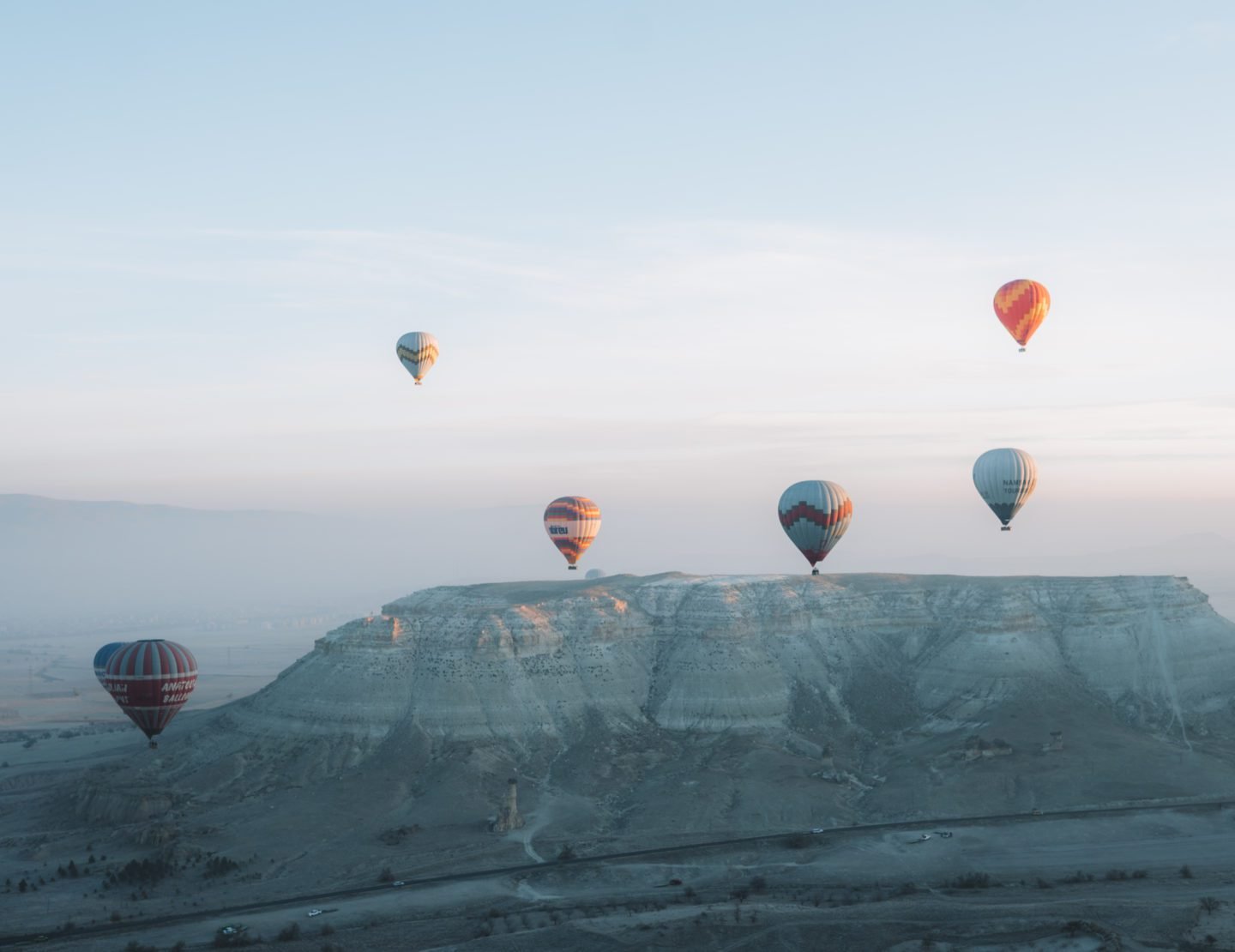 How many feet above the ground the balloons can reach
If you are scared of heights, you need to know that the balloons can fly anywhere from about tree level to 3,000 feet above the ground. During my experience on our hot air balloon flight in Cappadocia, we reached 100 meters! Experienced pilots can even take you right down into valleys full of "fairy chimney" rock formations and Goreme town.
What price does it cost?
Well, I have to admit that it is not a cheap activity, but I promise you it really worth it! The price depends on which company you go with and how many people are in the basket. But a hot air balloon ride in Cappadocia costs anywhere between 130-180 Euros (US$145-200) per person. We went with Butterfly balloons and the trip was amazing, I highly recommend them!
You need to know that the price will be cheaper in a smaller basket that could fit 16 people, and it will be much more comfortable. Indeed, there will be fewer persons per compartment, so you will be able to move around. The flight will be slightly longer too. I recommend choosing a "deluxe" flight for a comfier hot air balloon flight experience.
Is it safe?
Like airplanes, balloons are registered with the aviation authority and are subject to regular safety checks to ensure airworthiness. Also, Pilots must undergo examinations, have a prescribed number of flight hours, pass flight tests and also medical checks. Many hot air balloon pilots in Cappadocia have been flying for decades.
That being said, there has been a number of accidents in the past, some resulting in casualties and injuries; just like stepping into a 747 airplane, accidents can still happen even with the best pilots and ground crews, and the safest conditions.
Though there is a myriad of measures in place to ensure your safety, hot air ballooning in Cappadocia still involves some level of risk. Make sure you choose an experienced balloon company that values passenger safety above all else. Make some research before booking your flight.
Are you planning to visit Cappadocia?
To conclude, ride on a hot air balloon in Cappadocia is an experience of a lifetime! If you are dreaming to do this, what are you waiting for? Plan your next vacation in Cappadocia in 2020! I promise you will not regret it!
Also, have you read our post about why you should not ride animals during your travels?