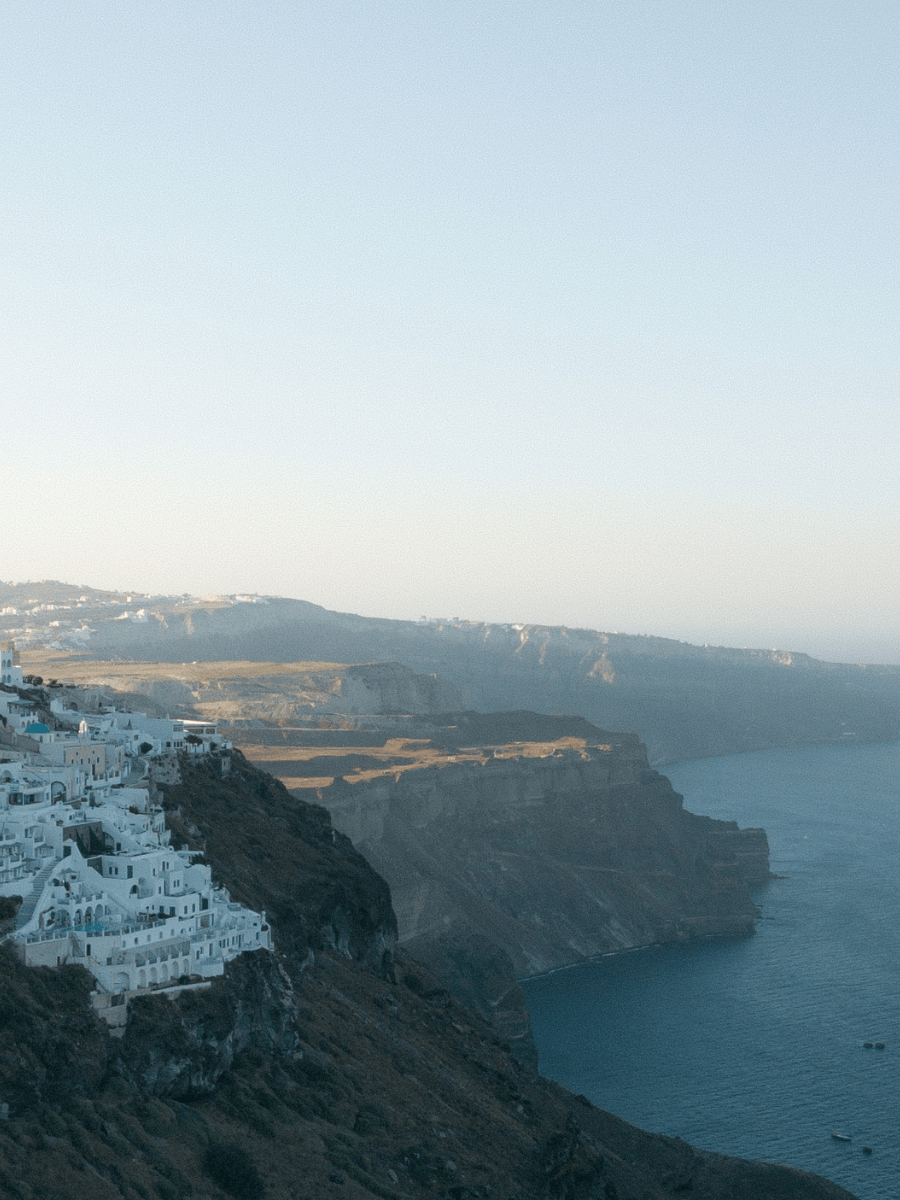 Why you should visit Santorini?
Today let's talk about the beautiful and famous Cyclades island of Santorini and Oia its stunning village. Located in Greece, between Mykonos, Ios and Paros, the gorgeous island of Santorini is a must to visit! Honestly this island blowed my mind away I was in admiration of its white villages near the Sea are so picturesque and unique, they have so much charm. I know this island is so famous and touristy but it sincerely worth a visit. Ok it is really crowded but you can visit this island during shoulder season and have an amazing time. It was our second time in Santorini and in Oia, and we had an amazing stay.
Anyway, even if the villages are small, you can still enjoy this place. You can visit the villages in the morning and do activities, excursions or just stay at the pool during the day. I just need to precise that Santorini is beautiful for its villages of Oia, Imerovigli or Thira and the views on the Aegean Sea but not for its beaches contrary to Mykonos.
So, if you are looking for a gorgeous picturesque island, with so much charm and amazing point of views, you will love Santorini! It is the perfect place for a romantic gateway and even for a honeymoon. The sunsets over here are absolutely stunning, the Greek food is awesome and let's say it, it's so romantic! If you want to have the perfect Santorini itinerary, read on! 😉
If you want to visit also Mykonos or Milos, you can find all our post from Greece here.
The best itinerary to visit Santorini in 5 days
If you find yourself in Santorini, you can't miss the famous village of Oia at the north of the island. It's probably the most beautiful place to visit on the island. It's a really small village made of white houses, churches with blue domes, awesome hotels with cave pools and stunning point of view on the Caldera.
You will have visited it on a half day but if you really want to enjoy it and have enough time there, we advise you to stay between 2 and 4 days there. In this way, you will have enough time to enjoy a sunrise and sunset there, have dinner at a typical Greek restaurant and also visit the village and take memories!
Also, you need to know that it's hard to take photos in Santorini because it's crowded and people are waiting in line to take photos at famous spots. So, if you are a photographer or a content creator, you'll need to wake up early!
Where to stay in the heart of Oia?
Budget hotel Museo hotel in the heart of Oia
There are many different hotels in Oia, and you have a large choice at different prices from budget to luxury hotels. If you visit Santorini on a budget, you can easily find an Airbnb or a small hotel on Booking for around 120$ per night.
We have stayed at the Museo hotel perfectly located in the center of Oia for 137€ per night. The room was small but really clean and comfy. There was a pool for its guests, including towels. It was really private and there was not so many people. The breakfast can be served in the room or in the terrasse so it's really nice.
Luxury hotel Katikies Santorini Oia
We have also stayed at the wonderful luxury hotel Katikies Santorini in Oia. It's a beautiful small resort located at the entrance of Oia. There are 2 different pools for the guests but also a restaurant. The typical cave rooms are beautiful in a minimalist and chic style. All the pools and rooms have a gorgeous view on the Caldera. Some of the rooms have a private jacuzzi or a pool.
Where are the best restaurants in Oia?
The Candouni
Ok our very favorite restaurant is the Candouni. Perfectly located in the center of Oia, this restaurant is own by Greek passionate about gastronomy. There is a lovely and private terrasse, with flowers a romantic decoration and sometimes there is a music band playing Greek songs! It's absolutely amazing and so romantic! I can only advise you to have diner there if you find yourself in Santorini. The food is awesome, you should try the backed potatoes with herbs, the beetroots, the moussaka (veggie).
What are the best spots to visit
As you already know, the village of Oia is really small and you easily find all the spots to visit just in walking in the village. The famous churches with blue domes, the famous sunset point to watch the sunset with a view on Oia and so on.
The beautiful village of Imerovigli Santorini
You should also visit the beautiful village of Imerovigli if you are in Santorini. It's located at the south of Oia, closer to the center of the island. It's also a beautiful island, quiet different from Oia. But this one is less touristy and is also really charming and unique. There are also beautiful spots to see and amazing luxury hotels to stay.
Where to stay?
As in Oia, you will find plenty of different resorts for all the budgets. From budget hotels to luxury hotels. Prices are starting around 90$ and are going to 1500$. So everyone can definitely come to Santorini, it is not a matter of money. You can search on Airbnb or in booking to find an apartment, a B&B or a hotel.
Where are the best restaurants in Imerovigli?
The Aegean restaurant in Oia
We absolutely loved the Aegean restaurant in the heart of Imerovigli. It's also a typical Greek restaurant. We highly advise you to try their delicious Pita bread. It's served hotel with a bit of olive oil and herbs. They also have typical Gree dishes with eggplants that are delicious.
What excursions to do in Imerovigli?
There are many different excursions to do from visiting the volcano to having a full day sail trip on the Sea. You can also visit the read beach but you will need to rent a car, a quad or take a taxi.
The best secret spots in Imerovigli
If you want to find the best spots to visit in Imerovigli, just take a walk in the village and get lost in the little streets! However, the famous spot with the church and the bougainvillea is near the Aqua luxury suites.
Easy tips to plan your trip to Santorini Oia
If you are planning to visit Santorini and Oia, especially during high season, book in advance! It's the best way to find good deals and lower prices. Flight, hotels, excursions and so on are cheaper when booked a few weeks or months before.
Ready to visit the wonderful Santorini, Oia and Imerovigli?
We hope this post made you wanna visit the gorgeous island of Santorini and of course the beautiful villages of Oia, Imerovigli and the capital Thira. We absolutely loved this island and the atmosphere. It's always magical to walk in the little streets in the morning, have a typical Greek diner with candles or watching the sunset on the Caldera!
Let us know in the comments if you guys have more questions, we will be more than happy to reply 😉 and don't forget to follow our next adventures on Instagram and Youtube @chiarabarasso & @jelafaille