Today we are releasing our guide to Petra for first-timers. Finally visiting the lost city of Petra and discovering one of the seven wonders of the modern world is such an indescribable feeling. After having been dreaming about this place for years, we had finally the chance to see this place in person. I know Petra is on the top of your bucket list right? I promise you would visit this place, you will absolutely not be disappointed! This place is, even more, impressive in reality. Especially discovering "Al Kazneh", the treasury of Petra during the night with more than 1000 candles!
If you are planning to make your dreams come true and visit Petra soon, this first timers guide to Petra is for you! Read on! 😉
Also, if you are planning to visit Jordan soon, don't miss our complete Jordan travel guide!
Historical part of Petra in Jordan
But before we start, some information about Petra. This ancient city in Jordan, was once the capital of the Nabataean people. Who were traders who came to dominate international trade in the Middle East 2000 years ago. After a rise to power, they briefly challenged the power of Rome before finally succumbing to it. They subsequently disappeared from history.
The Nabataeans were originally a tribe of nomadic Arabs who ventured into the Wadi Rum desert around the 5th century BC. They settled in the Shara Mountains in southern Jordan, at the crossroads of trade routes. In 350 BC, they renounced the plundering of camel caravans in favor of imposing a tax on merchants for their safe passage. Standing at a strategic point of trade between Asia, Arabia and the Mediterranean, their base in Petra grew rich very quickly. Pepper, sugar, ginger and cotton were traded with India. Merchants exchanged Chinese silks for gold and silver. When the Roman general Pompey arrived to attack Petra in 62 BC, the Nabataeans simply bought it off.
How was Petra in the old times?
In the first century AD, Petra was home to around 35,000 nomadic people. It was described as a cosmopolitan city, full of pretty buildings and gardens. In 106 AD, the Nabataeans ceded power to the Romans, creating an era of prosperity that lasted until after the adoption of Christianity in 324. However, changes in trade patterns led to their decline. In 749, when another earthquake destroyed almost all the buildings, Petra was more or less abandoned. This was the case for a millennium, until the Swiss explorer Jean Louis Burckhardt persuaded the Bedouins to guide him to the ruins in 1812. The "rediscovery" of the legendary city of Petra fueled a renewed interest among travelers and archaeologists which has continued to grow until today.
Why to visit Petra in Jordan?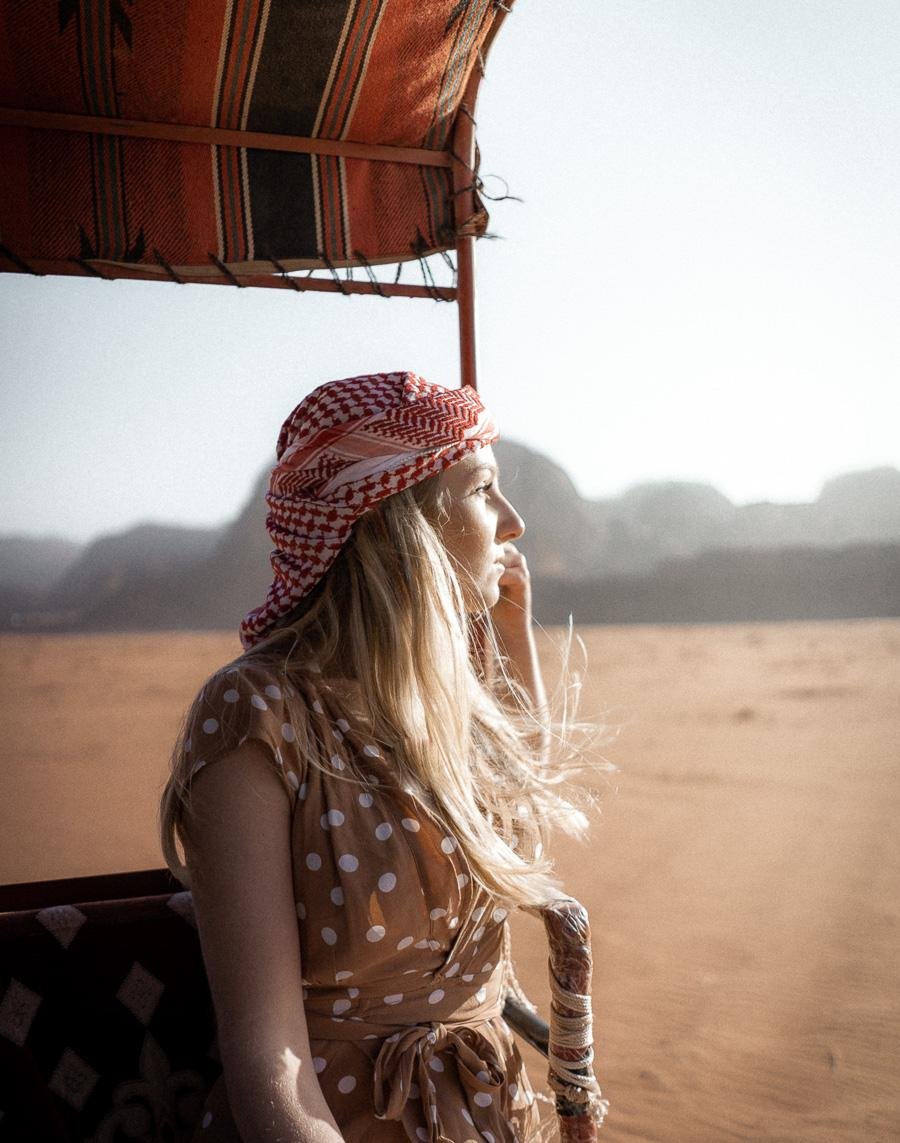 Petra is a place as fascinating as it is mysterious, that you have to visit once in your life. The best known place is probably the Al Kahzneh treasure. An iconic Indiana Jones spot right?
It was the Nabataeans who built the Khazneh, it is the "treasure of the Pharaoh". Like most of the grand buildings in Petra like the sculptures carved into the sandstone cliffs. It is this incredible agility to create in the rock that makes Petra so unique. Ornate facades, in a unique Nabataean style with Egyptian and Assyrian elements, still line the valley. And create a film set, with incredible architectural feats under rocks several hundred meters high.
A few informations before visiting Petra
What is petra
Petra is an ancient archeological site in Jordan. It is located between the Dead Sea and the desert of Wadi Rum. This place has not been habited since prehistoric times. But it is famous because of the Nabatean city into the rock dating from the first few centuries BCE. Petra is now a UNESCO world heritage site and is one of the seven wonders of the modern world.
Prices and schedules
You need to know that Petra is the name of the ancient city that you can visit from 5:30 am to 5:00 pm. You need to buy a day pass which will cost you 50$ per person and 55$ for 2 days. Or, you can also buy a pass online which will costs you 90$ per person but includes a VISA for the entrance in the country (which is costing 40$ at the airport, if you don't have this pass) and the entrance of Petra. Also, you can directly buy a "day pass" at the visitor center, located at the entrance of Petra.
The name of the city where you will stay, and where are the hotels and the restaurants, is called "Wadi Musa" and it right next to the ancient city of Petra.
Is it Jordan safe to visit?
I would say yes. Jordan is a country where tourism and security are a priority for the government and the citizens. The country is one of the safest of the Middle east. When you are visiting the country, you really feel safe, comfortable. There are many security checkpoints on the roads. They are checking regularly vehicles on the roads, the identity of passengers. It can happen to you, you will see they are really kind, they are just checking if everything is right and then let you continue your road trip. Also, when you are entering in a hotel, they are checking all your luggage and your vehicle before letting you enter.
We really felt like home when we were doing this road trip in Jordan. They have built good infrastructure like paved roads. Also, we felt very welcomed in Jordan. Jordanians are seriously so kind and they have a sense of hospitality.
Of course, bad things can happen everywhere, and it is not recommended to visit the areas bordering Iraq and Syria in the north, but the country is safe. If you are staying in touristic areas that are securitized like Amman, the Dead Sea, Petra or Wadi Rum, there is no real risk.
The animal cruelty in Petra
You need to know that unfortunately animals are not well treated in Petra. Donkeys, camels, and horses are working until death and are beaten by the owners. Please never ride animals, especially in Jordan. You should read our post about what you should never ride animals during your travels. Several animals associations like the PETA, started to talk about this problem and nowadays, the Jordan government is trying to stop this animal cruelty.
How to get to Petra?
The best option is to rent a car when arriving at Amman airport. As we explained longer in our Jordan road trip itinerary. The price is around 300$ for one week. From Amman to Petra you need 3,5 hours. If you are coming from the Dead Sea, it will take you around 3 hours. Once in Wadi Musa, you can park your car easily in front of your hotel or in their parking.
What to visit in Petra?
This maps, created by Lucy of ontheluce.com is just to give you an idea of the different spots to visit in Petra. You need to know that you only need 20 minutes from the visitor center to reach the treasury "Al Kazneh". To reach the monastery from the visitor center, you will need 3 hours to climb the 800 steps. So, bring good shoes!
Please, never ride animals! these poor horses, camels, and donkeys that are not treated well! You should better walk it's better for them and for you! You are doing your cardio! 😉
The Siq
Once you are at the visitor center and you are entering in Petra, you will have to walk 20-25 minutes to reach Petra. You will walk through the beautiful Siq which is made of amazing canyons. You should visit Petra early in the morning. The best is to arrive at 5:30 at the opening. So you will be able to admire the site without tourists. Take your time when walking through the Siq and appreciate the massive stone walls and amazing curving colored stripes. Suddenly you will turn a corner and get your first glimpse of the Treasury. It is a magical moment.
The treasury "Al Kazneh"
You are discovering the treasury, "Al Kazneh", one of the seven wonders of the modern world. It is even more impressive than you can imagine. We went there at 5:30 so we had the chance to almost have this place for all ourselves! This construction is absolutely incredible to see in person.
You can do several hikes to see this place from above. We have just done the first hike (10 minutes) and the view was amazing. We arrived at a spot where gypsies were living, they kindly invited us to drink tea on carpets. Don't forget to give them a tip!
Petra by night
This guide to Petra would not be complete without talking about Petra by night. To visit Petra by night, you need to already have a day pass and then you will have to buy another pass for the show. That will costs you 17$ per person. You can not just stay in Petra because it is closing at 5 pm and the shows are at 7 pm and 8 pm.
We heard mixed opinions about the "Petra by night" show, be wanted to experience this and make our own opinion. And we had an amazing time! We were completely mesmerized by this experience. We walk through the Siq in the night with the only light of the candles and then, we discovered the treasury with more than 1000 candles lighted! Then, we watched the show for 30 minutes, a Jordanian musician wad playing instruments. It was a beautiful moment.
Also, Petra by night is only on Monday, Wednesday and Friday. So, if you really want to do this experience, plan your trip accordingly!
The Monastery
Unfortunately, we didn't have the time to make it to the Monastery but this place looks incredible and really worth the hike! Hidden high in the hills, the Monastery is one of the legendary monuments of Petra. The design is similar then the Treasury but far bigger (50m wide and 45m high), it was built in the 3rd century BCE. It derives its name from the crosses carved on the inside walls, suggestive of its use as a church in Byzantine times.
Where to stay in Wadi Musa?
There are several luxury hotels and affordable ones in Wadi Musa. Personally, we stayed at "Petra heart hotel" and we had an amazing stay. The hotel is perfectly located 1 kilometer from Petra. The rooms are comfy, modern and clean. The owner and the staff are so kind all gave us all the information we needed about Petra! They serve us a really nice breakfast before we left for Wadi rum!
Where are the best restaurants in Wadi Musa?
We needed to talk about Jordan food in this travel guide to Petra! Because the food in Jordan is insane. If you like hummus, Pita bread or tabouleh, you will love it there! Our favorites restaurants in Wadi Musa were "Mom's recipe" and "Feu le Bedouin". These two restaurants are located in the center of Wadi Musa and are easily accessible by walk. These two are serving typical local food and have traditional decor. The ambiance and the food were both amazing!
You are planning to visit Petra?
We hope this travel guide to Petra will help you to plan your dream trip! To conclude, Jordan was one of the highlights of the year! We are glad we have chosen to visit this country for our last trip of the year. We highly advise you to visit Jordan, you won't be disappointed! The country has a rich culture and history and has incredibly beautiful places to visit. Let us know in the comments if you have been or if you are planning to get there! And don't forget to follow our adventures on Instagram and on our Youtube channel to see our nest adventures!