In this complete Jordan travel guide, you will find all the information you need before planning your dream trip! Jordan is definitely a country that everyone has on its travel bucket list and it is not disappointing! We have been dreaming to visit Jordan and especially to see Petra and it was even better than we could imagine! The locals are the kindest persons ever ( Ok the Balinais are too), the culture is strong and the landscapes are absolutely epic.
We have been to Jordan around one week and during this road trip, we have been to Amman, Petra, the Dead Sea and the desert of Wadi Rum. These are the main places to visit but also the most touristy! This is why we went there during the low season in December. If you want to know everything about our amazing experience in Jordan and to have all our tips and tricks, read on! 😉
Where is Jordan ? Jordan on a maps
Jordan is located near Egypt, Saoudi Arabia, Irak and Syria.
When is the best time to visit Jordan?
The best time of the year to visit Jordan is between May and September, during summer. But you need to know that in June and August it is really hot, touristy and everything is more expensive.
We decided to go there in the low season in December but it is not the best part of the year. It was a little bit cold and certain activities were closed (Wadi Mujib for example). But, I have to admit that the trip was amazing and it was less touristy! We could visit touristy sites like Petra without waiting in line for taking photos!
I think the best compromise is in May or in September. The weather should be perfect and there should be not so many tourists!
Is Jordan safe?
Honestly, we really felt safe in Jordan. Jordan is probably the safest and most peaceful country in the Middle East. Contrary to its neighbors, the country is really safe to visit. First of all, tourism is very important for the country and the Jordanian know that. They are taking care of tourists and are always trying to make us spend the best experience. They are really kind persons and make you feel really welcome. When you're visiting Jordan, try to connect and talk with them about their country and their culture. You will spend amazing moments.
Also, security is a priority in Jordan. There are checkpoints everywhere on the roads, they are checking your identity and your car. Even when you enter a hotel, they are always checking your luggage or your car if you want to enter into the parking.
Take some simple precautions: agree on the price before you get in the taxi or make sure the driver is using the meter. Carry wallets in a front pocket and avoid having too much cash. And always keep a copy of your passport in your luggage and a photo on your email account.
How to get around in Jordan?
Rent a car at the airport
Honestly, for us, the best way to visit Jordan is to rent a car. The main reason is that it is easier if you want to visit several places that are far from each other: Amman, Petra, Wadi Rum or the Dead Sea. All these places are 2 or 3 hours driving from each other. The rental car is not expensive, if you rent a car at the airport you will pay around 30$ per day. For the whole week, we paid around 200$.
It is really easy to park in Jordan, most of the hotels have parking. If you are coming to the Wadi Rum desert, you will have to park at the beginning of the desert and your host will pick you up there.
Travel tips: buy a local SIM card at the airport. It costs only 10$ and it saves you during your road trip because you will have Google maps! You will have 20GO which is huge, it is enough for all the week.
The best places to visit in Jordan
Amman
When you will arrive at the Queen Alia international airport, you will have several options to rent a car: Hertz, Sixt, Budget. Personally, we rent with Budget and it was perfect. The car rental is really easy and fast: you just need a driving license and a passport. You will pay the rent for around 200$ for a week.
Where to stay in Amman?
The Four Seasons
We stayed at the Four Seasons for 1 night and it was an amazing experience. There is one of the best restaurants in the city "la Capitale". We had dinner there and it was delicious. Also, the room was really spacious and chic, with big windows and an amazing view of the city. Also, there is a spa, with two beautiful pools, an inside, and an outside. The staff is adorable.
The Compass hotel
If you can not afford to stay at a luxury hotel, you can easily find several budget hotels. You can stay at the Compass hotel. The quality-price ratio is really nice. It is around 70$ for a bed and breakfast. The room was really clean and the hotel is well located.
The best places to visit
The Amman Citadel
It is a historical site located at the center of downtown Amman. The Citadel is considered an important site because it has had a long history of occupation by many great civilizations.[Most of the buildings still visible at the site are from the Roman, Byzantine, and Umayyad periods. The major buildings at the site are the Temple of Hercules, a Byzantine church, and the Umayyad Palace.
The best restaurants in Amman
We tried 3 different restaurants and we loved them. The first one is La capital, the restaurant of the Four Seasons. The ambiance is really festive and chic. The second one is Karam Beirut. This one has Lebanese influences and offers delicious food in a beautiful and chic restaurant at a surprisingly low price! We highly recommend this one. The last one is a local and very typical one, Hashem. What we loved the more is the hummus with the hot pita bread and the tabouleh.
To go to the Dead Sea from Amman, you will have to drive around 1 hour. The roads are really nice in Jordan but there are many speed bumps. The hotel's area is located at the beginning of the Dead Sea. There are several nice hotels. We stayed at Marriott and we loved our stay.
The Dead sea in Jordan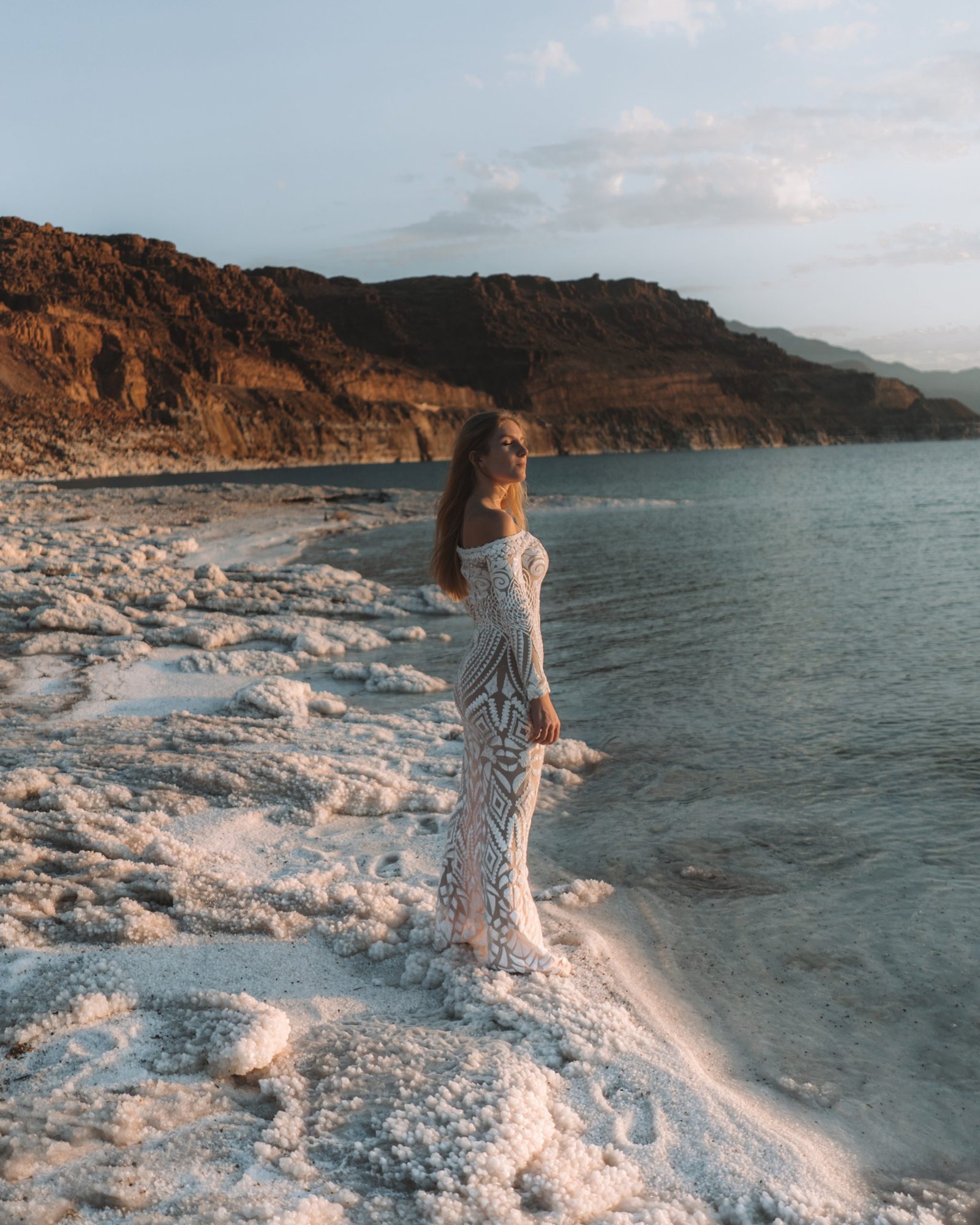 This complete Jordan travel guide wouldn't be complete without talking about the Dead Sea! This is is a salt lake bordered by Jordan to the east and Israel and the West Bank to the west. It lies in the Jordan Rift Valley, and its main tributary is the Jordan River. Its surface and shores are 430.5 meters below sea level, it is the Earth's lowest elevation on land.
Where to find the best spots?
If you want to visit the same location as us and see these salt formations, you need to drive to Mujub chalets. These spots are located just 2 kilometers after this place. There are salt formations everywhere you see white! All the spots are beautiful. You can easily park your car in front of these places and then walk to the beach. It is around 10 minutes of walking. These spots are absolutely stunning, especially for sunset. The only problem is that it is really dirty. There are plastic bottles everywhere.
Travel tips: the salt is really hurting, bring good shoes, and keep them if you want to swim!
Where to stay?
Marriott Dead Sea
We stayed 2 nights at the Dead Sea Marriott and we loved our stay. They have private access to the beach. You can have a mud bath. Mud, especially Dead Sea mud, has been said to alleviate the symptoms of skin conditions like psoriasis, eczema, and rosacea. Being buoyed by a warm mud bath can also ease assorted aches and pains in the joints, such as those that stem from arthritis. Some people bathe in mud for cosmetic reasons, too because it makes soft skin. It was a really fun experience!
Also, the hotel has several restaurants, pools, and gardens. We loved having our breakfast on the terrace. The staff is really kind.
If you need more informations, don't miss our complete Dead Sea travel guide!
Petra in Jordan
After visiting the Dead Sea, we went to the beautiful old city of Petra, one of the seven wonders of the modern world and a member of the UNESCO heritage. One of the seven wonders of the world is the treasury of Petra "Al Kazneh".To get there you have to drive 3 hours from the Dead Sea to Petra. To be more precise, Petra is the old city, including the Siq, the treasury or the monastery. The name of the modern city, where all the hotels and restaurants are located, is called Wadi Musa.
To visit Petra, you need to buy a day pass at the visitor center. It will costs you 50$ per person for one day and 55$ for 2 days. It allows you to visit all the monuments in Petra.
Petra by night
If you want to go to the Petra by night show, you need to have a day pass and buy another pass for "Petra by night". It will costs you 17$ per person. You can go to the show at 7 pm or the one at 8 pm. You will be with a group and you will walk through the Siq to the treasury together (25 minutes). The show was not long but beautiful.
Where to stay in Petra?
Heart Petra
We stayed for 2 nights at this small hotel perfectly located 5 minutes from Petra. The ratio quality-price was excellent. We paid around 50$ per night and we had a big and clean room, with a modern decoration. The owner and the staff are adorable.
Where are the best restaurants in Petra?
My mom's recipe and Feu la Beduin are our two favorites restaurants. There are two local and typical restaurants. The food is delicious there: hot Pita bread, tabouleh, hummus, falafels, or Fatoush. They have many veggie/vegan choices. If you find yourself in Wadi Musa, you should definitely try these two restaurants!
The Wadi Rum desert in Jordan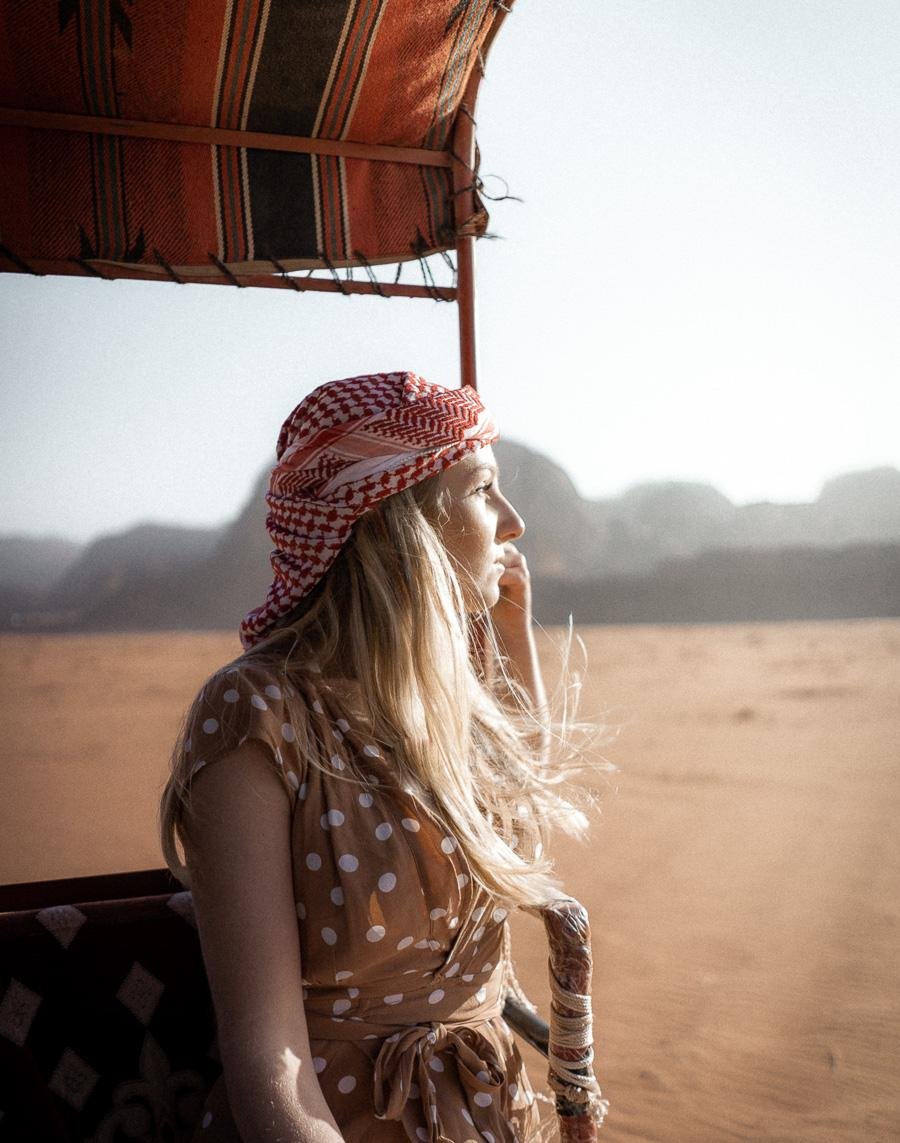 A Jordan travel guide wouldn't be complete without talking about the wonderful Wadi Rum desert! After our stop in Petra, we drove to the beautiful desert of Wadi Rum. This Jordan road trip itinerary wouldn't be complete without talking about Wadi Rum! It took us around 1h45. When you will arrive in Wadi Rum, you will have to stop at the visitor parking. And then, you can park your car there and your host will pick you up.
Where to stay in the Wadi Rum desert?
Rum Star camp
We stayed at the Rum star camp for 1 night and we had an amazing stay. We loved staying there because it's a familial camp. Our hosts Ahmed and Youssef that are brothers were adorable. They took our group for an afternoon tour in the desert and we visited 5 spots including a canyon, bridges, sand dunes and points of view.
Concerning the accommodation, we had a lovely traditional tent with a comfy bed and a window with a beautiful view of the desert. There was the electricity and one light in the tent but no wifi and outlets. This was not a bad thing because instead of being on our phones we had an amazing evening with the group.
Indeed, we went to the restaurant at the camp and we had a delicious and traditional dinner (hummus, pita bread, rice with spicy sauce and baked vegetables). After that, we went together with all the group around the fire and we asked questions to our host about their culture, country or the life in the desert. It was an amazing and authentic moment that I will never forget. Read our complete travel guide about the Wadi Rum desert!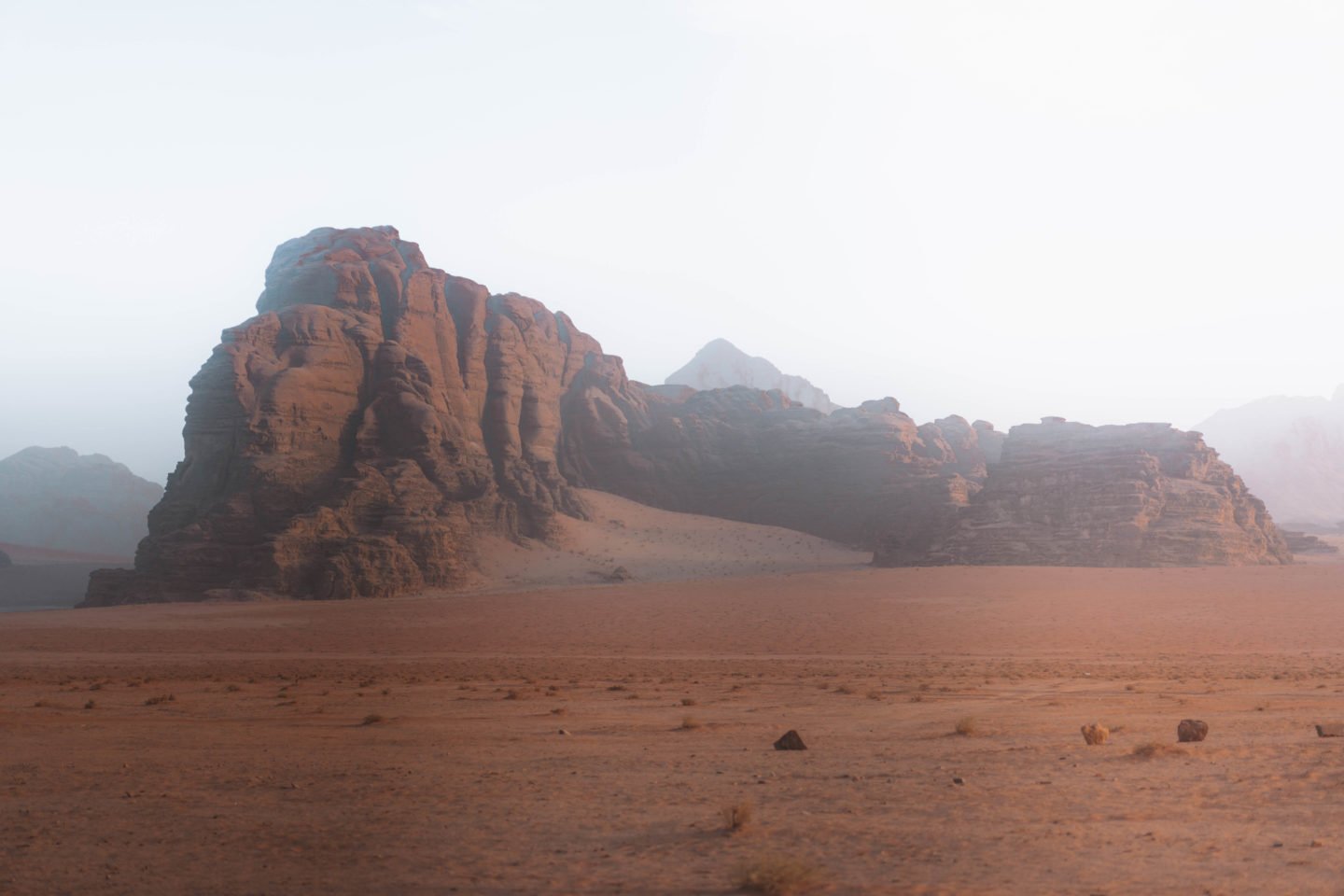 Are you planning to visit Jordan soon?
We hope you liked this complete Jordan travel guide and that it will help you to organize your dream trip! If you have more questions, let us know in the comments 😉 And don't forget to follow our next adventures on Instagram @chiarabarrasso @jelafaille and on our travel Youtube channel!