Do you want to stay in the heart of the Medina? Here is our selection of the best riads Marrakech! To stay in Morocco in an authentic way and to discover the Moroccan culture, it's the best thing to do. These riads are typical Moroccan houses in which Moroccan families are living together. There are usually around 10 rooms and a patio inside, with a pool or a fountain. The architecture is really typical and decoration is made of mosaics, cactus and sofas on the floor. These riads are absolutely gorgeous and staying there is a unique experience. They are inspire of the arabo-andalou heritage and from Persian and Romain constructions.
These was the culture minute just incas you were curious! But let's go back to these riads that are sometimes transformed into a guest house to welcome tourists. However, many of them are still belonging to Moroccan families and are not open to the public. We had the occasion to stay in a few riads in the heart of Marrakech and we will share our favorites! They are idealy located in the heart of the médina, near the places and souks. If you want to know everything about our experiences, read on! 😉
By the way, if you are coming to Marrakech soon, don't miss our complete Marrakech travel guide!
Plan your next trip in Marrakech : which riad to choose?
Before choosing in which riads you will stay in Marrakech, I will share a few important and useful informations with you:
» First of all, you should upload the App "my maps" that will allows you to find your way without internet. That will be really useful in the médina.
» Never ask your way to anyone! It's the best tip I can give you. They will tell you the wrong way to bring you to their friends' shop and ask you 20$ for this, until their friend bring your elsewhere and ask you again 20$…
» If you are planning to eat in local and typical street restaurant, never eat meat in Morocco! Also one of the best tips I can give you guys. You would probably get really sick. That happened to our friends.
» If you are visiting the souks and not planning to buy anything, never enter into a shop! You would be forced to buy something!
Discover the riad Yasmine: one of the most beautiful riad in Marrakech
Why you will love this riad
The riad Yasmine has been our favorite one! This is for us one of the best riads in Marrakech to stay at. Ok, I will not lie to you, it is not belonging to a Moroccan family and it is one of the most famous and touristy. But it is absolutely gorgeous and we had an amazing experience there. It has been renovated, the decoration is stunning and the experience is on point! You have probably seen this place on the gram more than once. With its stunning green pool and its rooftop terrasse. Very corner is pretty and photo worthy! Terracota walls, cactus, Moroccan carpets and lights… And it is perfectly located in the heart of the médina, near the souks.
But you will see it can be hard to find, If you struggle to find it, use my maps or ask to Alice and Gaby the owners.
The rooms with a Moroccan decoration
We have been warmly welcome by Alice and Gabi the owners of the riad. We stayed in one of the rooms of this riad that are all unique and different. Our room had an amazing bathroom! Yes I remember it first haha it was green with mosaics and a green bath. The room itself was really pretty too with orange and terra-cotta tones and Moroccan stuffs.
The typical Moroccan breakfasts
What is really nice in this riad is that despite the fact it's not owned by Moroccan people, the owners kept the Moroccan soul. The breakfast is very typical with fresh orange juice, moroccan bread, coffee and homemade jams. The breakfast is included in the price of the room.
Also, concerning the lunches and dinners, you can totally have it there but you have to ask 24 hours before. The cooker is a Moroccan, you will cook you amazing Tajine or couscous. You can also try restaurants near the riad in the médina, there are so many amazing one. You can find all our favorite restaurants in Marrakech here.
Reservations and prices
Then, I will not lie to you, this riad is very popular and the demand is high. To stay there you need to book a few months in advance. Especially if you are going there in April/May. However it's not that expensive. We paid around 130 USD per night.
The riad La Sultana : member of the small luxury hotels of the world
Indeed, the riad La Sultana is definitely one of the most beautiful and luxury riads in Marrakech. It is a member of the small luxury hotels of the world. It is absolutely gorgeous. Also renovated, it is much bigger than the riad Yasmine. There are even several riads in one. The 3 riads are different and unique. There are so many more rooms and the previous one. There is even a Spa. We did not stay at this riad but we have spent a half day there to have a spa experience and have lunch on the rooftop.
The riad, the typical architecture and the pools
This riad est absolutely stunning. The architecture and decoration are very typical and luxurious. This riad has so much charm. There are three pools, one that is central, it is the one you can see on the phone. And also a smaller one in the patio of another of the 3 riads and an indoor covered pool. If you would like to stay in a typical riad in Marrakech but you also want to have a luxury experience, this one is for you!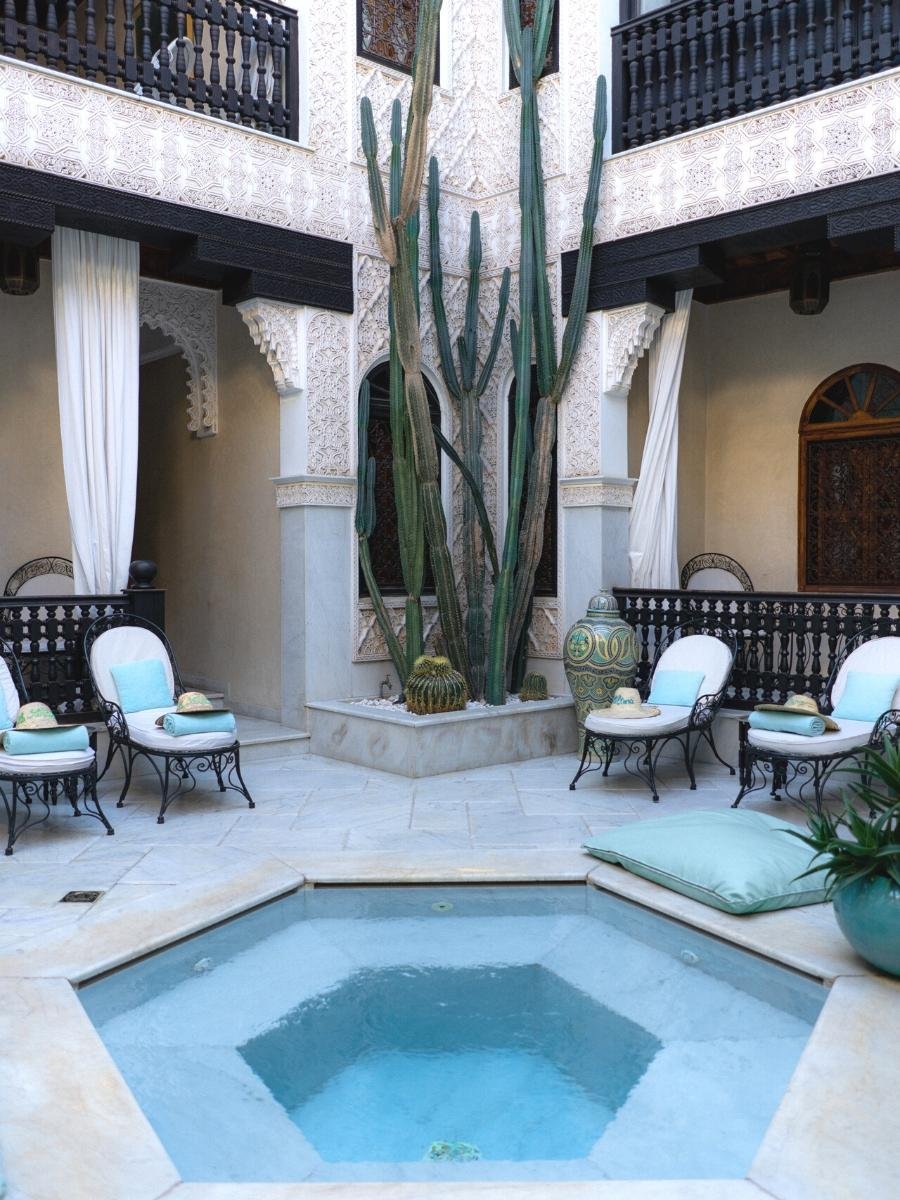 The Spa and the famous Moroccan massages
However, if you can afford staying at the riad, no worries! You can still spend a half day there like us. You can book a spa treatment, a massage and/or just have lunch on the rooftop! This riad as a beautiful spa with an indoor pool that is absolutely gorgeous. You can totally book a Spa treatment, a massage with essential oils and/or a royal hammam. I wish you could smell the essential oils, it was amazing! We highly recommend it to you. There offer duo massages for couples. It was an amazing experience.
The amazing restaurants of the riad
Also, the restaurant on the rooftop is amazing. Its a semi-gastronomic restaurant but with very affordable prices. Honestly Marrakech is definitely a place where you can eat amazing dishes for so cheap! The dishes are refined and the associations of taste are really surprising. And they have many veggie options. I think we tried the beetroots with citrus and the veggie couscous and it was delicious.
If you are also looking to visit the beautiful Agafay desert near Morocco, don't miss our hotel review for the amazing Scarabeo camp!
Ready to stay in one of the best riads in Marrakech?
To conclude, Marrakech is an amazing city you should visit one day and these two riads are must see! Even if you don't stay there, you should definitely have dinner or a spa experience to see them!
Are you ready to choose in which riad you will stay for your next trip to Marrakech? You will see there are so many riads to stay at, there is a large choice. These two riads are our favorites ones but obviously there are so many other ones. But for us these two are the best riads in Marrakech, talking about the place itself and the experience.
If you have more questions about the riads and our experience, please ask us in the comments! We will be really happy to answer! 😉 Let's connect on Instagram @chiarabarrasso and jelafaille.