Today let's talk about leaving everything and spending one year around the world! Almost all travelers have already dreamed about leaving everything and take a one-way flight to explore the world! You too right? 😉 This is what Aurelien, which is JE's best friend has done after his studies! He has been dreaming of this world tour since he was 14. And he realized his dream last year with 2 friends from preparatory school! How amazing is that? If you're also sharing this dream, this story will inspire you!
If you are wondering how they have organized this trip? How they have picked the destinations? what budget they have spent? What were their favorites countries? Read on!
One year around the world
Tell me a little about yourself
I am a 25 years old guy, who loves to challenge himself with sport and adventures. I am studying microbiology and I like to think that I can have an influence on tomorrow's planet-finding solution for today's issues. Also, I enjoy discovering new people, landscapes and cultures and believe that we can learn from everyone. And, I would like to create something that helps our living cousins to better live in this human world.
Why did you want to do a world tour?
Mainly by curiosity, I wanted to have a real feeling of what the TV shows us about abroad. I wanted to feel what is it like to be the only white guy on the bus and get some tolerance. Moreover, I needed to take a break in my studies and give myself a better chance to understand what I really want to do, to be.
What countries have you visited? For how long?
| | |
| --- | --- |
| Country | How long (approx.) |
| Europe (Italia, Slovenia, Croatia, Hungary) | 2 weeks |
| Kazakhstan | 1 month |
| Mongolia | 1 month |
| China | 3 weeks |
| Vietnam | 2 weeks |
| Cambodia | 2 weeks |
| Thailand | 3 weeks |
| India | 2 weeks |
| Nepal | 2 weeks |
| Malaysia | 3 weeks |
| Indonesia | 2 weeks |
| New Zealand | 3 weeks |
| Chile | 2 weeks |
| Argentina | 1 week |
| Bolivia | 2 weeks |
| Peru | 3 weeks |
| Ecuador | 2 week |
| Colombia | 3 weeks |
How have you organized your one year around the world? By yourself or with an agency?
My friends and I have organized the trip by ourselves. I was leading and shared the to-do list between us three. We had a part of the countries we were going to visit and were supposed to guide for the others, finding things to do that interest us three, and the cheapest way of surviving!
How did chose the countries? What were your criteria?
Each of us created a country list, we crossed the wishes and spoke about it together to make a common list. After that, we use an online tool to find the best itinerary and the best time to visit these destinations to avoid the bad weather condition. This was linked with the information we found about border crossing and politicals conditions, as well as backpacker friendly conditions like the cost of living, or the hitch-hiking difficulty. Finally, we wanted to take the absolute minimum of flights.
What budget to plan for a world tour?
The statistics say around 15000 euros on average for a one-year trip. We kept the maximum we could in one year of working without taking any money from savings. The richest of us had 9000 € and the poorest had 6000 €. I think that you can travel with much less but then you need more time. For our itinerary in one year, it would have been difficult to spend less knowing that we shared what we had left to finish the trip.
What is your best memory and your worst?
Let say the first good memory that comes to my mind: In Croatia, we were able to camp on a guy garden, he provides us with food, drinks, wood for the fire. He came to us in the morning with his family and brought us to his house, sharing a good breakfast his mother prepared for us before we go. This family was so nice it was difficult to believe they didn't want anything from us. We left the house dipsy from the 6 mornings Jagger shots, walking on a green grass landscape, free, together and happy, Thomas told us "It is going to be like this all the time", he traveled before this trip and I believe in humans, he was right.
For the worst, it was in northern Peru, we just arrived in a new surfer town and looked for a place to stay. Some tensions appeared between us three and we were not able to make a clear decision, we argued and didn't speak to each other for the rest of the day. When you live 24/7 with the same friends, they are not friends anymore, they are your family. And with family comes all the family problems!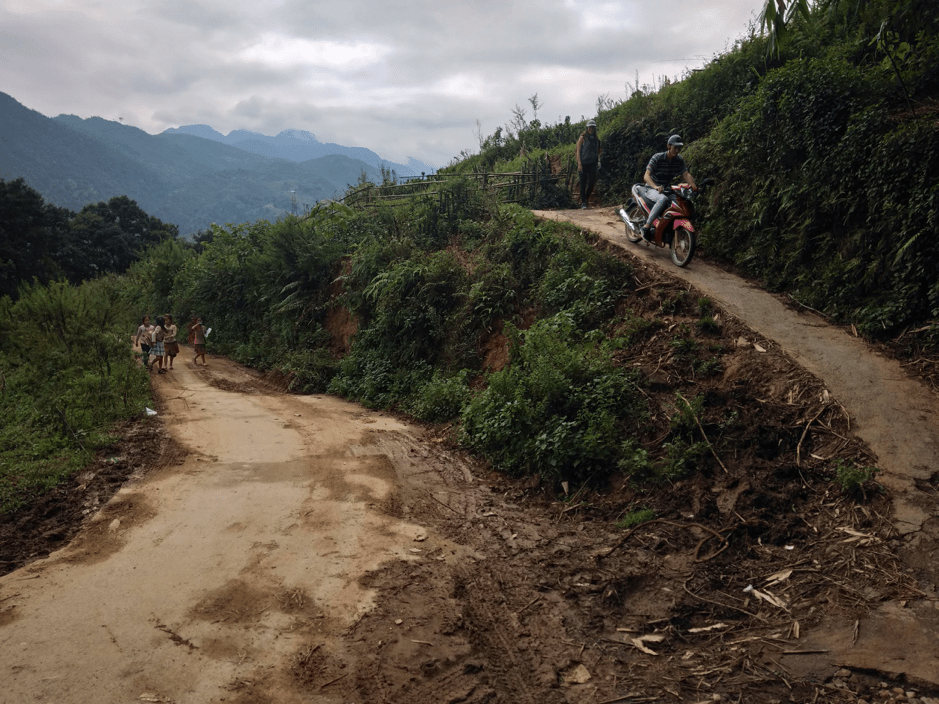 What were your 3 favs countries?
My favorites countries are Nepal, Indonesia, and Ecuador.
What were your 3 worst countries?
The 3 countries I didn't like were Thailand, Chile, and Peru.
For Thailand, we only stayed in Bangkok and Chiang Mai. Bangkok is a diverse interesting city, but it appears to us as a tiny come back home. Indeed, the European influence is a lot bigger than in the countries we visited before, it is also a lot more touristic, I fell like nothing was authentic. In Chiang Mai, the atmosphere was more chill but sadly I fell sick after a day cycling under the sun with no protection…
Chile and Peru are even more European, we were robbed in Chile and I think it the reason I put it on this list. However, all these places deserve some interest and I enjoyed going there, Chile is diverse, from Patagonia to the driest desert on Earth… Peru is perfect for old history fans, and if you have the time and money to reach the jungle.
What are your best tips for someone who's planning to spend one year around the world?
Be sure about who you do it with! Prepare yourself to let go, get ready to come back.
What represents traveling for you?
Challenge, mind-opening, education.
How was your return to France?
All good, I was happy to see my girlfriend, my friends… I missed France and food a lot! In the first weeks I moved a lot to see everyone, next I worked a bit and looked for a job. Finally, after 2 months I moved to live in Iceland.
Could you resume your world tour in a quote?
"In the end, I think that earth is round for a good reason: after doing a world tour, the only thing we want is to be home!"
To conclude, we hope you liked this amazing travel story! Spending one year around the world is probably everyone's dream! Let us know in the comments if you have already done a year around the world, or if you are dying to do it! 😉 Stay tuned for more travel stories really soon in our new page STORIES! And don't forget to follow our adventures on Instagram!